Qobuz is a music streaming service for the discerning listener who knows what they like and likes it in hi-res – maybe as downloadable digital albums bought at a discount on the Qobuz download store. While you won't find any AI DJs, lyrics while streaming or niche mixes, you will find plenty of exclusive editorial content, a clear design and easy-to-find hi-res playlists with full resolution transparency. And that is its admirable USP.
Pros
+

World's biggest hi-res catalog – and transparent about it

+

Can purchase and download hi-res albums without subscription

+

Excellent extra features such as a magazine, tutorials and reviews
Cons
-

Very limited THX three-dimensional immersive audio content

-

Decidedly un-sociable with your music compared to rivals
Why you can trust TechRadar We spend hours testing every product or service we review, so you can be sure you're buying the best. Find out more about how we test.
Two-minute review
If Qobuz was a member of your circle of friends, it would be the strong-minded one. You know the type, the slightly eccentric leader who's ferociously talented and admirably principled. Qobuz is the friend who does things their own way and in their own time, or not at all.
The French music service (which also offers any music lover the chance to rent and purchase hi-res music even if they don't subscribe) was founded in September 2007 but took its sweet time to travel and expand. In fact, it only launched in the US in May 2019 and only arrived in Australia in April 2021.
The name comes from an ancient bowed musical instrument called kobyz, which has two strings made of horsehair. Although Qobuz is happy to look back into music history, it's thoroughly modern in its output of hi-res files – more so even than some of the best music streaming services we've tested. In 2013, Qobuz received the Hi-Res Audio certification from the Japan Audio Society (JAS), which guarantees that audio streams delivered by Qobuz meet the criteria and standards defined by the JAS. It took Apple Music an awful long time to catch up now, didn't it?
And anyone who takes issue with Spotify's minuscule $0.003—$0.005 per stream payments to artists might just have found the ideal service for them. In April 2020, during the early months of the Covid-19 crisis, Qobuz gave 100% of the revenue from each new subscriber's first paid month straight back to the rights holders.
All of which is pretty refreshing, no? Add to this the clear Hi Res Audio stickers on all available content along with clearly displayed resolution on each track, plus the fact that Qobuz ditched MP3s years ago to focus solely on lossless streaming and it's a compelling proposition.
It's not the most sociable choice out there mind you (you won't find any AI DJs or Wrapped-style festival lineup posters for sharing on social media) but if you know what you like and you're as strong-minded as Qobuz itself, you may have met your ideal musical match.
For balance, it's worth noting that since June 2021 Apple Music's offering has included Spatial Audio with support for Dolby Atmos as well as fun extras such as Apple Music Sing and even a free-to-subscribers Apple Music Classical app, all of which is made even better if you own an Apple source device and a set of the best AirPods to listen with. There's none of that with Qobuz. It is toying with THX, but at the time of writing there isn't an awful lot of it.
Meanwhile, Spotify has been promising its own high-fidelity audio service, Spotify HiFi, for years now – and we'll be honest, we think it's never coming – but Spotify AI DJ is kind of fun, if you like that kind of thing. And you won't find that with Qobuz.
Ultimately, it'll come down to whether you like Qobuz's admirable commitment to the best resolution and interesting extras such as a magazine, which includes news pieces and interviews with artists, all for slightly more than Spotify or Apple Music per month. We like Qobuz a lot. It's kookier than Tidal, the interface is less jumbled than Apple Music and the music quality easily trounces anything in Spotify's catalog. Oh, and it's cheaper than Tidal's similar offering.
What is Qobuz?
Qobuz is a music streaming subscription service and download/rental music site.
It launched in 2007 in France and has since spread to 24 countries, but it is probably a relative newcomer in your territory compared to the likes of Spotify. While it focuses on music you can stream, you can also purchase and download albums or tracks to listen to offline and keep forever – in various resolutions. While you don't need a subscription at all to do this (the Qobuz Store lets you search for and purchase content simply by creating an account), paying for Qobuz's top Sublime tier, rather than the regular Studio tier, gets you discounts of up to 60% on any purchases you do make.
Qobuz can lay claim to being the first ever service to offer 16- and 24-bit audio files for both streaming and download, and having the biggest hi-res catalog right now, but it does come at a slight premium compared to several of its rivals.
Also, the ecosystem is stronger than you might think, especially if you've yet to become acquainted. There's a web player (to listen direct from your browser), applications for Mac, iOS and Android, integration with hi-fi heavy hitters such as Roon software, Bowers & Wilkins and Bang & Olufsen hi-fi products, Chromecast (to listen to Qobuz on all your devices using Google Cast) and Samsung TV to stream Qobuz direct from the TV. Oh, and you can listen to Qobuz directly in your car with CarPlay or Android Auto.
And it's not just music streaming and downloading! Within Qobuz's Oeuvre, there's also Qobuz Magazine, which includes features, news, tutorials and hi-fi product reviews.
Like all that but want a few social features? In March 2023, Qobuz launched something called Qobuz Club to check that particular box – in its own way. Qobuz Club is free to all Qobuz account holders, which means you don't actually need to be paying for a subscription to either Studio or Sublime to join in. It's billed as an "interactive forum" enabling users to "convene with like-minded listeners on topics such as music discovery and recommendations, as well as hardware and hi-fi advice".
So basically, this is Qobuz moving away from AI and algorithm recommendations (think Spotify's counterfactual machine learning) and over towards the advice, tips, enthusiasm and opinions of actual, real-life human beings. And we like it.
Qobuz: pricing and subscription
A Qobuz Studio subscription costs $12.99 / £12.99 / AU$24.99 per month
A Qobuz Sublime subscription costs $17.99 / £17.99 / AU$29.99 per month
One-month free trial
You can start listening to Qobuz now with a free trial, which lasts one month. If you love it after the trial period and know you want to commit to 12 months, you can save a little on the quoted monthly subscription fees above by paying one annual lump sum. This costs $129.99 / £129.99 / AUS24.99 per year for Studio or $179.99 / £179.99 / AU$299.99 for Sublime, and comes down to around $10.83 / £10.83 for Studio per month or $15 / £15 per month for Sublime.
Notably, there's no free ad-based streaming tier available as there is with Spotify (or Tidal in the US), although you can buy digital albums from Qobuz and enter the Qobuz Club simply by creating an account.
Qobuz also offers Studio Duo, Studio Family, Sublime Duo and Sublime Family tiers, which start at $14.99 / £14.99 a month for Studio Duo (when you pay for a whole year upfront). Yes, it's a little confusing, but if you and your significant other both want hi-res streaming, Studio Duo is probably the best value option there is here.
Both Qobuz Studio and Qobuz Sublime get you Studio quality streaming (FLAC 24-Bit up to 192 kHz), over 100 million tracks, original editorial content and offline listening. What does Sublime get you that Studio doesn't? Discounts on hi-res purchases of up to 60%, so if you're planning regular visits to the download store on Qobuz, it's good value.
This pricing makes Qobuz more expensive than Apple Music ($9.99 / £9.99 / AU$11.99 per month) and Spotify (also $9.99 / £9.99 / AU$11.99 per month), but cheaper than Tidal's HiFi Plus tier, which is most comparable to Qobuz Studio (because Tidal doesn't offer a download site). Tidal HiFi Plus costs $19.99 / £19.99 / AU$23.99.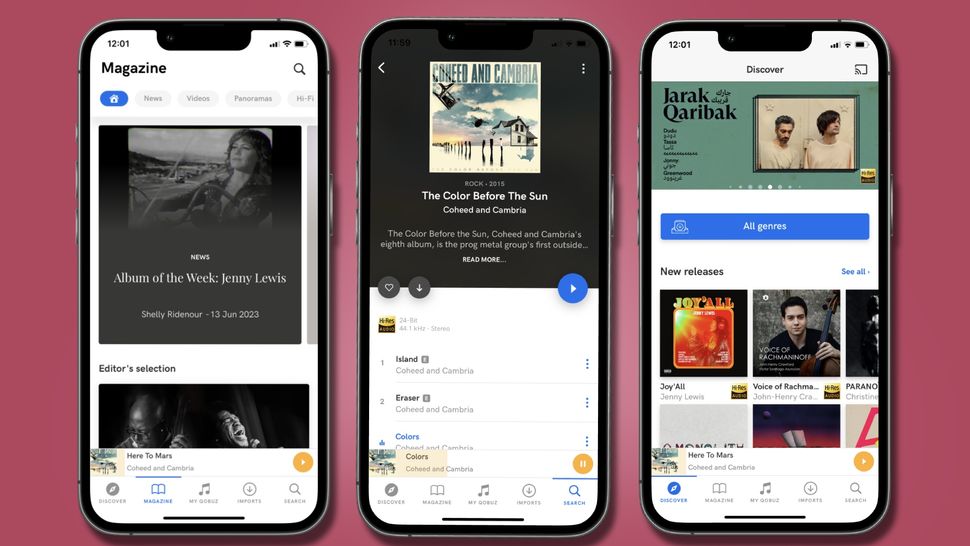 Qobuz: audio quality
FLAC 24-Bit up to 192 kHz (aka hi-res, which is better than CD quality audio)
Billed as the biggest hi-res catalog in the world
Hi-Res tracks and resolution clearly displayed, which beats the competition
Qobuz's entire catalog is available in either CD quality (16-bit/44.1kHz) or better, at up to a maximum bit-depth and sampling frequency of 24-bit/192kHz – and remember, anything better than CD quality is considered high resolution audio.
Qobuz's trump card is that it has the biggest hi-res collection of any streaming service, available on any device (as long as your kit is up to scratch) without limitation. And it sounds good across the board – clear, agile, nuanced and as crisp through the leading edges as the artist (as well as whoever was at the mixing desk) intended.
Refreshingly, along with the Hi-Res Audio yellow sticker you'll see as you scroll albums and tracks, Qobuz gives you the figures too (with 24-bit/44.1kHz coming up a lot, in our searches) or sometimes just 'CD-quality' written underneath a track. Other streaming services group the vague resolution using terms such as 'lossless', 'SD' and 'HD'; Qobuz gives it to you straight up.
Now, if you're listening on even the best noise-cancelling headphones, you might want to go wired and maybe nab one of the best portable DACs to boot when listening to Qobuz's beyond-CD offerings. Why? Because as with Apple Music's Lossless and Hi-Res Lossless tracks, Bluetooth connectivity applies its own limitations on quality and it still isn't quite good enough to get those hi-res files at their full potential.
Many music streaming services are upping their game to bring subscribers better music quality. Apple Music and Tidal already offer their own form of hi-res audio; Apple Music uses its own AAC and ALAC formats, Tidal favors MQA and Qobuz is a FLAC house – and because FLAC is a lossless compression format, the files sound good.
Although several streaming services are following suit with better quality audio, certain platforms also offer more immersive content with Spatial Audio (Apple Music), 360 Reality Audio (Tidal) and Dolby Atmos (both of the above).
In addition, Amazon Music HD has a "3D Audio" offering. On its FAQ page, Amazon writes: "We support over 750 tracks mastered in Dolby Atmos and Sony's 360 Reality Audio codecs from some of the world's biggest artists."
Qobuz is still relatively slow on the uptake with three-dimensional audio, but when it does go 3D, it prefers THX. Available to anyone listening from a device of their choice over any headphones, THX Spatial Audio uses advanced signal processing to place sounds "out of the head" and transform conventional audio with realistic acoustics ensuring a unique listening experience.
It's worth bringing Amazon's HD tracks into the debate too. These have a bit depth and sample rate of 16bit/44.1kHz (CD-quality) and an average bitrate of 850 kbps. Ultra HD tracks have a bit depth of 24 bits and sample rates ranging from 44.1 kHz up to 192 kHz – so an average bitrate of 3730 kbps.
Qobuz: music catalog
100 million tracks
Very limited THX immersive audio content
Claimed catalog now equals that of Spotify/Apple Music
Qobuz claims there are more than 100 million tracks available to stream on its site – which, at the time of writing, equals Spotify's collection and Apple Music's declared catalog.
In the past, we have knocked Qobuz for the holes in its catalog compared with Spotify and Apple Music; it doesn't matter how good the resolution of the song you don't want is, if it doesn't carry the one track you do desire. Based on our searches now, that has changed. Of course, your journey and musical tastes may vary wildly and that's why one-month trials exist, but we want to give Qobuz credit here – a lot has changed.
What Qobuz doesn't offer is podcasts or audiobooks – you need to go elsewhere for those. What it does offer that lots of services don't is an online magazine (remember those?) with video interviews, news stories, long-form 'panorama' features on musical genres, music history, artists and such as well as hi-fi tutorials and reviews. Because one way to learn about the music you might like is to read about it while you stream.
Radio? No, although under the playlists tab you'll find various 'moods' or options for 'listening with' your favorite acts, to the point that it almost feels like a dedicated station.
Qobuz: platforms and apps
Homescreen and tabs are easy to navigate
A dedicated hi-res tab is refreshing
As mentioned, can listen to Qobuz on all kinds of devices including iPhone, iPad, Android, tablet, CarPlay, PC, Android, Samsung Smart TV and your Google Cast device.
As well as the web player (to listen directly from your browser), there are applications for Mac, iOS and Android integration with hi-fi heavy hitters such as Roon software, Bowers & Wilkins and Bang & Olufsen hi-fi products, Chromecast (to listen to Qobuz on all your devices using Google Cast) and Samsung TV to stream Qobuz direct from the TV. Oh, and you can listen to Qobuz directly in your car with CarPlay or Android Auto.
And across all of them, the design is simple and likeable – much easier to navigate than Apple Music's congested design. A lovely touch is the dedicated Hi-Res playlist under the playlists tab (right after 'All'), which actually groups together the newest hi-res offerings from Qobuz. Where so many streaming sites keep things shrouded in mystery here, forcing you to go looking specifically for a specific track to see if you're lucky enough to get it in a higher resolution, Qobuz is honest, open and helpful. It might sound like a small detail, but to the audiophile it's a huge plus to have a hi-res roundup such as this.
Across the top bar of the desktop app and web player, you'll see tabs for Discover, Magazine, My Playlists, Favourites and Purchases. On mobile, it's Discover, Magazine, My Qobuz, Imports, and a search bar. All easy, all likeable – in fact Qobuz's simple and clean design is one of our favorites across all streaming services.
Qobuz: playlists and recommendations
My Weekly Q gets mixed reviews
Qobuz Magazine offers valuable extra content
Spotify has the edge with niche mixes and AI DJs
In terms of discovering new music, Qobuz is not a front-runner in the way Spotify is. For example, the big green giant can curate niche mixes especially for you if you discover a penchant for goblincore or pagode, say. Qobuz cannot do that. And neither does it ask for you to select ever multiplying bubbles containing the names of genres or acts you already like in the way that Apple Music does upon first signing up.
That said, Qobuz does offer My Weekly Q, a selection of tracks curated and available for you every Friday. Any good? That depends. Reviews are mixed, with some users vehemently preferring Spotify and claiming that Qobuz's algorithm and subsequent suggestions are based much more on their location and age, rather than what they actually listen to. For our money, the tracks we received were refreshing and we actually did discover a few new new bands we liked – particularly German soul and hip-hop bands, since you ask.
There are human-curated playlists here for the discerning listener too. Think 'A History of Rock: 1951' or '50 Jazz tracks to test your speakers' and our favorite offering hands-down is the Hi-Res collection – a thing we desperately wish other streaming services would offer.
Essentially, if you know the kind of music you want and you just want to love it more, you'll enjoy Qobuz. And any fresh discoveries on top of that just add to the fun, right?
Should I subscribe to Qobuz?
Subscribe if...
You value hi-res audio above all else
The biggest collection in the world is here, friend. If you've got one of the best hi-res audio players, you'll find almost all of the Flac files you could ever want for it here. And whisper it, but it's cheaper than Tidal…
You're not 100% sure
Qobuz offers a one-month free trial to help you make up your mind. This is a fantastic way to find out if the service works for you, and also a good way for the French streaming service to lure in subscribers who wouldn't be able to go without the service once their 31 days is up.
You want to download hi-res music
Qobuz has a neat download store. You don't need to pay a subscription fee to buy from Qobuz, but you'll get up to 60% off if you sign up for a Sublime membership. Bargain!
Don't subscribe if...
You prioritize fun social features
You'll find better social integration on Spotify, as well as social media sharing features such as Wrapped on Spotify at the end of the year (or the newer Apple Music variant, Apple Music Replay).
You already love your current music streaming service
If you already love your Spotify, Tidal, Deezer or Amazon Music membership and don't have a reason to move, stay where you are and nip that FOMO in the bud. Unless you really want hi-res music and those nifty download discounts, you won't be missing out on an awful lot by sticking to the service you're with.
You're heavily ensconced in Apple products
Apple Music might be a better fit in all honesty, since an iOS source device paired to a set of new AirPods opens the door to head-tracked Spatial Audio with Dolby Atmos content, all handled by Siri if you want it to be. And Apple Music also offers hi-res streams.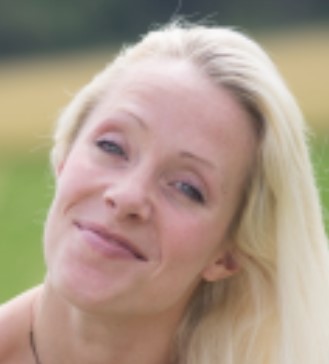 Senior Audio Staff Writer
Becky is a senior staff writer at TechRadar (which she has been assured refers to expertise rather than age) focusing on all things audio. Before joining the team, she spent three years at What Hi-Fi? testing and reviewing everything from wallet-friendly wireless earbuds to huge high-end sound systems. Prior to gaining her MA in Journalism in 2018, Becky freelanced as an arts critic alongside a 22-year career as a professional dancer and aerialist – any love of dance starts with a love of music. Becky has previously contributed to Stuff, FourFourTwo and The Stage. When not writing, she can still be found throwing shapes in a dance studio, these days with varying degrees of success.