I regret to inform you that Bose's high-priced new headphones are worth every penny (but I'm still hoping for a Black Friday deal)
Ultra by name, ultra-good by nature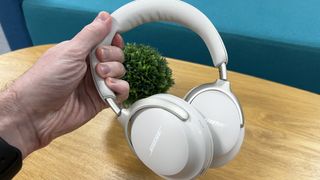 (Image credit: Future)
I've been testing the new Bose QuietComfort Ultra Headphones ready to write our in-depth review, and I've got to tell you: I'm totally in love with these things. When we heard that Bose was pushing into higher-end territory with the $429 /£449 / AU$649 price of these headphones, I gave the company a 50:50 chance of pulling it off – it's made some magnificent products recently, but also some middling ones.
It only takes about half a second of listening to tell that the Bose QuietComfort Ultra Headphones are in the first of those categories. They're so energetic, so rich, so precise and so much fun. The amount of dancing around the room that occurs in my house has dramatically increased since these headphones arrived, and most of it is totally involuntary.
Black Eye by Allie X is my favorite song of the year, and its string machine opening absolutely explodes from the Bose QC Ultra Headphones' drivers like a cat leaping after stepping on tin foil. And then, just as suddenly, the song lands and sinks into a bass line that bounces so deeply and with such effortless control that it's guaranteed to win trampolining gold in Paris next year.
I've listened to this song an alarming number of times since its release, on a range of the best headphones and best wireless earbuds, and this is the most I've enjoyed it by a mile. Yes, my Sennheiser HD-660S2 are also capable of beautiful depth and crispness like the Bose, but I use those tethered to my DAC/laptop. With a song like this, being able to move freely just adds to the experience.
And Black Eye is far from alone; I've been diving back into songs I haven't listened to in years – these headphones do what we want every new audio purchase to do: make music exciting and new again.
A lot of the music I like is, I admit, especially suited to what the Bose QC Ultra Headphones are offering. The sound profile here is a little spicier in the bass and treble than in what one might call a 'neutral' presentation, which was emphasized when I switched back to my trusty AirPods Max – previously the best-sounding wireless headphones I'd tried.
The AirPods Max feel flatter, in good and bad ways. In the good way, the AirPods Max have a little extra prominence to upper-mids that suits acoustic and vocal ranges. In the weaker way, the AirPods Max (which I've always rated highly for their bass capability) now feel relatively basic when it comes to bass. It's like how Chris Evans is an extremely muscular man, but if you saw him next to Terminator-era Arnie, you'd have to reassess your concept of what it means to be muscular. Bose needs your clothes, your boots and your motorcycle.
This is not to say that there's any problem with listening to classical or acoustic music on the Bose QuietComfort Ultra Headphones. The fantastic timing and dynamism of their drivers means there's a seemingly infinite well of detail for them to draw on to offer the sound of fingers moving on the string, or the pop of a singer's lips between words.
Bose has taken the same approach as the fantastic Bowers & Wilkins PX8 by using angled drivers in the earcups to aid timing, which you can see in the image above. Instead of being parallel to the earcups, as they are in most headphones – which means they're not parallel to your ear canals once they're on your rounded skull – the drivers here are angled so that they end up parallel to your ears once they're on your head. The idea is that sound from the whole driver should reach your ear at once to preserve timing and dynamism.
Who knows whether this feature is making the difference, but the energy and timing on these is a huge part of their strength. There's so much clarity in combination with the absolutely massive dynamic range that these put anything below them in price to shame – but they also put the AirPods Max, above them in price, to shame.
And it barely needs saying, but that goes for the active noise cancellation too. They're the best noise-stoppers I've ever heard, and the superior driver dynamism and timing probably helps here – the sprightlier a driver is, the easier a time it has making all the adjustments necessary to counteract outside noise. We are about to have a new champion of our best noise-cancelling headphones list.
Worth every penny, but I'd still like to save some
I'm still working out how I feel about their Immersive Audio feature, which creates a Spatial Audio effect from any sound source, no matter what kind of device you're connected to. And their 24-hour battery life is straight-up disappointing compared to the 30 hours of the Sony WH-1000XM5, let alone the 60 hours of the Sennheiser Momentum 4 Wireless – and you really will notice the difference.
But I don't care. It doesn't matter. I'm enjoying them so much that they could burst into flames occasionally when not in use, and I'd probably still have them around; I'd just store them in the bath when I'm out of the house or something.
They're so good that we're planning to get a second pair for my partner, because the current pair is under so much demand. And so even though I'd happily pay full price for these, I'm really hoping they'll get a deal among the best Black Friday headphones deals. It's not that outlandish an idea – the Bose QuietComfort Headphones (the new, non-Ultra versions of these) are already discounted to £299 at Amazon instead of £349, so I think some money off these among the Black Friday deals on November 24 is reasonable to hope for.
Get daily insight, inspiration and deals in your inbox
Get the hottest deals available in your inbox plus news, reviews, opinion, analysis and more from the TechRadar team.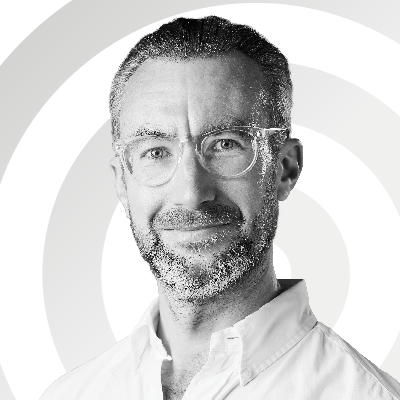 Managing Editor, Entertainment
Matt is TechRadar's Managing Editor for Entertainment, meaning he's in charge of persuading our team of writers and reviewers to watch the latest TV shows and movies on gorgeous TVs and listen to fantastic speakers and headphones. It's a tough task, as you can imagine. Matt has over a decade of experience in tech publishing, and previously ran the TV & audio coverage for our colleagues at T3.com, and before that he edited T3 magazine. During his career, he's also contributed to places as varied as Creative Bloq, PC Gamer, PetsRadar, MacLife, and Edge. TV and movie nerdism is his speciality, and he goes to the cinema three times a week. He's always happy to explain the virtues of Dolby Vision over a drink, but he might need to use props, like he's explaining the offside rule.