Why you can trust TechRadar We spend hours testing every product or service we review, so you can be sure you're buying the best. Find out more about how we test.
We always enjoy talking about the media functionality of the Samsung Galaxy range as it's so good - and we're happy to do the same here. It's a media marvel in every sense of the phrase, from music to video to even the FM radio, and if you're after a spot of entertainment on the go, then there's very little better out there, with the iPhone 5 the only possible rival.
The Galaxy S4 has done away with the FM Radio for some reason though – it's a shame as the Samsung app was one of the best out there for listening to some tunes over the airwaves. Sure, there are dozens of excellent internet radio apps, but for free music that you could record when needed, we loved that ability on the Galaxy S3 and Note 2.
It's also worth noting that Samsung has upgraded the rear speaker as well, which is now a little more rich in the bass tones and makes watching videos or YouTube clips without earphones that little bit better. It's nowhere near as good as BoomSound from HTC, but it's definitely a big step forward.
Music
Sonically, the Samsung Galaxy S4 is a great device for music consumption. You can lob in as many tracks as you like through the microSD slot, the interface is fluid and easy to navigate, and comes with so much control that if you've got quality headphones and high bit-rate tracks, it should be impossible not to get an excellent experience out of the phone.
One of the real winners here is the music player itself - there's just so much to do.
We're talking about the main player here - there are other options in the shape of Google's Play Music, and of course you can check things out using the Music portion of the Samsung Hub (the South Korean brand's version of iTunes, helpfully now packaged all up in one place) but the main way to transport tunes to your ears is through the main Music app.
It's easy to get to the tracks you want here too, as when you open it up you're presented with either a big long list of all the albums or songs you own - although if you have missing album artwork the phone won't be able to find it for you.
That said, there are so many apps on the Google Play Store that you shouldn't have an issue with it - we'd recommend you look at something like Player Pro to help you out with this.
Once you've selected the track, you can continue building the playlist or press the album artwork icon at the bottom of the screen where a little music player has started. From here there's all manner of things you can do: from searching through a song using a visual representation of the volume to setting the sound to mimic your ears perfectly, it's all here if you open up the menu.
The latter functionality is really nice - AdaptSound (which we've covered in the Contacts and Calling section of this review) takes you through a wizard that asks you to listen to a variety of frequencies and determines which ones you can hear. It will then boost the sound to make sure it fits into the range you can actually hear, which will diminish as you get older.
Music View, which is the name for the functionality where you can search through a song visually, is a nice touch but really doesn't work - you see peaks and troughs on the screen, but it doesn't correspond at all to what you're hearing.
Another feature (hidden away, annoyingly - you'll need to swipe to the left on the top row of icons in the main view, and there's no obvious indication that you can do this) will lead to Music Square.
This analyses your music library and gives it a rating based on Joy, Passion, Excitement and Calmness. Quite why these are the main types of track in Samsung's eyes, we don't know. You can then trace a line through the different emotions to get a playlist based on the emotions you really want. While the result is a bit hit and miss, we did find that when we wanted a more chilled out track listing it worked well.
Music also supports voice control here as well, which in theory would be really useful. The ability to Play, Pause, Skip and Volume Up/Down is a really nice thing to have - except it doesn't really work.
Volume up and down get easily interchanged and go up very slowly, and if the phone is in sleep mode (which it will be most of the time) then the commands don't work.
We loved it when we forced the screen to stay on and could just command the phone to change tracks by asking, and without having to press any buttons, but that kills the battery; when it doesn't pick up your voice properly it's a frustrating experience.
We would say it was more of a niche feature, but if you've got voice control turned on in the settings, the music player will constantly tell you that you can change things using the voice, with no way to permanently disable the notification.
Video
Video on the Samsung Galaxy range, like music is excellent. However, unlike music, it is head and shoulders above the rest of the competition, in no small part thanks to that Full HD Super AMOLED screen.
When we review phones, we usually always gravitate towards downloading our favourite apps to improve the experience - SwiftKey, PlayerPro and MX Player (for music) are the first three on our list. However, with the Galaxy S4, we had no need for a new video player app as everything we wanted was serviced by the inbuilt experience.
The interface is clean, with a white background allowing the thumbnails of the videos you want to watch really bringing the content to the fore. Then you've got the neat functionality of videos auto-playing as thumbnails, which is possible thanks to the power of the processor. It's not critical functionality, but it's really fun to watch.
You've also got a side link to the videos you've downloaded from Samsung's Video Hub, which makes it a complete and integrated video experience within one app. Many won't use this option that often, but it really works if you've got a couple of titles in the cloud that you want to bring down and means you don't have to mess around in the main Video Hub.
The phone can detect chapters within the video file, which makes it really easy to navigate through your content when you need to - this is an oft-overlooked piece of functionality that we're glad to see pervades through the Galaxy S4 from previous smartphone iterations.
But enough about what you can do and more about the experience itself - and it's glorious. The colour reproduction, the clarity of the screen - it's all there in spades and makes us just want to gorge ourselves on movies for hours, rather than having to wait until we can find a tablet or a PC to do it with.
Five years ago, when video watching on the smartphone started to trickle into the mainstream, we used to consider that a phone that allowed you to watch a music video without having to squint too hard was a pretty decent device. We're now at the other end of the scale with the Samsung Galaxy S4, with there being no better phone to watch an episode of Supernatural, a host of music videos from your favourite band and the latest downloaded blockbuster on.
The only slight issue we had with the Galaxy S4 when using the handset for video was with the Smart Pause functionality, which is designed to make it so you don't miss your video when someone comes to ask you a question or you need to look up to make sure you haven't missed your stop.
When detecting that your eyes are on the screen, the S4 will keep the action playing. When they stray from the action it's designed to pause, and for the most part it works. However, there's a slight second's delay to confirm your eye movements, which does negate the effect somewhat.
But more annoyingly, if you're holding the phone too far away from your face then the action won't kick in either. And with the higher resolution screen you can hold the S4 in a more comfortable way that's further away from the face, which ruins the effect somewhat.
In terms of clarity, the only rival we've seen so far is the Sony Xperia Z, which does have some lovely scenes thanks to the upscaling performed by the Bravia 2 engine within. However, while that does have the edge when it comes to making fuzzy standard-def footage look good, the screen pales (literally) in comparison to the Full HD Super AMOLED offering we're seeing on the Galaxy S4.
Streaming video
We tested the Samsung Galaxy S4 using EE's 4G service, and we were more than pleasantly surprised with the result. Having constantly used Netflix on the Three network for a while, we've always been impressed with the quality of stream that's been offered when using HSPDA+.
However, it's a whole new world with 4G – and one that instantly makes us recommend that you think about how you're going to get the service on your phone. It's blisteringly quick and brings a whole new dimension to the way you'll use your Galaxy S4, as suddenly you can get a whole world of content on the go.
You can even download movies on the go in an extraordinarily fast time, but therein lies the rub: all the carriers have pretty tight data limits unless you're willing to fork out a fair whack each month.
They're not that low if you're just doing the same general 3G business you always have, but we were so impressed with the speed of things like the internet and, in particular, movie streaming, that we'd recommend waiting making sure you have plenty of data bundled with your 4G plan.
Storage
Storage on the Samsung Galaxy S4 is limited if you opt for the 16GB version of the phone, as over 6GB of it is taken up by pre-installed apps and the OS itself. That might not sound like a problem when you consider that you can whack in up to 64GB of microSD storage thanks to the expansion slot, but this is the zone where apps download.
And with the prevalence of the HD app now coming along (for instance, Need For Speed: Most Wanted takes up over half a GB of space on the internal memory) you can see how quickly that could get filled up. You start with only 9.15GB of the 16GB of space you've paid for from the outset, which is over 2GB less than offered by the same capacity Galaxy S3.
Samsung has updated the phone since launch to help this issue, as where previously some cloud services like Dropbox would sync all the photos it has to the phone automatically (easily taking over 1GB for any existing user) this has now been disabled, making it a user option.
There are things you can do to mitigate this, but you have to know where to look. For instance, videos you buy from the Samsung Video Hub can run to well over 1GB, but if you head into Settings from within that app you can tell the phone to put the film on your SD card instead to make it a little less of a strain on the internal memory.
This isn't a problem that only Samsung has to deal with, but the fact that the internal storage is so limited thanks to the pre-installed elements means this becomes even more of an issue than we saw on the iPad, which at least had over 2GB more to start with.
The memory card slot really does help though by giving you a safe haven for your media - our advice is to get your hands on the 32GB version of this phone unless you want to be really careful with your use.
However, with the update we found things to be a lot better - we downloaded 20 games of varying sizes to the phone, way more than most will use regularly, and still had 3GB of space remaining. So while that 2GB drop is unwanted, it's not unmanageable in any way and far less of an issue now.
It's also worth mentioning that you've got two years of Dropbox storage on the phone too – and not just a paltry amount, but 50GB to lump all manner of home movies and photos up into the cloud.
With clever connection to your gallery, this is a feature that is swept under the carpet marketing-wise, but really is rather useful.
But ultimately, Samsung has dropped the ball with the internal storage limit - it should have realised that users want the full whack when trying out a new phone, and this is bordering on unacceptable if you're a heavy user.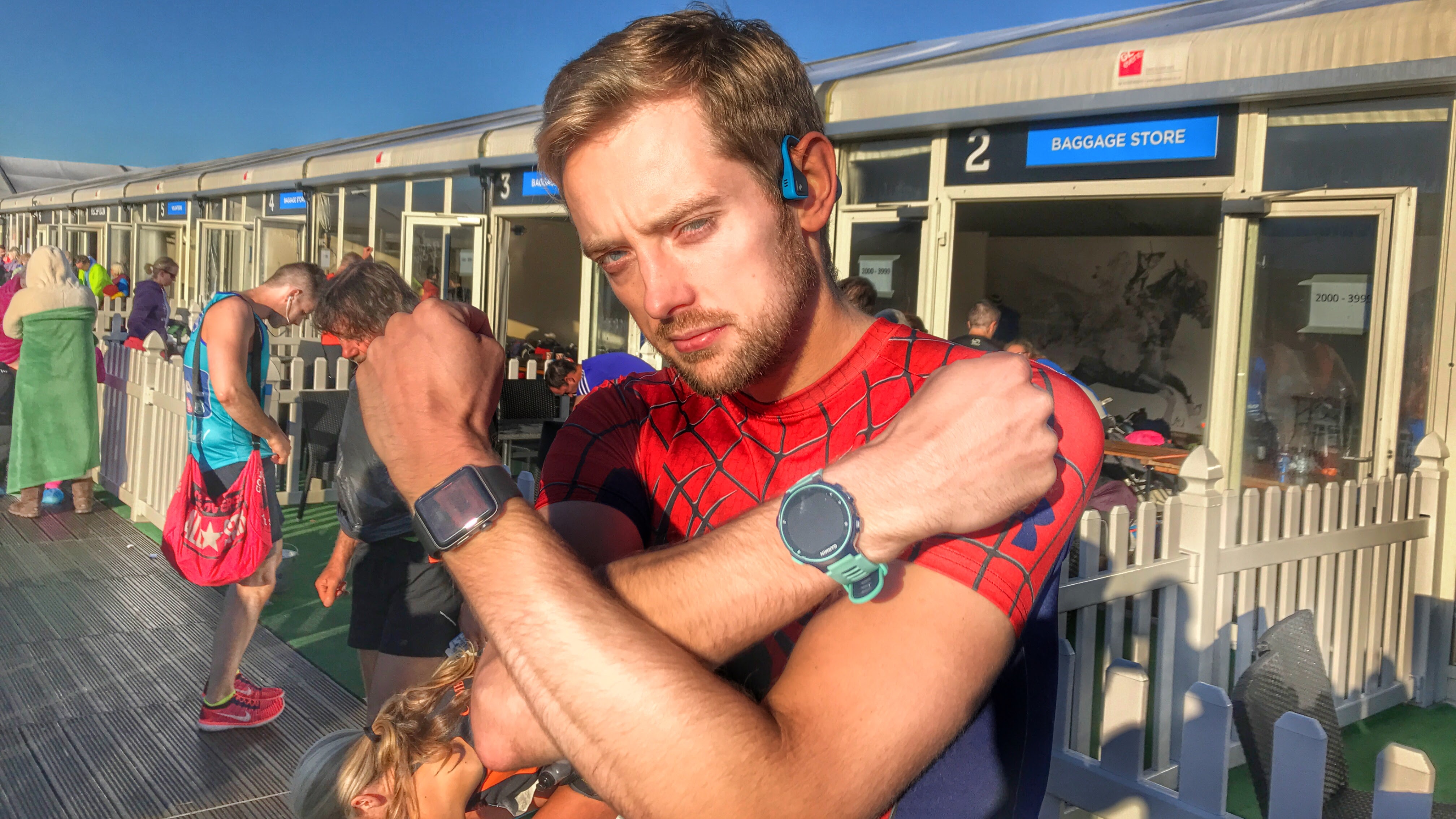 Formerly Global Editor in Chief
Gareth has been part of the consumer technology world in a career spanning three decades. He started life as a staff writer on the fledgling TechRadar, and has grown with the site (primarily as phones, tablets and wearables editor) until becoming Global Editor in Chief in 2018. Gareth has written over 4,000 articles for TechRadar, has contributed expert insight to a number of other publications, chaired panels on zeitgeist technologies, presented at the Gadget Show Live as well as representing the brand on TV and radio for multiple channels including Sky, BBC, ITV and Al-Jazeera. Passionate about fitness, he can bore anyone rigid about stress management, sleep tracking, heart rate variance as well as bemoaning something about the latest iPhone, Galaxy or OLED TV.