Updated: We've had a chance to try out the new console for ourselves, so check out our hands on review of the SNES Classic Mini for a full rundown of how the console feels to use.
Article continues below...
With the release of the Nintendo Switch and a slew of excellent games Nintendo is having an excellent 2017.
But the fun isn't over yet, as Nintendo has confirmed that the SNES Mini, a small console capable of playing 21 classic SNES games, is set to release later in the year.
Like the NES Classic before it, the SNES iteration will be a petite, palm-sized machine. While it has 9 fewer games than its re-release predecessor, the 21 16-bit classics squeezed onto the console are far better titles. It will be available this fall and, thankfully, Nintendo has promised it will be available in slightly larger numbers than last year's NES Classic.
We got our first peek at the console on June 26, along with a release date for the 16-bit era hardware: September 29, 2017. There's also a price tag to go along with it: $80 / £79.99/ AU$ 119.95 – before you ask, yes, that's a whole chunk of change more than last year's NES Classic.
So what does that sticker price get you? A miniature version of one of Nintendo's best systems and 21 games (listed further below) including Star Fox 2, a game that has never made its way out of Japan until now. You also get two controllers included as standard.
Check out our hands on review of the SNES Classic Mini for a rundown of how the console operates, or read on below for an overview of the console.
We've also filmed an unboxing of the retro machine which you can watch below.
Cut to the chase
What is it? A plug-and-play home console that plays SNES games
How much will it cost? $79.99/£69.99/ AU$ 119.95
When does it come out? September 29 in UK and US, September 30 in AU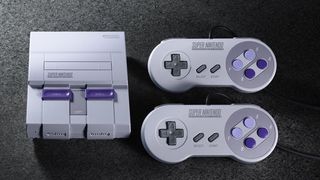 Features
What's in the box?
Like the NES Classic Mini before it, the SNES Classic Mini will come with pretty much everything you need to start playing right away in the box. It's not much of a challenge to include these things since it's a plug-and-play console. The 21 games come pre-loaded on the console so all you need is an HDMI cable to connect the console and your TV.
It also comes with a second controller in the box, unlike the NES Mini, so that you can sit cross-legged on the floor and enjoy the multiplayer games with your friends just like you used to.
Nicely, we've discovered that these controllers are in fact able to plug into WiiMotes to allow you to play SNES games you've downloaded onto the virtual console. With the death of the Wii U it's unlikely that this functionality is going to be useful for long, but it's a nice way of expanding the amount of games you can play with the authentic controller.
Thankfully this time, the wires on the controllers are longer so if you want to move back to the sofa (your knees are less forgiving than they used to be) you at least have the option.
It's worth noting that something not included in the box is an AC adapter for the USB power cable (in the UK at least), which you will need to plug it into the wall.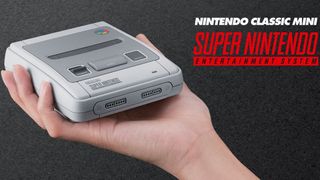 The appearance of the console that you pull out of the box will depend on where you purchase it from. Those in the UK will get the EU model of the console with its more colorful buttons while those in the US will, of course, receive the purple-accented US model.
Those in Japan will get a different model again: the Super Famicom Mini on October 5, a model whose design is more similar to the European version and will come with a slightly different selection of games.
What games are on it?
In the UK, US and Australia, the games pre-installed on the SNES Mini will be as follows:
Contra III: The Alien Wars™
Donkey Kong Country™
EarthBound™
Final Fantasy III
F-ZERO™
Kirby™ Super Star
Kirby's Dream Course™
The Legend of Zelda™: A Link to the Past™
Mega Man® X
Secret of Mana
Star Fox™
Star Fox™ 2
Street Fighter® II Turbo: Hyper Fighting
Super Castlevania IV™
Super Ghouls 'n Ghosts®
Super Mario Kart™
Super Mario RPG: Legend of the Seven Stars™
Super Mario World™
Super Metroid™
Super Punch-Out!!™
Yoshi's Island™
You should note that Final Fantasy III is something of a confusing entry on this list, as it's more commonly known as Final Fantasy VI these days. This was the name it was originally released under in Japan, however when it came to the west it was only the third game in the series to do so - hence the 'III' - despite actually being the sixth game in the series overall.
Star Fox 2 is another interesting inclusion as the game has never been released. It was original developed for the SNES back in 1995, but was cancelled due to the imminent release of the Nintendo 64. The SNES Mini will be the first time the game has ever been released.
But what about Chrono Trigger/Super Star Wars/other classics?!
Nintendo has included a lot of the console's classic games, but it was always inevitable that there were going to be some missing.
This was also the case with the NES Mini, but thankfully pretty soon after the console's original release, third-party modders stepped in to fill the gaps left by Nintendo with tools that would allow you to install additional games on the console.
Since this was an initiative that was in no way supported by Nintendo there's no guarantee that the same will be possible on the SNES Mini, but there's still hope.
Where can I get one?
Due to stock shortages it's currently very difficult to get your hands on a SNES Mini, however we try to keep the following guide updated as and when more retailers have stock available.
Pre-orders for the console have gone live on Game UK and Amazon UK, though it appears stock is currently unavailable. Nintendo UK has launched pre-orders on its own official site where the console is being sold for £69.99. Despite being limited to one per customer, the pre-orders went very quickly but you can sign up to be alerted for when more stock comes in.
Amazon started taking pre-orders for the console again recently and appears to have lowered its price point from £79.99 to £69.99 to be in line with Nintendo's own pricing. Unfortunately, pre-orders have once again closed.
In Australia EB Games has set up a pre-order page too, as has JB Hi-Fi.
In the US there are currently no pre-order pages available just yet, so we'd advise that you wait until reputable retailers such as Amazon or GameStop set up product pages before spending your money.
Not having any luck getting your hands on one? Why not use our guide to build your own!