Samsung's created the coolest foldable around when it launched the Galaxy Z Flip 4, but is folding all it's cracked up to be? If you're shopping for a new phone, is it worth getting bendy with Samsung, or sticking with a reliable winner from Apple like the iPhone 13?
Apple's popular phone and Samsung's best bendable are both on our list of the best phones you can buy (only one sits among the best foldables, of course). Is the Samsung worth the premium of foldability, or should you stick with Apple's dependability? We have the answer.
Size: 165.2 x 71.9 x 6.9mm
Weight: 187g
Screen: 6.7-inch AMOLED, 120Hz, HDR10+
Resolution: 1080 x 2640
Processor: Qualcomm Snapdragon 8+ Gen 1
RAM: 8GB
Storage: 128 / 256 / 512GB
Main Camera: 12MP, f/1.8. 24mm equivalent
Ultrawide Camera: 12MP, f/2.2
Selfie Camera: 10MP, f/2.4, 26mm equivalent
Battery: 3700mAh
Charging: 25W, 50% in 30 minutes
The Samsung Galaxy Z Flip 4 is Samsung's most accessible folding phone. It's plenty powerful, though it's cameras come up a bit short. The folding design helps it stand out makes using the phone a much better experience than you'd expect.
For
Larger battery & faster charging
Impressively compact design
Excellent performance
Against
Occasional camera inconsistencies
Battery life underwhelms
Price is too high
Size: 146.7 x 71.5 x 7.7mm
Weight: 174g
Screen: 6.1-inch Super Retina OLED, HDR10
Resolution: 1170 x 2532
Processor: Apple A15 Bionic
RAM: 4GB
Storage: 128 / 256 / 512GB
Main Camera: 12MP, f/1.6. 26mm equivalent
Ultrawide Camera: 12MP, f/2.4 , 13mm equivalent
Selfie Camera: 12MP, f/2.2, 23mm equivalent
Battery: 3240mAh
Charging: 25W, 50% in 30 minutes
The iPhone 13 is still available brand new, and it packs a punch with the same Apple A15 as the iPhone 14. The screen is smaller than the Galaxy Z Flip 4, but it's super crisp and clear. The iPhone 13 gives you iconic iPhone design and performance at a reduced price.
For
Strong battery life
Great design
Powerful internals
Against
Minimal design improvements
No 120Hz display
No ceramic shield on rear
Samsung Galaxy Z Flip 4 vs iPhone 13 price and availability
The Samsung Galaxy Z Flip 4 pricing starts from $899.99 / £999 / AU$1,499 for 128GB, moving up to $1,059.99 / £1,059 / AU$1,649 for 256GB. There's also a 512GB model, which costs $1,179.99 / £1,199 / AU$1,849.
Then we have the iPhone 13, remained in Apple's iPhone lineup even after this year's iPhone 14 family was announced. Prices start from $699 / £749 / AU$1,229 for the base 128GB model, moving up to $899 / £859 / AU$1,399 for 256GB build and $1,099 / £1,079 / AU$1,749 for 512GB variant.
It's not often that Apple phones look like a bargain, compared to Samsung's foldable phone, last year's iPhone 13 is much cheaper, even though you still get this year's performance with the Apple A15 Bionic chip.
Samsung often offers free storage upgrades and enhanced trade value, however, so the final price on the phone you want may be much lower. It's worth checking out retailers and pricing the phones if you are looking to buy.
Samsung Galaxy Z Flip 4 vs iPhone 13 design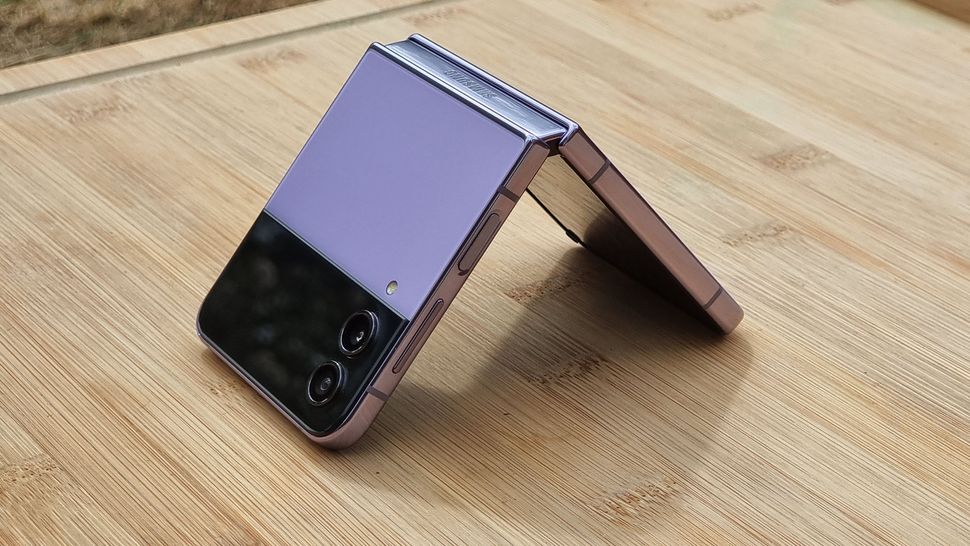 Both of these phones look like the current, top-of-the-line models that they are. The Galaxy Z Flip 4 is the latest folding phone from Samsung, announced in August with the Galaxy Z Fold 4.
The iPhone 13 was last year's model, but you'd need a magnifying glass to spot differences between this phone and the newer iPhone 14, even on the inside. Apple has changed the iPhone's design very little since the iPhone X, and the iPhone 13 is immediately recognizable with its slab-flat front and sharp sidewalls.
The Galaxy Z Flip 4 is a unique folding phone, and if you've never tried a folding smartphone before, we recommend trying it out in a store before you dismiss it. That fold adds a whole new feel to your daily use, and it can be very rewarding.
Samsung's foldable Galaxy Z Flip 4 pulls off an amazing feat of size compared to the iPhone 13. It manages a much larger screen while feeling like a smaller phone. That's not just because it folds up into such a compact package, though it helps the phone feel very small. It's also because the Galaxy Z Flip is very thin when open, so it feels like a slender device no matter how it's bent.
Samsung covers its phone with Gorilla Glass Victus Plus, while the iPhone 13 uses a custom Ceramic Shield that mixes nano-ceramic crystals into the glass. It's supposedly tougher than any standard display glass. There is a crease on the Samsung display, but you'll hardly notice it, and we never minded the feel of it.
Apple also wins points for its IP68 certification, which means that it's similarly water resistant but way more dust-resistant than the IPX8 certified Galaxy Z Flip 4. That "X" is a stand-in for where dust protection should be, so Samsung hasn't even certified this phone against particles.
Apple and Samsung take very different approaches to biometric authentication. The iPhone 13 has Apple's advanced Face ID system, while the Galaxy Z Flip 4 used a rather old-fashioned side-mounted fingerprint system.
Both are tried and tested solutions, and the 'winner' partly comes to personal preference. Apple's Face ID notch – while being 20% smaller than before – is far more intrusive than Samsung's subtle hole punch camera.
Samsung Galaxy Z Flip 4 vs iPhone 13 display
The Samsung Galaxy Z Flip 4 might be a tiny square of a thing in its closed position, but it folds out into a full-sized phone. Indeed, its 6.7-inch display is more comparable in size to the iPhone 13 Pro Max's screen than to the iPhone 13's 6.1-inch display.
Both are OLED technology, so they're similarly vibrant and color-accurate. However, the iPhone 13's screen is a little sharper, with a resolution of 2532 x 1170 to the Samsung's 2640 x 1080. Given the difference in size, that translates to a 460ppi density for the iPhone, and 426ppi for the Flip 4.
That's a pretty subtle difference when you come down to it. More consequential is the matter of screen refresh rate, with the Galaxy Z Flip 4's 120Hz straight up doubling the iPhone 13's 60Hz. This means that the Flip 4's main screen looks twice as smooth as the iPhone's while scrolling content or rendering games.
The Galaxy Z Flip 4 has another ace up its sleeve in the form of a second display that sits on the outside of the phone, though it's of somewhat limited use. This tiny 1.9-inch Cover Display packs a 260 x 512 resolution and a 60Hz refresh rate, and is mainly useful as a viewfinder for superior selfie shots using the phone's main camera, instead of the selfie cam. You also get heads-up notifications while the phone is closed.
Samsung Galaxy Z Flip 4 vs iPhone 13 camera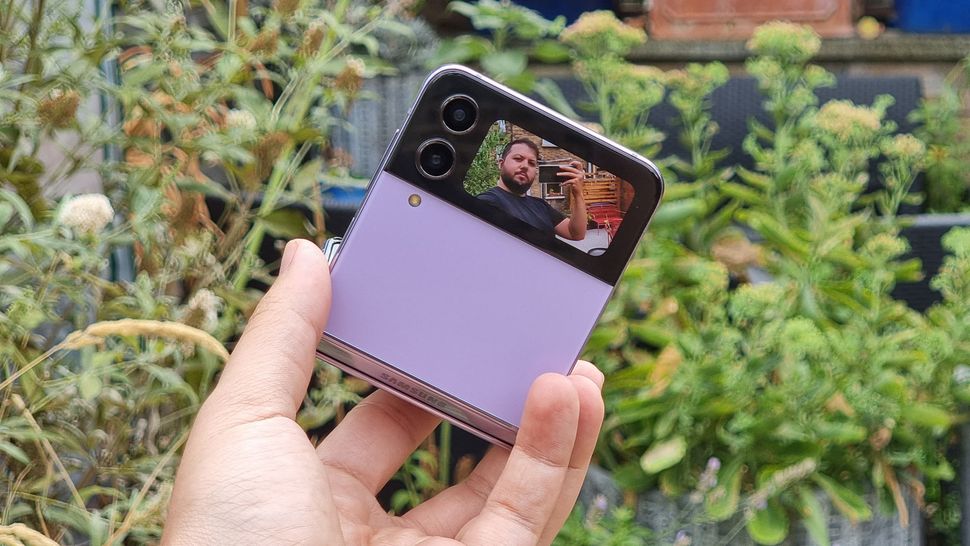 Both phones use a duo of 12MP cameras – one for regular wide shots, another for ultra-wide shots.
In both cases, the manufacturer has increased the main sensor size from the previous models. For the Galaxy Z Flip 4, that means a 65% brightness boost over the Flip 3, while the iPhone 13 sensor pulls in 47% more light than the iPhone 12.
In relation to each other, the Flip 4 main sensor appears to be slightly bigger, with 1.8µm pixels to the iPhone 13's 1.7µm. Samsung's system also benefits from improved OIS (optical image stabilization) and VDIS (video digital image stabilization) skills compared to before.
Much like the phone's biometric security, while there are clear differences, your preferred snapper will likely fall to personal preference, rather than empirical superiority.
The iPhone 13 takes phenomenal images in a wide range of lighting conditions, doubtless aided by its advanced sensor shift stabilization system, which was taken directly from the previous year's pricey iPhone 12 Pro Max. Our reviewer called shooting with it "a great point-and-shoot experience".
As for the Flip 4, it lacks the wide dynamic range of the iPhone but makes up for it with better detail, better low light capture and more creative shooting modes, especially when you factor FlexCam mode, which capitalizes on phone's folding form factor.
On the selfie front, Apple gives you another 12MP sensor, while the Galaxy Z Flip 4 goes with a 10MP sensor. The Galaxy Z Flip 4 makes it easy to use the main camera for selfies, since the Cover Display acts as a viewfinder.
For all the hardware talk, software is king with smartphone camera systems. Samsung tends to go with a hyper-saturated look, while Apple's is more natural or even bluish. Both now give you more control than ever before, however, letting you move the needle in the other direction, with regards to the overall look of your snaps.
Samsung Galaxy Z Flip 4 vs iPhone 13 specs and performance
Samsung has equipped the Galaxy Z Flip 4 with the very fastest Qualcomm processor available in 2022: the Snapdragon 8 Plus Gen 1.
It's fast, with Geekbench 5 multi-core scores that circle the 4300 mark. That's well ahead of the Android competition, though the iPhone 13 scored 4688 in the same test. The Apple A15 Bionic in the iPhone 13 was so powerful Apple used it again in the next year's iPhone 14.
Performance is always an sticking point for Android manufacturers when comparing their products with the latest iPhone. Apple's processors are simply faster.
To be fair to Qualcomm, the Snapdragon 8 Plus Gen 1 actually pips the A15 Bionic in a few GPU metrics. This is a much closer fight than we've seen in a while.
One of the most meaningful differences between all Apple and Samsung devices is software. Apple's iOS is always clean, fast, and completely in sync with its hardware, though also quite locked down.
Samsung's One UI is a weighty UI layer sitting on top of Google's Android 13 (at present, at least). It's less elegant than iOS, more laden with bloatware and sluggish animations, but also more customizable. This one's largely a matter of preference, but if you're already deep into Apple's ecosystem, you may feel stuck.
Samsung Galaxy Z Flip 4 vs iPhone 13 battery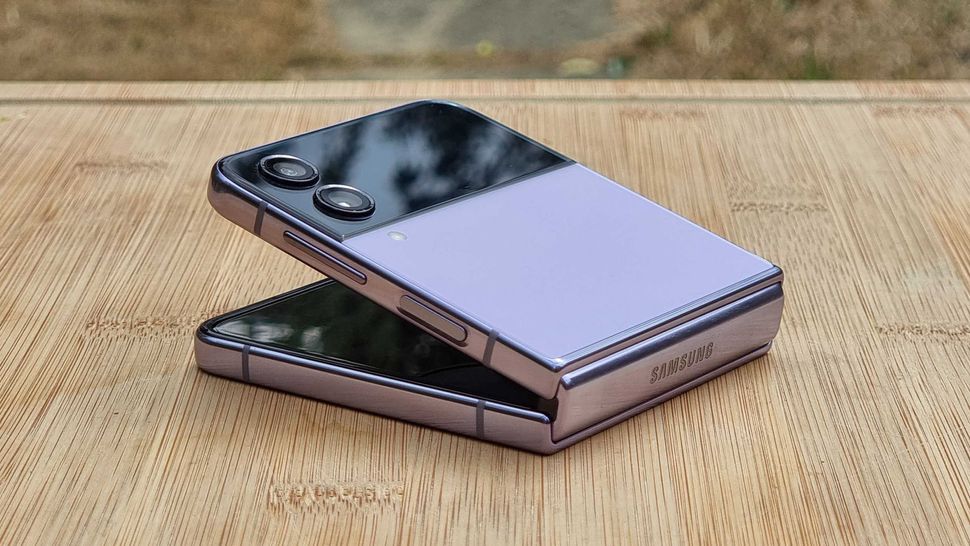 The Galaxy Z Flip 4 runs off a 3,700mAh battery, which is welcome progress (12% larger) over the weedy 3,300mAh cell of the Flip 3.
Apple's iPhone 13 runs on a 3,240mAh cell, which sounds like a big disadvantage, but iOS uses its power and memory resources differently and more efficiently than Android, so the comparison is Apples to oranges.
When we reviewed the iPhone 13, we found that it had some of the most impressive stamina we'd seen from an iPhone. We tended to end up with 20% left in the tank at the end of a heavy day.
The improvements made to the Z Flip 4's battery capacity turn it into a more tenable day-long phone, but it still lags behind the iPhone (and most other flagships of similarly-priced smartphones, for that matter).
Neither of these phones wows when it comes to their charging provision. The iPhone 13 supports 23W charging, while the Flip 4 supports 25W charging, which is well short of the faster charging you'll find on upstart competitors like OnePlus. Neither gives you a charging brick in the box either.
On the wireless front, the iPhone 13 supports 7.5W, or 15W speeds if you pick up a MagSafe for iPhone charger. The Galaxy Z Flip 4 supports 15W wireless charging and 4.5W reverse wireless charging; ideal for your Bluetooth headphones or smartwatch.
Takeaway
While it may seem like an unusual comparison, the Apple iPhone 13 and the Samsung Galaxy Z Flip 4 have very similar internal specs and performance, and make for an interesting comparison.
While the iPhone 13 may seem an obvious choice for its much lower price, the Samsung phone delivers an experience that defies expectations, and the extra couple hundred bucks may be worth the eye-catching design, especially considering how long you'll own this phone.
Plus, Samsung tends to offer more value for trades, and you can always find a carrier willing to give you a free phone for a long-term commitment. If price isn't the key consideration, we'd say the Galaxy Z Flip 4 is more than a compelling option over an aging iPhone.
The choice may come down to ecosystem. If you are heavily invested in Apple, it can be difficult to break free. If everything you own charges with Lightning connectors and MagSafe wireless, you need the iPhone. If you'd prefer some flexibility, literally and figuratively, the Galaxy Z Flip 4 is worth a look.