Audio-Technica AT-LP60XBT
Drive system: belt drive
Speed: 33 1/3 RPM, 45 RPM (78 RPM - no)
Replaceable cartridge: no
Built-in phono preamp: yes
Bluetooth output: yes
The Audio-Technica AT-LP60XBT is one of the least expensive turntables you can buy. It's not the most robust option for vinyl fans, but has good sound quality and is simple to set up and use. It also has a Bluetooth audio output for wireless streaming to headphones or speakers.
For
Bluetooth aptX output option
Sleek, modern look
Simple operation
Against
Somewhat flimsy build quality
No cartridge upgrade option
Sound lacks some detail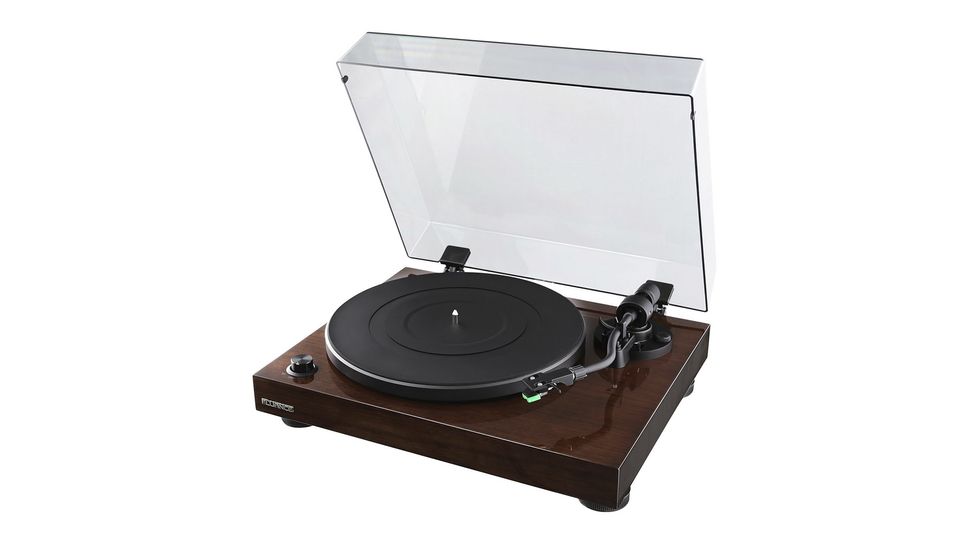 Drive system: belt drive
Speed: 33 1/3 RPM, 45 RPM (78 RPM - no)
Replaceable cartridge: yes
Built-in phono preamp: yes
Bluetooth output: no
The Fluance RT81 has a retro-cool look and very good build quality for a low-cost turntable. There's no Bluetooth audio output option, but its replaceable cartridge offers an upgrade path and a solid, vibration-resistant plinth means you don't have to step lightly around the room during playback.
For
Solid build quality
Can upgrade phono cartridge
Has anti-skate control
Against
Platter mat can attract static
No VTA adjustment
Sometimes inconsistent speed
The Audio-Technica AT-LP60XBT and Fluance RT81 are two of the lowest-cost models in TechRadar's guide to the best turntables, which features models priced as high as $2,000 (around £1,660 / AU$3,000), though with plenty of less expensive options in-between to choose from.
Maybe you're a vinyl newbie just discovering the joy of record collecting or a parent who wants to pass the hobby on to your kids. In this case, you'll probably gravitate toward the cheaper models, but even at the budget price level, it's not always easy to make a decision. We'll help you with that by breaking down the differences between the Audio-Technica AT-LP60XBT and Fluance RT81 so you can get a sense of which model best suits your needs.
If you think you might get away with spending even less than what's asked for the two models under comparison here, note that there's a fine line between entry-level turntables from established brands and cheap, junky ones sold at places like trendy clothing stores. The first will provide a baseline high-quality listening experience and, in some instances, features like Bluetooth output for wireless headphones or speakers. The second will be functional for LP playback but may ruin your records over time due to the inexpensive needles such players use and their unbalanced mechanical setup. An entry-level turntable from an established brand is the better way to go, so let's check out these two options.
Audio-Technica AT-LP60XBT vs Fluance RT81: price
The Audio-Technica AT-LP60XBT costs around $199 / £189 /AU $389, while the Fluance RT81 is available for around $250 / £250 / AU$695. These are very much entry-level turntable prices. You'll have to step up to the $400 to $1,000 range to upgrade to a model with higher build quality and a higher-performance phono cartridge.
Audio-Technica AT-LP60XBT vs Fluance RT81: design
The Audio-Technica AT-LP60XBT has a matte black plinth and features a belt-driven aluminum platter with a static-reducing felt mat. Its design is basic but functional. It's also incredibly light – not always a good thing for a turntable, which needs to resist vibration from nearby footfalls and speakers for the best sound. There's extensive use of thin plastic in everything from the tonearm to the dust cover, and when we tested the AT-LP60XBT there were times we worried it would break. Ultimately, the components here work very well, but the AT-LP60XBT does have a fragile feel, and there are no tracking force, anti-skate, or vertical tracking adjustments.
The Fluance has a much more classic look. Its MDF plinth has a high-gloss walnut finish that's at once retro and modern. Its aluminum platter has a rubberized mat that can attract static, which is annoying but easily remedied by the occasional use of an anti-static gun accessory. The plastic tonearm lacks the smooth bearings of higher-priced turntables, and while you can adjust tracking force and anti-skate there's no vertical tracking adjustment.
Audio-Technica AT-LP60XBT vs Fluance RT81: features
The big feature the Audio-Technica boasts – and one that sets it apart from the Fluance – is wireless Bluetooth aptX output. Along with that, it has an auto-equalizer function so you can use either its built-in phono preamp or connect an external one. A switch lets you choose between 33 ⅓ or 45 RPM playback and there's a button to start the platter spinning and others to automatically lift and lower the tonearm – a handy feature for vinyl newbies worried about scratching their records.
The Fluance also lets you switch output between a line-level signal from its built-in phono preamp and phono-level for connecting an external one. There's a knob for selecting between 33 ⅓ and 45 RPM playback, and an automatic start-and-stop feature controls the rotation of the platter by moving or returning the tonearm to its resting position. The Fluance automatically stops playback when it hits the end of a record, which protects the needle and avoids the dreaded end-of-record skipping sound.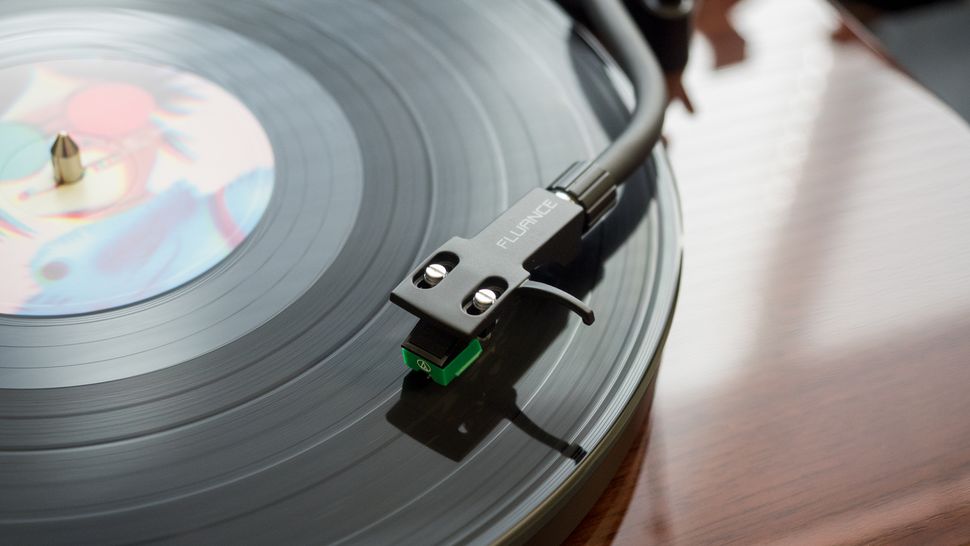 Audio-Technica AT-LP60XBT vs Fluance RT81: performance
When using the AT-LP60XBT's Bluetooth aptX wireless feature, it provided a dropout-free connection with our headphones for uninterrupted listening. Audio-Technica's turntable features an integral, non-replaceable cartridge with a replaceable stylus. The soundstage is very warm in the expected vinyl playback manner, and while we felt it could have used a boost in crispness, the music was generally a joy to listen to when using the AT-LP60XBT.
Although it has a relatively light platter, the Fluance RT81's overall solid build quality helped to shield it from external vibrations when listening. The included replaceable Audio-Technica AT95E cartridge does its job well, and sound quality when using the built-in phono preamp is quite good. One caveat is that the turntable could sound like it's hunting and pecking to keep speed, something that can mainly be heard when listening to classical music.
Audio-Technica AT-LP60XBT vs Fluance RT81: verdict
Who wins the battle of the budget turntables? Let's sum up the situation. The Audio-Technica is the cheaper option, but the Fluance is also affordably priced and well within the range of what one would expect to pay for a budget turntable.
The Audio-Technica has a sleek, modern look but light, almost flimsy, construction. It also has a non-replaceable cartridge and no adjustments – a potential positive depending on whether or not you want to keep things as simple as possible.
In contrast, Fluance's turntable has a classic look with an appealing wood finish. Its phono cartridge can also be swapped out if you decide to upgrade that component, and it has both tracking force and anti-skate adjustments.
Both models have built-in preamp output for connecting directly to an integrated amplifier or powered speakers, plus a phono output option when using an external preamp. The Audio-Technica also has a Bluetooth output for a wireless connection to headphones or speakers – a feature the Fluance lacks.
Both models provide good sound quality. The Audio-Technica has a warm overall sound, but at times seemed to be lacking detail. Fluance's solid build provides better shielding from vibration, though its playback speed was variable with some recordings.
The Fluance may be the better option here if you're most concerned with sound and build quality, while the Audio-Technica is a good choice if you plan on listening via wireless headphones or a Bluetooth speaker. Whichever one you choose, you can rest easy knowing you'll be getting good value and that your precious records will remain safe during playback.