Let The Right One In
This 2008 film manages to be an atmospheric creep-fest and a romance movie at the same time. It's about a 12-year-old boy who strikes up a friendship with a vampire girl he meets in the snowy suburbs of Blackeburg in Stockholm. The less said about the film the better, because it really is unusual, beautiful and a treat for the eyes. The movie is in Swedish, with English subtitles, and although it was later remade for English-speaking audiences, it didn't quite have the same magic as this original.
The Woman In Black
Daniel Radcliffe has done well to rid himself of his Harry Potter persona and it's all thanks to choosing roles in movies such as Women In Black. Based on the celebrated novel of the same name and in turn the stage play, the film is a gothic delight, harking back to the good ol' days when horror was implied rather than rammed down a watcher's throat. Well, until the final act at least. Prepare to feel your spine tingle.
Kill List
Director Ben Wheatley adds the right amount of realism and menace to Kill List - a film that is never quite what it seems. On the face of it, it's a kitchen sink drama about a hitman and his latest assignment to kill three people but as the story unravels so does the hitman's life (played in earnest by the brilliant Neil Maskell). It flirts at being a family drama, teases you that it's a crime saga then hits you with the most relentless horror that you'll be watching the end behind your hands. Great stuff.
Suspiria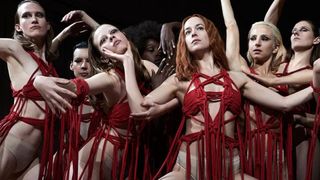 This supernatural horror from Luca Guadagnino is inspired by Dario Argento's classic 1977 film of the same name. It's about an American woman who travels to Berlin to join a prestigious dance school. The twist is it's run by a coven of witches. This film is bizarre, creepy and extremely gory – so only true horror lovers should give it a go.
Train To Busan
South Korea has slowly but surely marked itself out as a country that's producing some fantastic filmmakers. Interestingly, two of the best movies from South Korean directors of recent times have been based on trains - Joon-ho Bong's Snowpiercer (which criminally never got a UK release) and Sang-ho Yeon's Train To Busan.
Train To Busan is a brilliant zombie horror movie. By having most of the action take place on a train, we see what it's like when a zombie epidemic takes hold in close confines, complete with cloying claustrophobia. It's part action movie, part love story, all character study, showing that a situation such as a freaking zombie outbreak can bring out the best and the very worst in people.
Hell House LLC
Well this was unexpected. The name Hell House LLC doesn't exactly scream 'must watch' but despite its rather Grindhouse-esque title, this is a brilliant slice of horror. The plot is simple: a group of friends who create haunted house experiences for Halloween find a house to convert that's seemingly filled with real-life ghosts. The movie is their footage spliced together, with police reports and the like. The found footage genre is rather stagnant now but Hell House manages to breathe new life into it, mustering up some genuine scares that will have even the most hardened horror fans watching from behind their fingers. Its final scenes don't quite match what went before it (or make much sense) but this is one of the best horror films to come out in years.
Pontypool
A low-budget chiller that takes place in a small town in Ontario, Canada (bet you can't guess its name) and follows the exploits of a talk radio team who are reporting on strange goings on in the town. It's essentially a movie about zombies but distilled through the eyes of a small, yet vocal, group of people. Its budget may well be small but its ambition is big and that's what makes Pontypool such a fun watch.