There's a lot to love about the Ticwatch Pro. It's a relatively affordable smartwatch, and it comes packed with features.
It won't offer such a seamless experience as the Apple Watch 3 does for those with an iPhone, but it's still one of the best smartwatches you can pair with your handset.
Below is our full verdict on the Ticwatch Pro, along with a roundup of some of the best alternative smartwatches you can buy.
Who's this for?
The Ticwatch Pro is designed for those who want a smartwatch that can do lots of different tasks, and has top-end features but also an affordable price.
If you want a device that looks great on your wrist day-to-day, the Ticwatch Pro delivers, while the fitness features and silicone banding allow you to exercise with the watch on.
The fitness features are far from revolutionary, but they enable you to track your running easily, keep an eye on your heart rate and even jump on your bike if you want to. You can't wear it for swimming, though, and the other fitness-related modes are limited.
This is meant to be a more premium product, which looks fashionable and gives you notifications and other features directly on your wrist.
It's also the first Ticwatch product we've seen with NFC, so you'll be able to use Google Pay on your wrist, which is a big upgrade over previous products from the brand.
This could also be a great choice for anyone who wants a smartwatch with long battery life. It won't last much more than two days in the normal mode, but if you're happy to make do with the limited features in Essential mode the extra screen layer is a great addition.
We liked being able to see the time, our heart rate and our step count even when the watch was in its more limited mode, and this will suit those who don't always need the full complement of smartwatch features.
Should you buy it?
Almost everything on the Ticwatch Pro impressed us. There's top-end power, lots of sensors for fitness, the extended battery life with the dual-display and an affordable price at the same time.
The app is a little limited, and some will be frustrated that the normal smart mode will only last for two days or so, but everything else here adds up, and if you like the design of the Ticwatch Pro we recommend it as one of the best smartwatches you can buy.
You may not have heard of either Mobvoi or Ticwatch before reading this review, but the brand is offering genuinely top-end smartwatch features for a more affordable price than a lot of the competition.
Considering it packs in innovative tech like the dual-screen face and lots of other features for less than $250 / £220 / AU$370 we've ultimately been very impressed by the Ticwatch Pro.
First reviewed: July 2018
Competition
Don't think the Ticwatch Pro is made for you? Maybe one of the watches below would suit you better.
Ticwatch E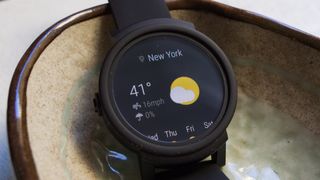 The cheapest watch in the Ticwatch range doesn't feel as premium as the Pro, but if you're looking for a more affordable alternative there's a lot to love here.
We recommend this watch because it has GPS and a heart-rate sensor built in, as well as lots of other top-end features, but the price is the true highlight.
Read our full Ticwatch E review
Ticwatch S
Willing to spend a touch more? The Ticwatch S may be perfect for you. It has a slightly more premium design, and the same GPS capabilities as well as a heart-rate sensor.
There isn't an LTE option, and there's no NFC for making mobile payments, but otherwise you're pretty much covered. The Ticwatch S doesn't do lots more than the Ticwatch E, but it sports a more high-end design that some want from their smart wristwear.
Read our full Ticwatch S review
Apple Watch 3
Our favorite smartwatch in the world right now is the Apple Watch 3. You'll only be able to use this if you have an iPhone to pair it with, but the Watch 3 from Apple is the most accomplished wearable on the market right now.
That said, it is a good bit more expensive than the Ticwatch Pro, so you may want to consider the Wear OS alternative over it.
Read our full Apple Watch 3 review