Fitness
Not built specifically for fitness, but can do lots considering that
There's GPS and a heart rate tracker for outdoor activites
You can't take this watch for swimming
The Ticwatch Pro isn't specifically designed for fitness like most running watches or some more specialist smartwatches, but it holds its own when it comes to tracking your workouts.
If you're looking for specific activities like running or cycling and you're looking for a beginner-level or relatively limited device, you'll probably be happy with what the Ticwatch Pro can offer.
The fitness app on the watch can support both indoor and outdoor runs as well as walking, cycling and what it calls 'freestyle' – this is a mode you can use for gym, HIIT and other workouts.
When you're out running or cycling the Ticwatch Pro uses GPS to track your location. so you won't need to take your phone with you for that purpose.
We found the GPS connection to be good, never cutting out on our regular running routes. Even when our Samsung Galaxy Note 8 notified us that it was losing its GPS connection, the Ticwatch Pro remained connected.
There's also a heart-rate sensor on the back of the watch, which we found worked best when we were standing still. It does work when you're moving, but it often asked for us to tighten the watch strap, and it took a bit longer to work than it does when you're standing still.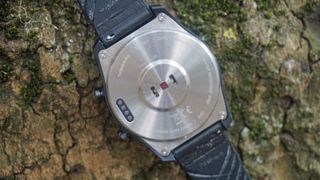 In optimum conditions, though, we found that the sensor worked as accurately as those on top-end smartwatches we've tried.
There are no swimming features here, and Ticwatch recommends that you don't wear this watch in the pool as it's not fully waterproof; it can, however, handle depths up to 1.5 meters for 30 minutes due to its water-resistant design.
Battery life
We found the Ticwatch Pro to last around two days as a smartwatch
Features more limited Essential mode using LCD display
Essential mode can last up to 30 days, according to Mobvoi
The good news is that battery life on the Ticwatch Pro is impressive, and it's partly down to that new screen tech. The watch will keep going for a long time in its Essential mode. We used it for three days in Essential Mode when the watch didn't have enough juice to power the smartwatch mode, and Essential mode was still going strong when we plugged the Pro into a charger so that we could access smartwatch mode again'.
We plan to test out the Essential mode further for a future update to this review, but we haven't yet run down the battery completely, so we've yet to see how long it can keep going for.
The functionality on offer in this mode is particularly great. You can still get your heart rate data, your step count and the date, as well as the time and Mobvoi says it plans to bring extra features to this mode soon too.
A Mobvoi spokesperson told TechRadar it may eventually be possible to display information such as your cadence or calorie count on the Essential mode screen, but even now the functionality makes it feel like a useable smartwatch when in this mode, as opposed to the limited experience you often get with low-power modes on other watches.
The Mobvoi website says the Ticwatch Pro can last from five to 30 days on a charge – we think that means two days in the normal smart mode, and then an extra three to 27 days in the Essential mode.
While we don't yet know exactly how long it'll keep going in Essential mode, we know it's beyond that three-day period we experienced, and the smart mode always lasted us at least a day and a half, even when we were intensively testing the watch.
We often found the watch would last for two days on a single charge, and still have a slight amount left in the tank to keep going into day three before it automatically kick-started the Essential mode features.
If you put the watch into Essential mode manually when you're not using the smart features, you're sure to find the battery life improves too. It may not be groundbreaking in terms of its regular battery life, but the Ticwatch Pro will keep working for you even when the main mode has died, and that's a great benefit of this wearable.
To charge the Ticwatch Pro you'll be using a charging base provided in the box that works with a three-pin system. There's no wireless charging here, so you'll need to remember to take your peripheral charger with you when you go away from home for long periods.
Charging up the watch is fast – we found often the watch would be able to charge from dead all the way to 100% in under two hours.