Two-minute review
Roidmi is on a roll, adding yet another cordless stick vacuum to its ever-growing range of devices. The latest release is the Roidmi X300, a robust, capable vacuum that delivers a respectable amount of power.
The X300 is a stylish stick vacuum with an agreeable slate grey and black finish. At 6.83lb / 3.1kg, it's a little on the heavier side, as are Roidmi vacuums generally, but its ergonomically designed handle helps to alleviate some arm fatigue. Still, you probably won't want to use this vacuum for long periods of time.
Known for the best robot vacuums and some of the best cordless vacuums, Roidmi is typically at the top of our list for generally affordable yet well-equipped vacuums. The company, which is part of the Xiaomi ecosystem, claims that the X300 is its most powerful vacuum cleaner to date, packing 207W of suction. The X300 also has a removable battery that will give you 12-90 minutes of battery life, depending on the setting. The dust bin is also fairly respectable, with about 0.65L of space. With these specs, the X300 sits toward the top end of our vacuum reviewing matrix; the list price, consequently, makes sense.
The improved suction on this model in comparison to older Roidmi units gives the X300 an edge, narrowing the gap that separates Roidmi from industry-leading Dyson vacuums. Some of the new value-adding features, like the automatic floor-type detection, make cleaning with the X300 a breeze. I particularly like the fact that accessories also had lights, as opposed to just the main floorhead.
However, the X300 doesn't excel in any one area; nor does it offer anything unique that distinguishes it from other cordless stick vacuums — so I can't quite wrap my head around the fact that it's similarly priced to the Dyson V15 Detect, our top pick for premium cordless vacuums. It also feels like some of the added features exist purely to inflate the value of the device. I'm not really sure why you'd need an OLED display with calorie tracking on a vacuum, but maybe that's just me.
Still, the X300 is a great vacuum if you're living in a smaller home, especially if you have lots of hard floors. The main floorhead's soft roller with stiff bristles makes the vacuum very adaptable, protecting hard floors from damage while still capable of tackling carpets with gusto — though as with most cordless vacuums, you'll want to boost to max suction to give your floor that deeper clean.
Roidmi X300: price and availability
The Roidmi X300 is a cordless vacuum cleaner that comes with an array of accessories: a floorhead, powered mattress brush, crevice tool, dust brush, charger, charging dock and filter packs. It's available directly from Rodmi's online store (opens in new tab)
It's worth noting that the X300 bears a striking resemblance to the recently released Roidmi X30VX, a vacuum that is currently exclusive to the UK. I was told during my testing of the X30VX in 2022 that that model would be coming to the US market, but I've yet to see it land stateside.
You'll see lots of similarities throughout this review between the X300 and the X30VX. The X300, though, does have some improvements, albeit incremental, to the dust-bin size, battery, and suction, in addition to new features. Most notable among the new are the floor detection and the light-sensitive crevice tool, as well as a new OLED display screen, all of which we'll dive into later in the review.
I didn't feel like the X30VX was poor value for money on account of the included mop head and stand, so I was slightly off-put to find out the heavier, mop-less X300 is positioned at the same price point, which is already pretty expensive. Overall, it feels like some of the improvements in the X300 are superfluous and exist only to inflate the price and make the vacuum seem more premium.
By no means is it drastically overpriced, but I'd say the X300 isn't quite worth the list price of $599 / £599 although, at the time of writing, it could be bought for £264.34 from Amazon UK (opens in new tab). It'll give you most of what you need, but for just a little bit more than the RRP, you could buy the Dyson V15 Detect; a unit that goes above and beyond in terms of premium features.
Specs of the Roidmi X300 review unit
Price: $599 / £599
Bin volume: 0.14-gallon / 0.65-liter dust bin
Speed modes: 3
Filtration: 8 cyclone dust separation and air filtration system with HEPA and MIF
Suction power: up to 207 AW
Battery: up to 90 minutes runtime
Weight: 6.83lb / 3.1kg
Additional tools: 4 accessories, cleaning brush
These specifications are for the UK model of the Roidmi X300.
Roidmi X300 review: design and features
0.14-gallon / 0.65-liter dust bin
Comes with four tools
Well-built, albeit heavy
The Roidmi X300 takes after its siblings in design, but with a few notable upgrades. Its rear-mounted 0.14-gallon / 0.65-liter dust bin sits beneath the 11.5krpm DC motor, with the handle protruding above and in front of the main chassis to grant the user a decent level of control. The removable battery slots in at the hilt of the handle on the vacuum's rear.
On the front of the angle are the main controls and an OLED screen that shows the battery level, any error signals, and even an estimation of how many calories burned — maybe nice to have but really a bit gimmicky.
The body of the X300 is dark grey with a metallic, reflective dark grey stick. Unlike many of the other vacuums I've tried and tested in recent years, the X300 doesn't have buttons to release attachments. Instead, with a little force, you can simply pull at the joints of the vacuum. Doing so will lower a latch mechanism inside the attachment head and release the attachment. While I didn't experience any adverse effects from this, I do wonder what the longevity of such a design might be — it isn't the smoothest transition.
To detach the dust bin, you simply press the black button on the back of the canister, which swings open with ease. Despite Roidmi's "no-touch" marketing promise, the few times I emptied the dust bin, I had to get my hands dirty to remove strands of hair and waifs of dust that were caught inside.
As with other Roidmi models, the X300 is pretty heavy for its size at 6.83lb / 3.1kg, and while it's fairly comfortable over long periods of time generally speaking, any cleaning task requiring you to use the full unit with the stick attached over your head will leave you with achy arms. However, the X300 does feel very sturdy and well-made, unlike some of the plastic-y affordable models available elsewhere.
The main vacuum head hosts a felted roller with short bristles to help with carpet cleaning and offers a great range of motion. Still, a new feature for this model, stabilizing wheels at the base of the stick, hinders some movements, like sharp turns. In fact, I couldn't figure out what benefit the stabilizing wheels offered.
On the other hand, there are some great value-adding features with the Roidmi X300. As with other Roidmi models, the X300 comes with a magnetic wall charger that can be screwed or stuck to the wall after removing the plastic backing. The floorhead has a darkness-detecting automatic light, which we've come to expect in contemporary vacuums, but more excitingly, so too does the crevice tool.
Roidmi X300 review: performance
Great suction
Automatic lights are a nice touch
Automatic flooring
The Roidmi X300 is designed to be a more premium build vacuum, and as such, performed well during our trial. Even though it felt, as previously mentioned, a little heavy during use, I still found it easy to glide around my home with the X300, sucking up all of the dirt.
With 207W of suction, the X300 is a pretty powerful cordless vacuum, and I found it handled all of the dust and debris around my home splendidly. Even on its lowest setting, this vacuum can easily clean up spills and messes. Plus, thanks to its automatic floor-type detection, I didn't have to constantly shift to higher suction settings when transitioning between carpet and hard floors — the vacuum intelligently upped the ante whenever needed. However, it's worth noting that unlike other vacuums, such as the Dyson V15 or those Shark vacuums with Clean Sense IQ like the Shark Stratos Cordless IZ862H, the Roidmi X300 can't actually detect when there's a higher concentration of dust or debris. That's a feature that's actually useful and one that might've been a nice touch for the X300.
But as far as the X300's intelligence, it's not just the main floorhead that gets a little bit of the smart treatment. Each vacuum head features a four-pin connector that can be identified by the main unit when attached. The vacuum will adjust its settings according to the attachment it senses to provide the most efficient clean possible. It's a really neat system that marks a significant step up in the intelligence behind Roidmi's vacuums.
Light-sensitive floorhead lights are becoming increasingly common in new vacuums, so it was no surprise that Roidmi used this feature in its main floorhead. As I mentioned earlier, though, the X300 also has LEDs in its crevice tool, which was surprisingly useful when cleaning the hard-to-reach corners of my flat.
The X300 is fairly middle-of-the-run when it comes to quietness — I registered 73dB when using the X300 in quiet mode, but 80dB on its highest setting. However, considering how powerful this vacuum is — and that it's still quieter than the Dyson V15 (but barely, at 81dB) — it falls pretty much in line with what we'd expect from a high-power vacuum. Plus, Roidmi seems to have addressed whatever design element made the X30VX so screechy, as the X300 is significantly less grating.
It's worth noting that, as with other Roidmi vacuums, the X300 has a companion application, which can notify you of a filter that needs replacing, a full dust bin, the cleaning time of the vacuum, and the battery level. In practice, I rarely find these apps supremely helpful, barring the filter replacement notification, but it's nice to have if you're a fan of all things smart home.
Roidmi X300 review: battery life
Up to 90 minutes runtime
Replaceable battery pack
The X300 is Roidmi's first vacuum with a one-click removable battery pack; one battery pack is included with the vacuum. Additional batteries need to be bought separately, though at the time of writing, we couldn't see them listed anywhere on Roidmi's online store.
The aforementioned floor detection feature in the X300 plays a big role in optimizing the battery life. When using its highest power setting, the battery lasts about 12 minutes, depending on what floor type you have; however, it can last anywhere up to roughly 90 minutes in eco mode.
Should I buy the Roidmi X300?
Swipe to scroll horizontally
Dyson Gen5 Detect report card

| Attributes | Notes | Rating |
| --- | --- | --- |
| Value | Had they stripped away features that don't really matter to vacuums, like OLED screens, calorie counting, and stabilizing wheels, the Roidmi X300 could have been a much more affordable, yet still premium, option. It's hard not to see these superfluous features as a pricing tactic. | 3.5 / 5 |
| Design | It's a bit too heavy to be used over long periods, but overall it's a slick and sophisticated-looking vacuum with a few quirks that hold it back from a high score. | 4 / 5 |
| Performance | Roidmi is on Dyson's coattails with the X300's high suction power, and its smart features really help to make cleaning more effective and efficient. | 4.5 / 5 |
| Battery life | It's great to see Roidmi move towards one-click batteries and deliver increasingly energy-efficient devices, though we'd still like to see better battery performance on high suction. | 4.5 / 5 |
Buy it if...
You have a small or medium-sized home, especially with hard floors
Thanks to its large dust bin and long battery life (on eco mode), the Roidmi X300 is the perfect choice if you want a cordless vacuum but want the upright experience where you don't have to take a break mid-clean.
You need a smart vacuum
The Roidmi X300 is a fairly smart vacuum cleaner, with its floor detection, light-sensitive attachments and its ability to sense and adjust to which attachment is being used. These features can really make a difference when it comes to cleaning your home quickly and effectively.
You have dark corners in your home
The light-sensing floorhead is great, but fairly standard in modern vacuums — but the Roidmi X300's crevice tool equipped with light-sensitive LEDs is a real treat, illuminating any cobwebs or invisible dust in darker corners.
Don't buy it if...
You have a large home, especially with carpets
Yes, the dust bin is larger and the battery life on eco mode is great, but as with many cordless vacuums, the X300 suffers from short battery life on high power. If you have hard to clean surfaces like thick carpets that will require high suction, this vacuum won't go the distance.
You regularly need to lift the vacuum overhead
The Roidmi X300 is a pretty heavy device for a cordless vacuum, negating one of the key benefits to the typically lightweight form factor. If you have lots of high corners or plan to use it for long periods of time, you may face some arm fatigue.
You're on a budget
At its price point, the Roidmi X300 sits among some of the more expensive cordless vacuums available. Plus, it just misses the mark in terms of delivering value for money, with some of its features feeling pretty unnecessary and price-inflating.
Also consider
Swipe to scroll horizontally
| | Roidmi X300 | Dyson V15 Detect | Shark Stratos |
| --- | --- | --- | --- |
| Price: | $599 / £599 | from $699.99 / £599.99 / AU$1,399 | from $499 / £549.99 |
| Dust canister | 0.14-gallon / 0.65-liter dust bin | 0.2 gallon / 0.77L | 0.72qt / 0.68L |
| No. of speeds | 3 | 3 | 3 |
| Suction power | 207 AW | 230 AW | Unknown |
| Battery | up to 90 minutes | up to 60 minutes | up to 60 minutes |
| Weight | 3.1kg | 3.1kg | 4kg |
If you're not sure about the Roidmi X300, here are a couple more options to consider...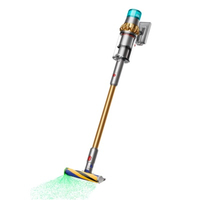 (opens in new tab)
Dyson V15 Detect
For just a little more money, you can have our pick for the most premium cordless vacuum - the Dyson V15 Detect. The V15 handles superbly, has top-of-the-range suction and lots of fantastic value-adding smart features.
Read our Dyson V15 Detect review for more information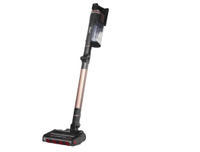 (opens in new tab)
Shark Stratos Cordless with Clean Sense IQ IZ862H
Incredibly flexible and fantastically powerful, the Shark Stratos cordless is one of the best cordless vacuums you can get as of writing. It's much more maneuverable, and its dust bin is just a little bit larger - though you lose 30 minutes of battery life on ECO.
Read our Shark Stratos Cordless with Clean Sense IQ IZ862H review to learn more
How I tested the Roidmi X300
I used the Roidmi X300 for four weeks in my apartment
It was tested on wooden floors, tiles and carpets
I used the crevice tool, mattress tool and dust brush
I used the Roidmi X300 in my apartment every few days for four weeks, testing wooden floors, tile, and carpet, comparing and contrasting to the Roidmi X30VX. In addition to everyday dirt and dust, I vacuumed up larger debris to test the motor's power in all three suction modes. Using an iOS app decibel meter, I measured the volume of the vacuum.
I tested its crevice tool on skirting boards, its mattress tool on both a sofa and a bed, and its dust brush on keyboards and fabric-covered furnishings.
As well as growing up with a professional cleaner for a parent, I've been testing different vacuums for over a year, and have a good grasp on what features and functions to look out for accordingly. As someone living on a budget in a big city, value for money is always front-and-center.
Read more about how we test.
[First reviewed February 2023]