HTC One M8
The One Mini 2 shares the same design as its bigger brother, but it fails to really live up to the five star greatness of the HTC One M8.
Concessions are always going to be made in shrunken flagships, but I'd have liked to see HTC take a leaf out of Sony's book and shift more of the features from the M8 to the One Mini 2 - namely the Snapdragon 801 processor.
If you're a fan of HTC's design, but don't have the hands or bank balance big enough to splash out on its top of the range handset then the One Mini 2 makes a suitable replacement.
Some may be disappointed that the ultrapixel Duo Camera didn't make the leap down to the One Mini 2, but others will be happy to see it replaced by a more traditional 13MP snapper.
iPhone 5S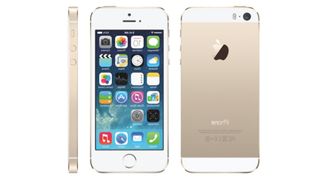 We haven't seen Samsung or Sony release mini versions of the Galaxy S5 or Xperia Z2 yet, so one of the most obvious competitors to the HTC One Mini 2 is the iPhone 5S.
The iPhone 5S has a smaller, 4-inch display, dual-core processor and 8MP camera, but performance wise it's superior to the One Mini 2.
There's little to choose between the cameras on the two handsets, but the One Mini 2 does have a greater range of options, while battery life doesn't exactly dazzle on either handset.
The iPhone comes running iOS 7, a fluid and efficient operating system which is simple to use and doesn't have the lag of the Sense overlay on the HTC.
A key difference between the two handsets however is the price. With the One Mini 2 coming in cheaper and with a build quality comparable to that of the iPhone it is a pretty good deal.
Sony Xperia Z1 Compact
While there's no sign of a compact Xperia Z2 just yet, the Xperia Z1 Compact only launched in January and it's somewhat upset the mini mobile apple cart by packing flagship specs into a smaller frame.
Instead of downsizing pretty much every detail of the Z1, Sony stuck the same processor, RAM and camera inside the Z1 Compact making it a serious force to be reckoned with.
Its specs put the One Mini 2 to shame and while it is more expensive, the price has dropped recently bringing it much closer to the HTC.
That gives the Z1 Compact much better performance than the One Mini 2 and its premium design is also dust and water resistant.