JBL Endurance Peak 3: One minute review
The JBL Endurance Peak 3 are made for extreme circumstances. Their secure fit, IP rating, and even extended battery life are probably overkill for the general treadmill user, though they work plenty well there too.
What they're perfect for is any activity where you need to be sure they'll stay in place and can handle whatever weather conditions you might experience, whether that's hiking in inclement weather, climbing up the side of a mountain, skiing, or even going for a run.
What's more, this third iteration builds upon and improves on the JBL Endurance Peak II, already among the best running headphones out there, for an almost perfect workout companion by adding a transparency mode and a better IP rating.
Whether you would consider these among the best workout headphones is going to depend on what you need them for. If you're a long-distance runner going at a steady speed for hours on end, there are options that you'll probably find more comfortable. However, as we'll see in this review, I think the JBL Endurance Peak 3 are superb earbuds for athletes and those with an active lifestyle.
JBL Endurance Peak 3: Specifications
Swipe to scroll horizontally
JBL Endurance Peak 3

| | |
| --- | --- |
| Component | Value |
| Interface | Bluetooth 5.2 |
| Battery life | 10 hours per earbuds, 50 hours total with case |
| Noise cancellation | Passive Noise Cancellation |
| Water resistance | IP68 |
| Weight | 0.9 oz (25g) per earbud |
| Securing mechanism | Ear hook |
JBL Endurance Peak 3: Price and Availability
How much does it cost? $99.95 / about £82.99 /AU$199.95
When is it available? Available now
Where can you get it? Available in the US, UK and Australia
The JBL Endurance Peak 3, released in February of 2023, might include a transparency mode but mostly keep a lot of things the same as the previous model including, thankfully, the price. Instead of taking the opportunity of a slightly expanded feature-set to raise the price, JBL decided to keep this newest version at that under-$100 / £100 price tag.
Sure, you can spend much less on a pair of workout earbuds sporting ear-hooks for that secure fit such as the JLab Go Air Sport, which go for a criminally low $30 / £29 / AU$69, but their IP55 rating isn't quite as robust as the IP68 rating of the JBLs. More importantly, at least for those who need workout earbuds outside the gym, the JLab don't come with a transparency mode.
However, many of the best options will set you back much more, like the Beats Powerbeats Pro. These earbuds go for $249 / £219 / AU$349, yet they don't have the battery life, IP rating, or transparency mode of the JBL Endurance Peak 3.
JBL Endurance Peak 3: Design
Ear-hook design gives very secure fit
Can be uncomfortable after long periods
IP68 rating to withstand most weather conditions
If there's ever been a case of "if it's not broken, don't fix it," the JBL Endurance Peak 3 are it. Or at least, that's the approach that JBL seems to have taken here as they look identical to the Endurance Peak 2. The earbuds have that same thick stem that attaches to the earbud and a large bendable ear hook that fits around the ear for a fit so secure it would require some extreme force for it to come loose. Each earbud also has capacitive touch controls, though they require a little pressure to engage.
The charging case, which matches the color of the earbuds (you can either grab these in black or white), is similarly bulky to the point that it takes up a similar amount of space as at least two Beats Fit Pro cases. In essence, everything about the JBL Endurance Peak 3 is big. This is not for someone who wants something slim to pop in while on a treadmill.
The downside to wearing earbuds this big, especially the ear hooks, is that they can get uncomfortable after a while. That's due to the fact they not only fill up the opening to the ear canal but are continuously pressed in by the ear hook.
On the bright side, the JBL Endurance Peak 3 are built to withstand the elements with their IP68 rating, a vast improvement over the previous model's solid IP55 rating. That means this newer version is virtually waterproof and can withstand quite a bit of debris as well. If you're a rock climber, skier, or do anything where you have to factor in weather conditions, an IP68 rating is a godsend. Just keep in mind that these are not great for swimming if only because Bluetooth has an extremely short functional range in the water.
JBL Endurance Peak 3: Performance
Mostly good sound
Bass is pronounced but indistinct
Transparency mode is finally here and works well
As is the case with any pair of earbuds whether they're for the gym or a commute, it doesn't matter how well all the different elements are if the sound quality isn't there. And, while the JBL Endurance Peak 3 are nowhere close to audiophile-quality, they sound pretty good. The high-end can be a tiny bit bright but not to the point of pain, even after using them for 30-45 minutes. The mids, to compensate, are a little recessed but full enough to sound pleasant. And, as seems to be the case with many workout earbuds, the bass is big.
The thinking, at least from what I can gather from the way manufacturers present their products, is that this built-in bass boost is to help motivate during workouts. While that doesn't resonate with me, it might with some. However, as we'll discuss in the next section, you can EQ in a bass boost if you want that. It doesn't need to be quite this pronounced. On top of that, no matter the genre of music I listen to, that big bass starts to sound muddy and to lose some definition to the point where I would use the EQ to roll off some of that low end. That said, some people may enjoy that extra low-end oomph. In essence, they sound good or at least good enough for the price and can be easily EQ'ed into a sound that works best for you.
The transparency mode, selectable in the JBL app as well as through the on-unit controls, is the main improvement these earbuds have received over the previous version. And, they're a welcome addition. Billed as Ambient Sound Control here, there are just two settings: Ambient Aware and TalkThru. While there's no additional controls as I have found with other brands, both modes are effective.
Ambient Aware brings in just enough outside ambient sounds that I'm aware of surroundings when going for a jog – especially important when I have to worry about passing vehicles – though I do have to balance the volume of what I'm listening to to not drown out the sounds of my environment. TalkThru is a more aggressive mode where the volume of your source is limited so that you can easily hold a conversation without removing the earbuds or pausing the music.
Like almost all earbuds these days, you can use the JBL Endurance Peak 3 to take calls as it employs four mics to pick up the voice. It's not going to be as crisp as when I hold the phone up to my face as the voice comes through slightly veiled and with a tiny bit of echo, but it's still loud and understandable. Really, that's not much worse than most of the other models as I've found very few to give the same experience as talking directly into the phone.
JBL Endurance Peak 3: App
Easy to use
Relatively powerful EQ
Some limited customizations of gestures
The JBL Headphone app is streamlined and easy to use with just about everything you need accessible on the landing page for the earbuds. You just scroll down to find the feature you want to mess with.
At the top, just under a picture of the JBL Endurance Peak 3 and a reading of each earbud's battery life sits the Ambient Sound Control, which you can turn on and off and switch between Ambient Aware and TalkThru.
Next is the EQ. There's a toggle to turn it on and off, three presets and a custom button along with the presets. I wasn't a huge fan of the presets but the EQ itself is reasonably powerful. You can boost or cut up to 6 dB and can create up to 10 different adjustable points on the EQ graph. So, you can create a 5-point EQ profile or a 10-point one depending on what you're trying to do. Additionally, you can create more than one custom EQ profile, something that I typically don't see in these sorts of apps.
Following the EQ is Gestures where you can customize what the touch controls do on each earbud. However, you can't select for each type of press as there is a dropdown menu to let you choose from a preselected bundle of gestures.
There's VoiceAware on hand as well with a slider that will adjust how much you hear your own voice, a nice feature for making a call in noisy environments. And, lastly, you can choose between Audio Mode and Video Mode. This is a nice feature for anyone who might stream something on their phone. Instead of dealing with delayed audio, you can choose Video Mode for reduced latency. Or, if you're just listening to music and want better sound quality, then choose Audio Mode.
JBL Endurance Peak 3: Battery life
Ten hours of battery in earbuds
Charging case adds another 40 hours
Ten minutes of charging gives an hour of use
Battery life has come a long way in earbuds but having enough juice to last hours on end is important for something you might want to use for more than just a 45-minute session at the gym. Luckily, the JBL Endurance Peak 3 last an impressive ten hours on a single charge. Of course, using features like the transparency mode will affect that. But, when tested without any features, mainly turning off the Ambient Sound Control, I found these to last as advertised. Every hour they ran, the battery life would drop 10%.
Additionally, the charging case adds another 40 hours of battery life. As it should, considering how bulky it is. What's more, if you somehow manage to drain the earbuds, ten minutes of charging will give you an additional hour of use.
Should I buy the JBL Endurance Peak 3?
Swipe to scroll horizontally
Report Card

| | | |
| --- | --- | --- |
| Category | Comment | Score |
| Value | At just under $100 / £100, the JBL Endurance Peak 3 hit that sweet spot between performance and price making them a great value. | 5/5 |
| Design | They may be a bit uncomfortable for long periods of wear, but that's because they're so secure that you can use them for more extreme activities. And, having that IP68 rating helps as well. | 4.5/5 |
| Performance | Though the JBL Endurance Peak 3 sound good, they have just a little too much bass. On the other hand, the transparency mode works the way it should. | 4/5 |
| App | Not only is the app easy to use but there's plenty of extra functionality available, including a very usable EQ. | 4.5/5 |
| Battery | With ten hours of battery in the earbuds and another 40 in the charging case (for 50 hours total), you don't have to interrupt a workout to charge the Endurance Peak 3 back up. | 5/5 |
| Total | JBL took a very good pair of workout earbuds and made them even better by including a transparency mode and a better IP rating. The positives vastly outweigh any negatives as long as you're getting them for more vigorous activities. | 4.5/5 |
Buy it if...
You want the ultimate workout earbuds
Whether it's the ear hooks or the IP68 rating, the JBL Endurance Peak 3 will make it through just about any workout, whether it's the treadmill or rock climbing.
You need transparency mode
A crucial feature for anyone needing environmental awareness, the biggest omission of the Endurance Peak II has finally been added to the Endurance Peak 3.
You don't want to spend a lot of money
At around $100 / £100, these earbuds are pretty affordable, coming in at a significantly lower price than Apple Airpods, Beats Fit Pro, or many of the other options marketed towards active lifestyles.
Don't buy it if...
You want audiophile audio
Though these earbuds sound pretty good, they're not the best sounding ones you'll come across, especially with their emphasis on the low-end.
You care most about comfort
That secure fit comes at a price, meaning that your ears will start to feel the pressure of the JBL Endurance Peak 3 being pressed into them. If you're doing lower impact workouts, you can find more comfortable earbuds that will stay in your ears.
Also consider
Swipe to scroll horizontally
Also consider

| | | | |
| --- | --- | --- | --- |
| Component | JBL Endurance Peak 3 | Jabra Elite 4 Active | Jlab Go Air Sport |
| Interface | Bluetooth 5.2 | Bluetooth 5.2 | Bluetooth 5.1 |
| Battery life | 10 hours per earbuds, 50 hours total with case | 7 hours, 28 hours with case | 8 hours, 24 hours with case |
| Noise cancellation | Passive Noise Cancelation | Active Noise Cancelation | No |
| Water resistance | IP68 | IP57 | IP55 |
| Weight | 0.9 oz (25g) per earbud | 5g per earbud | 6.6g per earbud |
| Securing mechanism | Ear hook | In-ear secure fit | Ear hook |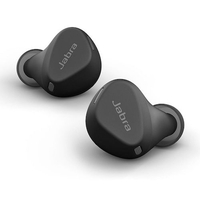 Jabra Elite 4 Active
Not only do the Jabra Elite 4 Active have active noise cancellation on hand, but they have a transparency mode (which could be better), and adjustable EQ. They also have a pleasant, clear sound that will keep you engaged while putting in the time on an elliptical.
Read our full Jabra Elite 4 Active review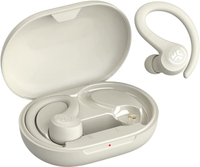 Jlab Go Air Sport
The JLab Go Air Sport might not be the most feature-rich earbuds one could choose, but they offer a secure fit for workout fiends, decent sound quality, and, most importantly, cost around $30 / £30, making these ideal for anyone that gets concerned about losing or damaging their equipment.
Read our full Jlab Go Air Sport review
How I tested the JBL Endurance Peak 3
To test the JBL Endurance Peak 3, I not only used them for a couple weeks while working out, which included jogging around busy areas with them and doing bodyweight exercises with them, but I also spent plenty of time head-banging to see how secure they were. I also listened to various types of music, paying attention to all elements of the music. I took a look at and tested every feature in the app and ran some battery tests to see if they work as advertised.
Having spent the last few years reviewing all sorts of audio gear, I've gotten a feel for what to look for and how to put a piece of kit through its paces to see whether it's worth the recommendation. And, I've spent even longer playing and listening to music critically.
First reviewed: April 23