It's always struck us as odd that Apple's never really chased good battery life in a smartphone, always bringing just enough juice to not be terrible but always giving a touch of worry that you're not quite going to get through the day without a little top-up, especially if you're more of a power user.
The iPhone XS is precisely the same as the phones before it - better than the previous year, but a long way from the best on the market. The easiest way to describe it is: just a touch below average, but far better than any other (non-Plus / Max) iPhone we've tested.
That said, we've found a lot of interesting quirks about the new battery in the iPhone XS that bode well for general use.
Let's start with a power-use day: starting the day answering emails, taking a few low-light shots and then watching a downloaded movie on the way to work, we entered the office with around 10% lost after a couple of hours' use.
That really impressed given those actions have killed smartphones of the past, so being able to handle movies and photography is useful.
A day of testing followed: running benchmarking software, taking multiple pictures and video, using the phone for AR gaming and messaging on WhatsApp, while also listening to music on the way home.
This burned out the battery by around 9PM, when we decided to top up again to make sure we could make it home. This means that Apple's claim of the iPhone XS being able to outlast the iPhone X by 30 minutes is pretty accurate - we managed to get another hour or so out of the handset in the same usage scenario, so the XS does pack a more robust battery system.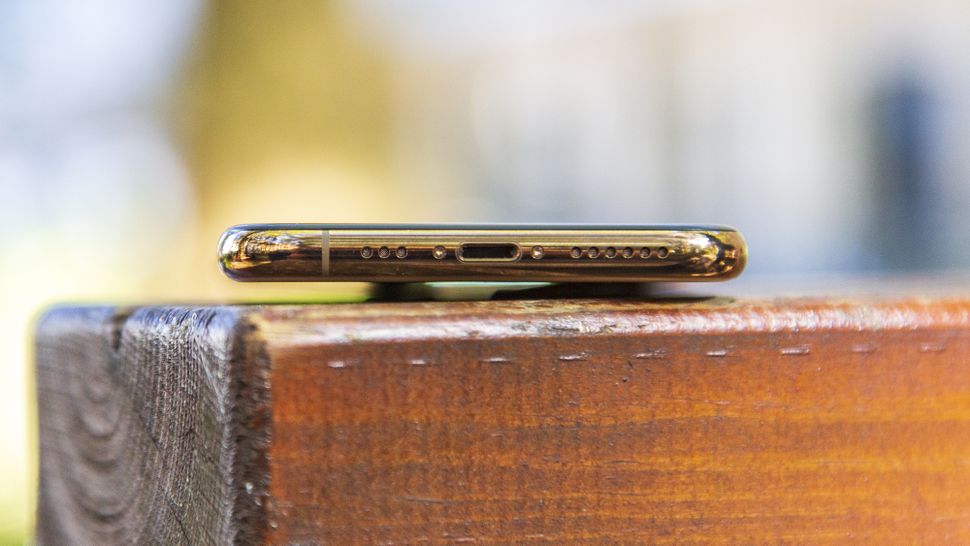 The AR gaming - ElemenTao - was the biggest killer of battery life, with the phone getting warm quickly when in the middle of a game.
When hearing from Apple on the new A12 Bionic chip, it's clear the brand is keen to push the power of the iPhone's AR prowess to create ever-better AR games, so if you're someone that wants to keep battery life safe then it's probably best not to go down this route too often.
On a quieter day, where we would use it to watch a few videos, answer mails and messages but mostly leave it on a table and not touch it as much as possible, didn't yield much better - it was close to 25% around 7PM, which is fine if you're heading home, not so good if you're on a night out.
We ran the same battery test that we put all phones through: a Full HD video run at full brightness for 90 minutes. The iPhone XS scored very close to the iPhone X from last year, dropping to 89% (where the X managed 90%).
This is excellent again, as usually we're used to seeing handsets lose around 20%, and more LCD-based iPhones easily drop 25%, so the OLED tech seems to be very efficient.
Based on what we've seen so far, we're pretty confident that the iPhone XS is one of Apple's better performers on battery life, but it's not going to trouble the top performers on the market.
What Apple has done is include wireless charging once more, and if you buy a couple of charging pads you'll find that battery worries become a thing of the past - one at home and one on the desk at work and you'll rarely need to charge any longer.
One of the rumors making the rounds before the launch of the iPhone XS was that Apple might finally bundle a fast charger in the box, but it's the same standard one as before. This is a shame as it would offer 50% power in just 30 minutes, and given the slightly-slippy battery life that would have been a great thing to have.
However, the battery life on the iPhone XS is improved once again, and if you're coming from the iPhone 7 or lower you'll be really pleased with what's on offer - as long as you don't enter the augmented reality world too often.
For better battery life still, consider the newer iPhone 11, iPhone 11 Pro or iPhone 11 Pro Max, as Apple has offered improved life on its latest trio.