The House of Marley Get Together Duo is an ambitious if flawed pair of speakers. They look to the future with all the eco-friendly materials used. And, they can be used as both computer or portable speakers. But, their sound quality is a bit muddy, Bluetooth is a bit too laggy, and some of the controls are a bit too complicated.
Pros
+

Eco-friendly materials, attractive aesthetic

+

Can be used in many different situations

+

Solid battery life for a portable unit
Cons
-

Somewhat muddy, bass-heavy sound

-

Bluetooth is too laggy for use with video or games

-

Can be complicated to use in stereo when wired
Why you can trust TechRadar We spend hours testing every product or service we review, so you can be sure you're buying the best. Find out more about how we test.
House of Marley Get Together Duo: One-minute review
The House of Marley Get Together Duo were created by someone either experiencing an identity crisis or someone that was overly ambitious. There has probably never been an audio product that's left us with more mixed feelings than these speakers. It's not all bad but it's not all good either as the Duo exemplify the saying "a jack-of-all-trades is a master of none."
Of course, if you prefer the original full saying "a jack-of-all-trades is a master of none, but oftentimes better than a master of one," you'll appreciate the versatility of the House of Marley Get Together Duo. After all, they function as computer speakers, bookshelf speakers that can pair via Bluetooth with a certain House of Marley turntable that we didn't review here, or be used as a portable speaker (though that's really only true for one of the two units).
While we weren't necessarily wowed by the House of Marley Get Together Duo, you shouldn't necessarily write them off. After checking out the rest of this review, you might find that they're actually perfect for you and the things that bothered us may not be an issue for you.
House of Marley Get Together Duo: Price and availability
How much does it cost? $169.99 / £179.99 / AU$299
Where is it available? Available now
Where can you get it? Available in the US, the UK, and Australia
House of Marley Get Together Duo: SPECS
Frequency range: 20-20,000 Hz
Drivers: 4.5-inch full range, 1-inch tweeter
Supported Connectivity: Bluetooth 5.0
Audio Inputs: 3.5mm, RCA
Outputs: None
At $169.99 / £179.99 / AU$299, the House of Marley Get Together Duo are not quite in the budget range but certainly affordable. Of course, you must consider what you want to use them for when considering how much value they offer.
If you only plan on using them for your computer and don't plan on taking advantage of the portable speaker functionality, something like the Logitech Z407 might be a better choice. It will set you back less as it's only $119.99 (£119.99 / AU$249.95), also comes with Bluetooth functionality, and sounds a little less muddy. There are other speakers as well, such as some of Edifier's offerings that are much slimmer in features but sound solid and cost less than these House of Marley speakers.
Strangely enough, if you do plan on taking advantage of that portable speaker, then you would end up spending a similar amount for an alternative with the same battery life, such as the JBL Charge 5, which costs $179 (£159 / AU$229). So, for just a little less, the House of Marley Get Together Duo provide an extra speaker and plenty more functionality, though the JBL Charge 5 does have a more balanced sound.
House of Marley Get Together Duo: Design
Striking eco-friendly look and materials
Controls can be a pain when setting up an analog connection
Bluetooth has too much latency to use with video or games
With dimensions of 7.9 x 4.1 x 5.1 inches, the House of Marley Get Together Duo are smaller than the average bookshelf speaker but bigger than many computer speakers. So, they don't take up too much desk space while still providing a little more oomph and low-end (more on that later).
Aesthetically, they have a more organic look than most computer speakers, reflecting their eco-friendly approach. Most of the materials used here are of the sustainable variety. The front and back of the units are covered in bamboo while the top, bottom and sides are covered in a fabric made from recyclable materials. Even the packaging is fully recyclable.
While we're not quite sure why the sides are covered in fabric instead of bamboo, it does make for a striking wood-on-black colorway (unless you have a cat. The fabric does attract pet hair quite easily). To add to the look, there are silicon buttons (made of upcycled materials) on top of each speaker in white.
Speaking of, the buttons don't take too much pressure to push and are pretty responsive in use. Both speakers have the same array of buttons: volume up, volume down, Bluetooth, and Power. There are also two LED lights in line with the buttons.
However, navigating them for certain functionalities can be a pain. For example, if you want to use the speakers in stereo with an RCA connection, you have to turn on the left speaker using a long press of the power button. Then, you have to short-press twice on the same power button to select the RCA input. Only then, can you power up the right speaker? Once that's on, you have to long-press the Bluetooth button on the left speaker for the two speakers to pair together.
Quite a pain just to use an analog connection, which we needed to do when using these as computer speakers. Why was that necessary? The House of Marley Get Together Duo has three different types of connectivity: Bluetooth, RCA, and Aux in (3.5mm). Though Bluetooth is the most convenient, it suffers from latency noticeable enough that we couldn't use it for video, which is strange as it's supposed to be Bluetooth 5.0.
House of Marley Get Together Duo: Performance
Plenty loud
Somewhat muddy sounding
Unless you're trying to power a house party, there's more than enough volume on tap with the House of Marley Get Together Duo. It gets plenty loud. So, whether you're using it for a computer setup, a small get-together, or even in a listening room paired with the House of Marley's Stir It Up turntable, you won't be wanting for volume.
Where you may be a little disappointed is in these speakers' sound quality. We definitely had higher expectations. It's hard to say that they just sound bad. But, they have a very colored sound quality that has an outsized low-end (though not a lot of sub-bass extension as there's no subwoofer). Frequencies sitting between the low and mid-range in particular are very pronounced, almost overwhelming the rest of the frequency range, to the point where we can hear a frequency somewhere in there resonating inside the speaker cabinets.
The rest of the mid-range is similarly a little too full sounding while the high-end is barely there. We don't find the high-end to sound veiled or muffled but it is a bit weak. In essence, the sound quality is somewhat muddy and seems to be the kind of frequency range someone who wanted to listen to house music would design (though probably with more high-end).
While we're not blown away by the Get Together Duo's sound quality, their ability to function as a portable speaker is a nice addition that somewhat makes up for the lackluster, though not terrible, sound. Yes, you can only use the right speaker as a portable speaker but it offers 20 hours of use before needing to charge which is more than most portable speakers. And, since it is a bit bigger than most portable units, it offers more volume.
Should I buy the House of Marley Get Together Duo?
Buy it if...
You want an eco-conscious product
Only a few companies have made a concerted effort to produce eco-friendly products. The House of Marley has certainly done that with the Get Together Duo.
You want versatility
The House of Marley Get Together Duo can be used as computer speakers, bookshelf speakers, and a portable speaker.
You want multiple forms of connectivity
With Bluetooth, RCA, and a 3.5mm Aux in, you have multiple ways to use them.
Don't buy it if...
You like balanced audio
The sound quality is, in our opinion, muddy. There are plenty of alternatives with a more balanced sound.
You need Bluetooth for video
The Bluetooth connectivity has a latency issue. If you're just listening to music, that's not an issue. But, for any other use, it is.
Also consider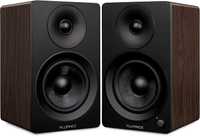 Fluance Ai41
They might be expensive for computer speakers but they're worth every penny. The Fluance Ai41 have a deep, rich sound that will make you forget they're just a pair of active bookshelf speakers. And, while they won't fill a room, they will significantly upgrade any computer's audio.
Read our full Fluance Ai41 review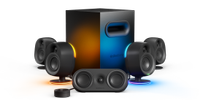 SteelSeries Arena 9
If you're a gamer, then surround sound is something that you want as part of the experience. Instead of using a pair of headphones, you can get the real deal with the SteelSeries Arena 9. Of course, they cost double the Fluance Ai41, but they come with a total of six speakers including a subwoofer and rear speakers.
Read our full SteelSeries Arena 9 review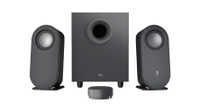 Logitech Z407
While the Fluance Ai41 are going to sound a bit better, the Logitech Z407 are the ideal 2.1 system to use with a computer setup. They sound good, have USB connectivity, and take up much less deskspace.
Read our full Logitech Z407 review
House of Marley Get Together Duo: Report card
Swipe to scroll horizontally
| | | |
| --- | --- | --- |
| Value | While not particularly cheap as a pair of computer speakers, the Get Together Duo do provide more versatility than most. | 4 / 5 |
| Design | The Get Together Duo look great thanks to the bamboo on black colorway. They're eco-friendly as well. Too bad, the controls and Bluetooth connectivity are a bit underwhelming. | 3.5 / 5 |
| Performance | The sound quality is a bit too muddy for our tastes. At least, there's plenty of volume on tap. | 3 / 5 |
| Total | While the Get Together Duo have a few big flaws such as muddy sound, they offer a lot of versatility. Plus, they're very eco-conscious. | 3.5 / 5 |
First reviewed January 2022
How we test
We pride ourselves on our independence and our rigorous review-testing process, offering up long-term attention to the products we review and making sure our reviews are updated and maintained - regardless of when a device was released, if you can still buy it, it's on our radar.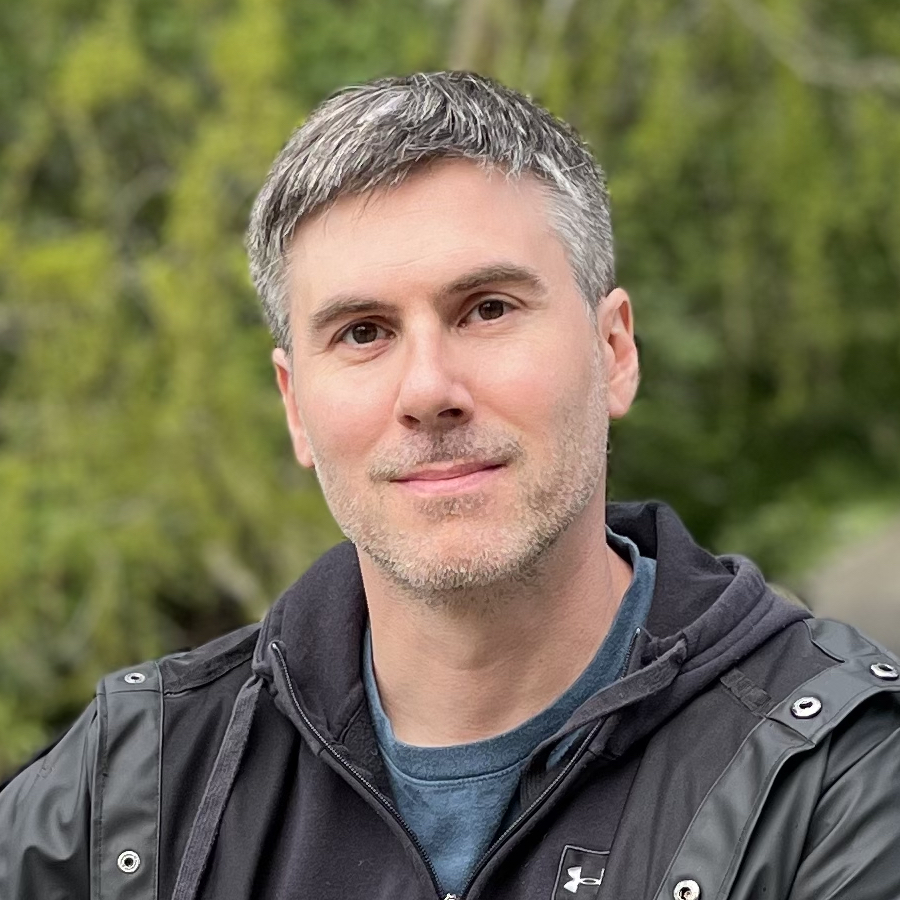 James Holland loves audio gear! So much so that he covers all the ins and outs, good and bad for Tech Radar and T3. Where does that so-called expertise come from? Not only is he a lifelong music-lover but he also works in the music industry and is a musician. When not testing headphones or listening to music, he loves to travel, rage at the latest PC games, and eat off-the-beaten-path but not too off-the-beaten-path food.