I love JLab's teeny tiny cheap wireless earbuds, even if I'm scared of losing them
The JLab JBuds Mini are keyring-sized true wireless earbuds that put bulky in-ears to shame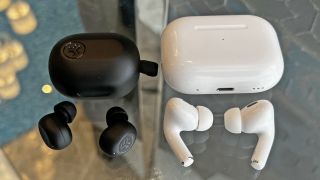 (Image credit: Future)
At CES 2023, budget-friendly earbuds (and other stuff) brand JLab showed off a few new models, including some super-small true wireless earbuds called the JLab JBuds Mini, and I just had to stop by to see them up close. Being close was necessary, you see. On account of them being so small.
In the last few years, as companies started putting more and more features and technology into the best true wireless earbuds, they started getting bigger and heavier. But people don't love putting huge, unbalanced-feeling buds in their ears, so suddenly it became a race to start creating lighter and smaller buds with the same features, resulting in the likes of the Sony LinkBuds S and Beats Studio Buds. I've always like Apple's AirPods Pro and AirPods Pro 2 because they've consistently been at the lighter end of things.
The JLab JBuds Mini are for people with very small ears, or who want to always carry their buds around without them taking up much space. They are so small. You can see the overall comparison with my AirPods Pro at the top of the story, and here's just the cases.
They have a little fabric loop built into the case so that you could attach them to your keys and use them as a keyring, and they're the first buds small enough where that seems like a pretty reasonable thing to do, to me.
When I say in the headline that I'd be worried about losing them, I'm not knocking them for it – I hope JLab won't mind me telling you that they had actually attached a poker-chip keyring (presumably bought from the casino downstairs) to the model they had on their display, because they were worried about losing it…
The earbuds themselves aren't so small they're a pain to get in and out of your ear or anything. Their oval shape means they stick up slightly from the ear canal, so it's easy enough to get your fingers around them.
I only saw a black version, but if JLab did these in skin tones (as it has before – beating Beats' Kim K skin tones to the punch, in fact), most people probably wouldn't notice you had them in at all.
Getting them this small hasn't meant giving up on tech features completely, though. There's no ANC, but you do get Bluetooth multi-point pairing, and each bud can be used on its own if you only want one in. Google Fast Pair support is here, and you still get six hours of play time from the buds, which is pretty average (in a good way – I was worried about this), with over 20 hours of play time when you include the case.
I didn't get a chance to listen to them, but the driver is 6mm in size, which is the same as the JLab Go Air Pop, despite the buds being 30% smaller than the other model. We rate the Go Air Pop as the best budget wireless earbuds in their price range for sound quality, so I expect pretty much the same performance from the JBuds Mini, and that'll do just fine.
The JLab JBuds Mini are set to cost around $59 (about £49 / AU$89), which will be double the price of the Go Air Pop, but is still very affordable in the grand scheme of earbuds.
Update: JLab has contacted TechRadar to say that the price of the JLab JBuds Mini is actually expected to be $39, not $59.
If what you want is the smallest possible buds, either for comfort reasons or for portability, they'll probably be worth paying the premium over the Go Air Pop when they're released – though it looks like you'll have to wait until the second half of 2023 for that.
Sign up to receive daily breaking news, reviews, opinion, analysis, deals and more from the world of tech.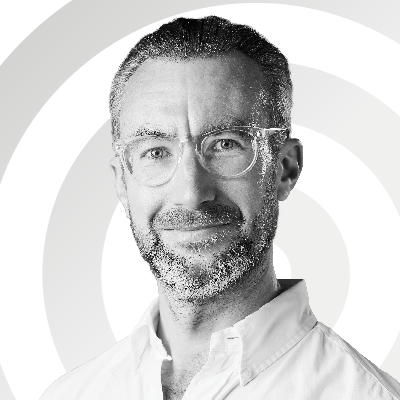 Managing Editor, Entertainment
Matt is TechRadar's Managing Editor for Entertainment, meaning he's in charge of persuading our team of writers and reviewers to watch the latest TV shows and movies on gorgeous TVs and listen to fantastic speakers and headphones. It's a tough task, as you can imagine. Matt has over a decade of experience in tech publishing, and previously ran the TV & audio coverage for our colleagues at T3.com, and before that he edited T3 magazine. During his career, he's also contributed to places as varied as Creative Bloq, PC Gamer, PetsRadar, MacLife, and Edge. TV and movie nerdism is his speciality, and he goes to the cinema three times a week. He's always happy to explain the virtues of Dolby Vision over a drink, but he might need to use props, like he's explaining the offside rule.