We're in the most important shopping period of the year as we approach the long weekend of Black Friday and Cyber Monday, which fall on 27 November and 30 November 2015 respectively.
They're relatively new arrivals on British shores but they've been a big deal in America for years. Let's discover why they exist, who created them and what they're all about.
When is Black Friday?
It's the Friday immediately after the Thanksgiving holiday in the US. This year, it's the 27th of November.
When is Cyber Monday?
It's the Monday immediately after Black Friday. This year it's the 30th of November.
Who invented Black Friday?
The term Black Friday has been around since the late 19th Century, usually to describe financial disasters.
The first known use of it in the modern shopping context was in 1961, in an article noting that New York police dubbed the busy shopping day Black Friday.
Similar reports also came out of Philadelphia at the same time, and the Philadelphia PD used it officially in 1966 in a cheery publication about "massive traffic jams and over-crowded sidewalks". The intention was to discourage shoppers from coming out.
That's backfired somewhat.
Why does Black Friday happen?
It's a combination of things. The first and most important factor is that Thanksgiving is the last big pre-Christmas holiday, so there's a big element of "aargh! It's nearly Christmas!" once Thanksgiving is past.
(Not least because in the US many Thanksgiving parades end with the appearance of Santa in a pretty big hint that Christmas is coming.)
The second factor is that many employers gave their staff an extra day off for Thanksgiving, something retailers were quick to spot and to try to capitalise on; as a result, many retailers began offering special deals on Black Friday to tempt people into their shops.
Today's online Black Friday madness is just a continuation of that: it's just retailers trying to get people to buy stuff.
Is Black Friday really the busiest shopping day of the year?
Most of the time, although between 1993 and 2001 it wasn't: the weekend before Christmas was busier. But most years, Black Friday is the biggest shopping day for real-world shopping in the US. It's catching up elsewhere too.
What about Cyber Monday?
Cyber Monday is to online shopping what Black Friday was to real shops: it's the day when everybody panicked and used their work PCs to log on to Amazon.
Unlike Black Friday, however, Cyber Monday wasn't something that had been around forever. It was created by a marketing company.
Who invented Cyber Monday?
Ellen Davis, who is currently Senior Vice President of the National Retail Foundation in the US. She invented the term for a 2005 press release titled "Cyber Monday Quickly Becoming One of the Biggest Online Shopping Days of the Year."
The objective was to draw attention to the phenomenon of post-Black Friday sales surges from people returning to work and going online, and it was also intended to help boost e-commerce further. It's safe to say it did the trick.
Are there any other named days this week?
We nearly had White Wednesday, which would be the day before Thanksgiving, but it never took off. There are also rumblings of Gray Thursday, which is when Black Friday starts on the evening of Thanksgiving, but that hasn't been enormously successful so far.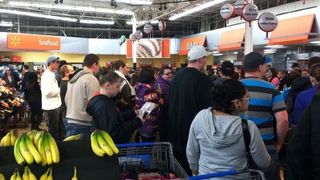 Are Black Friday and Cyber Monday US-only things?
Not any more. Black Friday leaked into Canada when the US's neighbours caught wind of the bargains to be had across the border, and Currys helped bring it to the UK in 2003 - although it didn't really kick in until ASDA threw its considerable weight behind Black Friday in 2013.
It's a relatively recent arrival to Australian e-commerce too, and it's starting to appear in countries including France, Romania, India and Brazil.
Why is Black Friday associated with violence and trouble?
Human nature, sadly: make your discounts big enough and limited enough and there's a good chance that at least some of your shoppers will end up acting like they're in The Walking Dead.
The culprits are known as "doorbusters", discounts so amazing that shoppers would bust down the shop's doors to get to them.
While baying mobs grabbing big TVs makes good footage for the news networks the good news is that even the most riotous Black Friday scenes tend to result in minor injuries rather than anything major, although there have been cases of people being pepper sprayed and even shot.
We suspect that the issue of trouble is why Black Friday cheerleader ASDA says it isn't taking part this year: scenes of shoppers fighting in their local supermarket appalled many and didn't do much for ASDA's corporate image.
What's all this about a Black Friday Week?
You can probably blame Amazon for that: rather than put all its eggs in the Black Friday basket last year, it decided to have a Black Friday deals week instead.
It's doing the same this year, and other retailers are following suit: both Currys and Argos have kicked off their Black Friday events early this year.
Is Black Friday good news, then?
For bargain hunters, yes: as you'll find on our Black Friday deals page, there are plenty of really good deals for the discerning tech fan and more are being added every day.
Tech shoppers are particularly well served online, where most big-name tech retailers and the odd tech manufacturer offer decent Black Friday deals on products you might actually want to buy.
For retailers the picture isn't so clear: analysts suggest that Black Friday doesn't create any new demand, but simply moves shopping forward a couple of weeks with retailers discounting for no good reason.
However, it seems that retailers aren't immune to FOMO, or Fear Of Missing Out: they'd rather do discounted business on Black Friday than no business at all.
Happy bargain hunting.
Main image credit: John Henderson on Flickr, CC BY 2.0