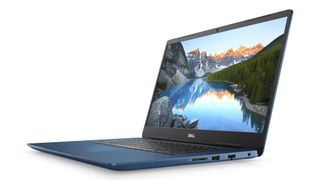 It's that time of year again. Gadget supplies are about to dip low as their prices do the same – Black Friday and Cyber Monday are here. That means everything from TVs and speakers to laptops and toothbrushes are all going to get the good old cut price treatment.
But with so much on offer, how do you pick what's best for you? Brand name is often the best place to start and as you've probably guessed from the headline, this particular guide is all about Dell.
Dell is an award-winning gadget developer and manufacturer of everything from powerful laptops and desktop PCs to clarity-focused monitors and every peripheral you might want to enhance those products with.
Essentially, by going with a name like Dell, you immediately check-off some important requirements when considering a new computer or similar device.
That means you know it will be well-built from premium parts that offer the ultimate performance while also offering longevity of lifetime use.
Then, if you have an issue using your new favourite bit of kit, you can rely on customer support from Dell to make sure you get the most out of your gadget.
You can even start using that world famous Dell customer service before you buy anything as there's lots of help and guidance to be had at Dell.co.uk/BlackFriday or in person over the phone by calling 0800 085 4691.
If you want our advice on some of the best Dell options right now, the follow our handy guide below.
Powerful gaming laptops
One of the most stand-out reasons to go for a Dell is the sheer power when it comes to gaming. Yup, Alienware is a part of Dell and combines all the years of experience Dell offers with the gaming frontier building efforts of Alienware.
The result is laptops like the Alienware m15 which manages to offer portability while still cramming in a respectable 15.6-inch display, 8th Gen Intel core i7 processing backed by up to 32GB of DDR4 RAM plus and an 8GB NVIDIA GeForce GTX 1070 Max-Q GPU.
The addition of a 17-hour battery life on idle and Windows 10 running the system are just brilliant extra flourishes that make this a class leading gaming laptop.
This is just the beginning of the offerings with plenty of other sizes and configurations to be found in the forms of the Alienware 17, and Alienware 15. For those looking for pure power in a fixed tower gaming machine there's the Alienware Aurora.
Stunningly sleek screens
For a do-it-all laptop that manages to squeeze in plenty of power and top features while still maintaining a slender, sleek and attractive design and a stunning screen there's Dell's XPS 13.
This laptop features a stunning 13.3-inch 4K UHD display that takes a leaf out of the most advanced smartphone's books by cutting down on bezel to offer more display in the frame.
The addition of a reversing hinge means the screen can be propped up making it ideal for watching movies on. The wide viewing angle makes it easier to see, no matter where you end up sitting.
The display offers 100 percent of the sRBG colour spectrum meaning super realistic visuals that take advantage of that 1500:1 contrast ratio and 400 nits of brightness.
On top of all that there is what's called Dell Cinema. This encompasses CinemaColour to enhance visuals for the deepest blacks and most dazzling colours.
Cinema Stream is another feature that enhances the experience by using Killer Wireless to get maximum bandwidth for a super-smooth viewing experience. This is all backed by Cinema Sound, but more on that below.
Slender power, anywhere
Going for a portable laptop doesn't mean you have to sacrifice power when it comes to Dell machines.
Specifically the XPS 15 laptop manages to offer a 15.6-inch 4K UHD Infinity Edge display with all that awesome Dell Cinema tech, a 8th Gen Intel Core processor with up to 6 cores and 12 threads plus up to 32GB of RAM.
All that running Windows 10 should mean that you'll be hard pressed to find any task, work or pleasure related, that this beast can't keep up with.
Terabytes of storage, Nvidia GeForce GTX graphics and a 97Whr battery all add to what this laptop has to offer, making it one of the best mobile powerhouses out there right now.
Style that's affordable
Thanks to the years of experience Dell has and its broad range of product offerings, it is able to offer premium quality laptops at affordable prices. As such the Dell Inspiron 15 5000 range offers a solid metallic build quality and large 15.6-inch display, as standard, for wallet friendly prices.
There is no compromise on quality with the latest 8th Gen Intel Core i5 processors running these Windows 10 laptops. Up to 8GB of RAM and 2TB of storage mean you don't need to sacrifice performance even if you are making a saving.
All that tied up in a premium aluminium build with a display that features a minimal bezel make for a superb laptop.
VR ready powerhouse
If you want a computer that lives at home to run everything digital in your world then you'll want pure power, especially if that world is virtual. The Dell XPS 8930 is built with exactly that task in mind, loaded with powerful specs that are able to run virtual reality games and videos alike without any strain.
The result should be a buttery smooth experience where you barely notice you've left reality.
How is this magic possible? These specs certainly help, with up to 8th Gen Intel Core i7 processors backed by 16GB of RAM and NVIDIA GeForce GTX 1060 with 6GB GDDR5 graphics.
These towers also feature a sleek black finish to help them blend into any room, plus with plenty of outputs they'll play nice with lots of peripherals like 4K monitors and gaming headsets alike.
Design and do-it-all decadence
When it comes to a centrepiece in any room, which doubles as a powerful all in one computer, the Dell XPS 27 All-In-One is an absolute stunner. This is one of those machines that just works. Turn it on and it's 8th Gen Intel i7 processors with 16GB of RAM will have Windows 10 up and running instantly.
The gorgeous 27-inch 4K UHD display, with optional touch sensitivity, makes everything look stunning.
While this could be a very fancy way to simply watch movies with Dell Cinema Sound that uses Waves MaxxAudio Pro boost, it'll also double as a workstation, a media editing hub, your communications gateway, VR system, music station and much more besides.
Sign up for Black Friday email alerts!
Get the hottest deals available in your inbox plus news, reviews, opinion, analysis and more from the TechRadar team.