Samsung plasma HD TV now with added Bluetooth
Wireless comms open the door to a more interactive future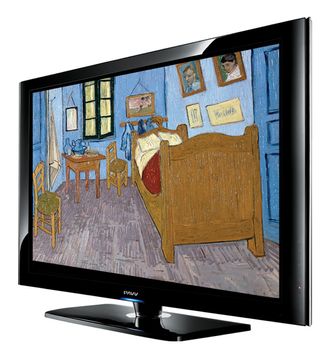 As if modern television sets didn't make life difficult enough already with their bewildering array of features and permutations, Samsung has added to the technological confusion by introducing the world's first TV with Bluetooth.
The 50-inch SPD-50P91FHD is a plasma display that manages full HD TV at 1080p and costs 4.3 million won (£2,320). Adding Bluetooth to the set gives it the ability to connect with wireless headphones, cameras and possible future Bluetooth remote-control handsets.
Bluetooth future
Such a remote could, in theory, have many advantages over traditional infrared models. As it would be able to communicate bi-directionally with the television it could, for example, display previews - on its own LCD - of channels other than that being watched on the main screen.
Any number of interactive TV services could also make use of such a remote, as the new Samsung plasma supports the ACAP standard for data broadcasts. Alternatively, one could exercise a little discipline by simply switching the set on and sitting back to enjoy one's programming of choice. Newer isn't always better, after all.
Sign up for Black Friday email alerts!
Get the hottest deals available in your inbox plus news, reviews, opinion, analysis and more from the TechRadar team.
J Mark Lytle was an International Editor for TechRadar, based out of Tokyo, who now works as a Script Editor, Consultant at NHK, the Japan Broadcasting Corporation. Writer, multi-platform journalist, all-round editorial and PR consultant with many years' experience as a professional writer, their bylines include CNN, Snap Media and IDG.