Microsoft sacará la Sega Series X en Japón, dice un rumor loco
Tiene sentido pero dudamos que sea verdad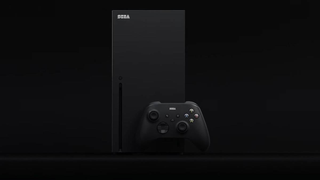 (Image credit: Future)
Es lunes y parece que el Apocalipsis cada día está más cerca. El último signo: Microsoft no lanzará la Xbox Series X en Japón, según un rumor increíblemente loco. Y la segunda parte es aún más loca todavía: sería la mítica Sega la que lanzaría una consola que básicamente sería la Xbox Series X en el mercado nipón.
Ya. Yo también he alucinado en colorines. Pero aunque el rumor es loco y absurdo, el hecho es que no dejaría de tener bastante de sentido estratégico (aunque dudo de que sea verdad).
El rumor de la Sega Series X
El rumor nos llega del blog gaming Critical Hit, que afirma que en japón la Xbox Series X pasaría a llamarse Sega Series X.
Lo basa en dos tuits que reproducimos aquí:
Well, the latest "Sega rumour" that's going to rile up the gaming industry is, yes, Sega ARE releasing a console... But, it's the Xbox Series X in Japan, MS are rebranding it under Sega's name to gain a better foothold there. So, the Sega Series X.May 30, 2020
So rumor has it SEGA is reentering the console market...in Japan onlyMakes sense to me honestly, they've worked closely with Microsoft before and the SEGA brand is extremely strong in Japan, plus their consoles actually do better thereI can legitimately see it.May 30, 2020
Por supuesto, estos "rumores" — como los califica el artista de la pista Larry Bundy Jr. — podrían no ser más que especulación. No ha habido confirmación de ninguna otra fuente excepto de otro usuario de Twitter especializado en el mundo Nintendo. Ninguno de los dos son fuentes con un historial de rumores confirmados.
El rumor se ve reforzado por un anuncio de la propia Sega, que dice que va a anunciar algo "grande" para celebrar su 60 aniversario esta semana.
Pero, dicho esto, hay razones lógicas para que este rumor loco y altamente improbable sea posible.
Por qué SÍ tiene sentido la Sega Series X
La razón más potente es que la Xbox siempre ha sido un desastre en Japón. El mercado nipón siempre ha sido fan de los grandes sellos del país. Y en consolas, la batalla siempre ha sido Nintendo contra Sega y, después, Sony.
Cuando Microsoft lanzó la primera Xbox en Japón se estrelló con todo el equipo. Las ventas fueron desastrosas. Y, aunque ha mejorado un poco con cada generación, Sony sigue reinando triunfante. Al mercado japonés le gusta lo japonés y no ve con buenos ojos que los gaijin occidentales venga a tocarle las narices invadiendo su cultura. Porque en Japón, el mundo del videojuego es tan parte de su cultura como el manga y el anime.
Sin embargo, la reputación de Sega como compañía de videojuegos sigue siendo impecable a pesar de no fabricar ninguna consola desde la fallida Dreamcast. Es un nombre legendario y venerable. Un nombre a respetar.
Por eso tiene sentido que Microsoft se aliara con Sega para sacar una versión de la Xbox Series X llamada Sega Series X que, aunque tuviera alguna modificación en sus menús para adaptarla aún más al mercado nipón, fuera idéntica a la Xbox Series X.
Por qué NO tiene sentido la Sega Series X
En contra está el hecho de a Microsoft, a pesar de que Japón sea un mercado hostil, ha hecho progresos notables estos años. Cuesta creer que se vaya a dar por vencida — aunque no está del todo fuera de lo imposible.
Lo que sí que parece imposible es que la compañía esté dispuesta a diluir la marca Xbox en el mercado japonés, uno de los más importantes del mundo. Y, sobre todo, clave para que los sellos japoneses apoyen o no a una consola.
Y luego estaría el hecho de que Sega perdió la batalla de las consolas original contra Sony y Nintendo. Aunque siga siendo un icono, sería una jugada arriesgada para los de Redmond.
A mí, honestamente, me encantaría volver a tener una consola que al arrancar hiciera esto:
Pero vamos, esa es mi opinión personal de fetichista del mundo gaming retro. Lo más probable es que nunca pase y esto, más que rumor, sea lo que en inglés llaman "wishful thinking" (pensamientos de deseo).
Sign up for Black Friday email alerts!
Get the hottest deals available in your inbox plus news, reviews, opinion, analysis and more from the TechRadar team.