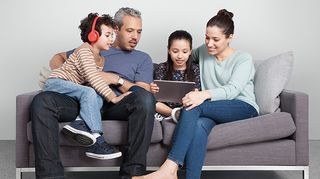 This post is brought to you by CJ Affiliate's VIP Content Service. While this was a sponsored opportunity from Verizon Fios, all content and opinions expressed here are our own.
Great internet connectivity has become an important aspect of many of our lives. From being able to stream the latest HBO shows to keeping in touch with friends and family, a superfast connection can be a serious advantage in today's day and age.
On top of that, if you consider yourself up to date with the latest tech trends, that means that you might need an even faster connection than most -- how else are you going to stream, 4K video on your shiny new 4K TV? The solution? Gigabit internet.
Verizon has announced that its latest internet offering, Verizon Fios Gigabit, will now be available for only $79.99 per month. What does that mean? For a very reasonable price your internet speed will hit a whopping 940Mbps -- more than enough to take advantage of all the latest streaming platforms, and a whopping 20x higher than most internet connections.
That also future-proofs your household -- as more devices get connected to the internet, a higher bandwidth will be helpful, which is exactly where such high speeds can come in handy. In fact, Verizon itself claims you'll be able to get up to a hefty 100 devices connected at once -- which is more than enough for households today, and will be more than enough for most households in the foreseeable future.
You won't just get a fast download speed -- the includes an upload speed of up to 880Mbps, which is more than enough for things like online gaming, video calling, and so on.
Verizon's offering doesn't end at high internet speeds -- you'll also get TV and phone service, as well as a HBO subscription for an entire year, which would normally cost you extra. On top of that, Verizon will get you set up with multiroom DVR for two years, so you can record your favorite shows in case you're under threat of missing them.
If you're stuck in a contract with someone else, Verizon will help you out there too -- the company is offering credit of up to $500 to cover those annoying early termination fees, so you won't have to worry about paying hundreds of dollars to make the switch. In other words, there's no real excuse not to make the switch, since money isn't really a factor.
Verizon Fios has long been a leader in offering excellent internet connectivity at a low price, and this new offering is no exception to that rule.
Switching to Fios also ensures that you'll always be at the forefront of the latest internet speed breakthroughs. Gigabit internet is blazingly fast, and more than enough for almost everyone at this point in time -- but at some point internet will get even faster, and Verizon Fios has long been among the first to take advantage of that new technology. In fact, the company has already announced that its working on newer technology that could eventually offer up to a massive 40Gbps -- which you'll have access to as a Fios subscriber.
If you're ready to make the switch to Verizon Fios to enjoy the best internet speeds at an extremely reasonable price, head to the Verizon website and sign up. The new offer doesn't have an end date, and can be subscribed to based on availability. You'll thank us when you do.
Sign up for Black Friday email alerts!
Get the hottest deals available in your inbox plus news, reviews, opinion, analysis and more from the TechRadar team.