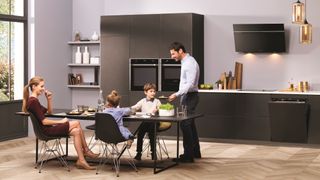 Throwing food into an oven and hoping it'll all work out is so last millennium. The future is all about smart cooking with intelligent guidance, which is exactly what the Samsung Chef Collection is all about. This can help you become a better chef so your food will be the best it can be – it's that simple.
Samsung has created several smart kitchen appliances as part of its Chef Collection, which use the latest technology to make cooking easier. From Wi-Fi connected and app controlled ovens to super powerful extractors. There are even induction hobs with lights that look like gas flames and heating drawers perfect for proofing.
So which is the best item for you? Are several needed for your ideal cooking space? If you're doing up your kitchen, these are the must-have future-proof appliances. But if you're simply in the market for an upgrade then there's definitely something for you to be found on ao.com from the Samsung Chef Collection. Here's what you need to know.
Cook smart with your phone
The jewel in the crown of the Samsung Chef Collection has got to be the NV73J9770RS built-in Wi-Fi connected single oven. The oven's internet connection means you can access and control your cooking using your smartphone.
The Samsung SmartThings app offers access to the oven for monitoring cooking but much more beyond that. You're actually able to browse recipes within the app to help you prepare a meal. Then, when you're ready, all you need to do is select it and the oven will fire up at all the right settings, with timers ready to cook the food to perfection.
Cook perfectly every time
Samsung has developed a technology that ensures its smart oven, the NV73J9770RS, cooks food to perfection every time. This is done by improving on the offerings of current ovens.
Dry food is a problem that's avoided here thanks to Samsung's Gourmet Vapour Technology. By diffusing vapourised moisture with heat, the oven is able to keep the food moist to stop the usual drying effect of oven cooking. The result is perfectly succulent dishes served, every time.
Or, if you're looking for something else but that also doubles as a microwave, then the NQ50J9530BS is a great option.
Let your oven clean itself
Oven cleaning can be a chore at best and a huge expense, with professional cleaning bills. What if your oven simply cleaned itself? It sounds like science fiction but this is a reality right now.
The Samsung NV73J9770RS smart oven offers a pyrolytic self-cleaning capability. This is achieved by heating to a scorching 500 degrees Centigrade which causes any food residue to dry up and turn to ash. This can then be easily wiped away leaving the oven clean and fresh with minimal effort.
See the hob heat, even using electric
Induction hobs are a great way to be green and avoid using gas while at the same time taking advantage of a constant and reliable heat. But the inability to see the heat makes adapting from gas tough for some. That's why Samsung has created the Virtual Flame.
The NZ64N9777BK Induction Hob is able to use LEDs to recreate the glow of a flame. As a result you can see at-a-glance the temperature. Thanks to the use of electromagnets in the induction system, cooking is efficient and safe from start to finish.
Let the extractor do all the work
Forgetting to turn on the extractor fan can be an annoyance that leaves your kitchen smelly and smokey, damaging your walls and leaving greasy marks. That's why a smart extractor makes a lot of sense.
The Samsung NZ64N9777BK Induction Hob offers lots of power, enough to clear a room, without making too much noise. The result is an effective job done leaving you to focus on creating the best possible meal.
In the case of the NK24M7070VS extractor you get an LED light and an extremely powerful clearance rate.
Warm and proof like a pro
Keeping food and plates warm can be the difference between a meal served piping hot to perfection and a wasted effort that ends up too cold too soon. That's where a dedicated heating drawer proves useful. It's also a really great way to exert steady low heat making it perfect for proofing, take note bread makers out there.
The Samsung NL20J7100WB built-in warming drawer is perfect for this exact job. It offers 14cm of height and can hold up to 25kg meaning up to 25 plates can fit in at once. On top of that there's a dedicated proofing function for getting that perfect dough.
Buying from ao.com offers the ease of free delivery but also peace of mind knowing you're buying from a company that will recycle your old appliance if you need, price match any price you find for less and even offers free returns. With up to 100 fridges recycled an hour, this is a company you can rely on to make a positive impact on the world, not just your purchase.
Sign up to receive daily breaking news, reviews, opinion, analysis, deals and more from the world of tech.