Nikon mirrorless camera mocked-up
Website shows what new compact system camera might look like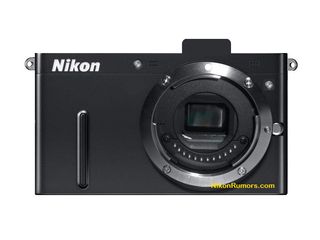 New pictures showing a mockup of a Nikon mirrorless compact system camera have appeared online.
The mockup, which appears on NikonRumors, but is not credited to any source (so it may just be speculation), gives an indication of the design and size of the camera, which is yet to be announced, but has been rumoured for some time.
The design, which is similar to the Nikon Coolpix P300, includes a lens release button, a direct video record button, two microphones, an electronic viewfinder, a flash and a small grip, according to the drawing posted on the website.
Other specs include a lack of a dial on the top plate, an electronic zoom button, different colours and "functionality" that will be introduced for the first time in a mirrorless camera.
Mirrorless market
Nikon has been slow off the mark in introducing a compact system camera to the market, with competitors having been around from Olympus, Panasonic, Sony and Samsung for some time. Pentax is the latest company to introduce a mirrorless system, debuting the Q earlier in the year.
Earlier in the year, it was suggested that the new Nikon mirrorless model would use the same sensor as the Pentax Q.
Rumours of a mirrorless camera from Canon have also been doing the rounds lately, but mock-ups, patents and leaked designs suggest that Nikon will enter the market first.
The release date of the Nikon compact system camera is not known, but it is suspected it will be announced before the end of the month.
Keep following TechRadar for more as it happens.
Via NikonRumors
Sign up to receive daily breaking news, reviews, opinion, analysis, deals and more from the world of tech.
Amy has been writing about cameras, photography and associated tech since 2009. Amy was once part of the photography testing team for Future Publishing working across TechRadar, Digital Camera, PhotoPlus, N Photo and Photography Week. For her photography, she has won awards and has been exhibited. She often partakes in unusual projects - including one intense year where she used a different camera every single day. Amy is currently the Features Editor at Amateur Photographer magazine, and in her increasingly little spare time works across a number of high-profile publications including Wired, Stuff, Digital Camera World, Expert Reviews, and just a little off-tangent, PetsRadar.