US mulling end to ban on in-flight cell phone calls
Talk about roaming charges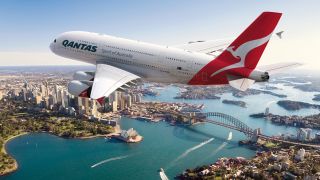 Update: On November 22, the FCC confirmed it plans to consider a proposal to "revise outdated rules and provide airlines with the ability to permit passengers to use mobile wireless services via onboard airborne access systems."
The commission will look at the proposal December 12. It noted repeatedly that even if it does adopt new rules, it's still up to the airlines whether to permit "the use of data, text and/or voice services while airborne."
It said passengers wouldn't have the right to operate a cell phone on a plane by default - it's only after an airline has taken necessary steps and complied with FCC and FAA rules that it would be allowed to operate the airborne access system that connect wireless devices and commercial wireless networks.
You can read the FCC's FAQ right here, just note it's a PDF link.
Original article...
Talking on a cell phone mid-flight may soon be permissible. Yes, you read that right.
The United States Federal Communications Commission is gearing up to propose letting fliers to use their mobiles to make calls and more on airplanes, according to the Wall Street Journal.
Passengers still wouldn't be able to use their phones during take off and landing, but texts, calls and other cellular-data required actions would be A-OK above 10,000 feet.
However, even if the FCC does lift it's ban, it would still be up to airlines whether to allow in-flight calls on their planes. It would also fall on carriers to install cell-tower communicating equipment on aircraft, so a new policy would by no means take effect immediately.
'HELLO? NO, I'M FLYING. YES! I'M ON THE PLANE RIGHT NOW!'
Last month, the US Federal Aviation Administration loosened restrictions on using electronics during flight, and most concerns about using gadgets while soaring high above have faded.
However, the social consideration of passengers blathering away on cell phones while dozens are literally trapped listening to them is one airlines, workers and consumers are already talking about.
Flight attendants, for example, have raised concerns that having to compete with a mid-convo passenger during an emergency situation poses a safety threat.
Delta, Southwest and Virgin have said that even if the ban is lifted, in-flight phone calls stand a snowball's chance in hell of happening.
"[The] overwhelming sentiment is to continue with a policy that would not allow voice communications while in flight," Delta told the Journal.
Other airlines have said they would re-examine their policies if the FCC makes the ban a thing of the past.
It could be months before the FCC makes a final decision, so until then, it's airplane mode only.
Sign up to receive daily breaking news, reviews, opinion, analysis, deals and more from the world of tech.
Michelle was previously a news editor at TechRadar, leading consumer tech news and reviews. Michelle is now a Content Strategist at Facebook. A versatile, highly effective content writer and skilled editor with a keen eye for detail, Michelle is a collaborative problem solver and covered everything from smartwatches and microprocessors to VR and self-driving cars.