Nintendo Switch owners know that 2017 has been full of awesome games to play. But are you just now planning to get (or give) one for the holidays? If so, Wal-Mart has you covered with a must-play title on the cheap – $29 to be exact, down from $59.
(Update: Wal-Mart seems to be sold out, at least for now. For the time being, we'll be directing you to Amazon, who is offering the next best price at $45 – still not bad at all!)
Mario + Rabbids: Kingdom Battle is a fun strategy game built in collaboration between Nintendo and Ubisoft. It smashes the Mushroom Kingdom together with the wild Rabbids, immerses you into its engaging turn-based gameplay and hilarity ensues.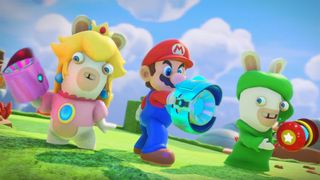 Mario + Rabbids: Kingdom Battle is 24% off at $45
Normally set at $59, Target is cutting the price of the wacky, fun title by a cool $15. If you're building up your library, or in need of a stocking stuffer, this one's a no-brainer.View Deal