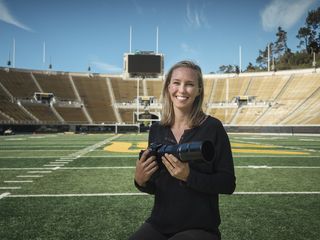 It's that split-second in the wild when an animal swoops, strikes, or looks straight into your lens.
Or the exact instant when a race car zooms across the finish line.
These moments, which bring spine-tingling experiences to life for viewers, can be career-defining for professional sports and outdoor photographers. You can't miss opportunities like these — not because your bulky camera body, unstable rig, or awkward lenses let you down.
One of Olympus' core philosophies (originally coined by designer Yoshihisa Maitani) is that the best camera is the one that you have with you. This philosophy led the company to place some of the world's leading camera technology into smaller, lighter-weight packages — approximately one-third the weight and one-half the size of other professional systems.
The new OM-D E-M1X camera builds on this goal by giving an edge to telephoto shooters who need portability, durability, and M.Zuiko PRO Lenses to nail every once-in-a-lifetime shot. Its compact and lightweight design, unbeatable image stabilization, and superior image quality are designed to give you the ultimate flexibility in moments when the action demands it.
On the go
When you're shooting from the hip, your gear needs to move with you. The OM-D series of cameras are mirrorless, and (like the M.Zuiko digital lenses they use) significantly smaller and lighter than other pro systems. The E-M1X camera body is compact (only 5.7 x 5.8 x 3 inches). Even with two batteries and two SD cards inserted, it's just over two pounds to tote around. Yet, the high-magnification electronic viewfinder is mighty, and the camera boasts a fully articulating three-inch LCD touchscreen.
The OM-D E-M1X has Wi-Fi and Bluetooth to keep you connected to your smartphone or other device, so you can instantly share your images and video. It's also the first mirrorless camera to boast a built-in vertical grip — a must-have for pros on the go.
Strong, speedy, and steady
If you don't have the luxury of using a tripod, your camera can't let you down. In Handheld High Res Shot mode, the OM-D E-M1X produces a super high resolution 50MP image. OM-D cameras use industry-leading 5-Axis Image Stabilization to produce crisp images and blur-free video — without additional stabilizing gear.
The camera is packed with tech to support your next shoot. It includes the world's most effective image stabilization system that provides up to 7.5 shutter speed steps of compensation. The Zero-Lag Pro Capture Mode and high-speed continuous shooting are a few of its other action-friendly features.
Inside, two TruePic™ VIII image processors support an insane maximum burst rate of 60fps to capture continuous action. The OM-D E-M1X's on-chip Phase Detection plus Contrast Detection autofocus system nails your subject on the move, while the Intelligent Subject Detection feature is specifically optimized for aviation, rail, or motorsports shooters. This AI-based system recognizes subjects, enhancing the camera's ability to lock focus and continuously track movement.
Perhaps most impressive is how well the camera travels, no matter what conditions you're shooting in. Whether you're in a desert or a forest, on a dusty field or a humid court, the OM-D E-M1X stands up to forces of nature. To keep dust and dirt away from the sensor and the shutter, a Super Sonic Wave Filter in the camera vibrates at 30,000 times per second. It's definitely a camera you'll want in your field bag.
Let there be light
In Japanese, Zuiko translates to "light of the gods" — exactly what any pro wants illuminating their images. High quality glass and Olympus optics make M.Zuiko lenses a top choice. And because OM-D cameras and M.Zuiko lenses use a single-mount type, compatibility and quick changes are always certain.
Pro equipment no longer needs to be bulkier, heavier, and less portable than action photography demands. This camera challenges perceptions by packing professional features into its compact frame. With built-in Wi-Fi, Bluetooth, and a suite of field sensors that capture everything from GPS and compass coordinates to temperature, the OM-D E-M1X boosts your productivity, aiding in tagging images to streamline cataloging and selection.
Whether you're making the switch from full-frame or tripod shooting, the Olympus OM-D E-M1X delivers the image quality you're accustomed to in a light, rugged, and portable package. For professional shooters, this camera doesn't let any opportunity pass you by — on the field, court, or track.
Sign up for Black Friday email alerts!
Get the hottest deals available in your inbox plus news, reviews, opinion, analysis and more from the TechRadar team.