Samsung Ativ Tab Windows RT tablet up for pre-order for £550
Samsung's first Windows 8 tablet doesn't come cheap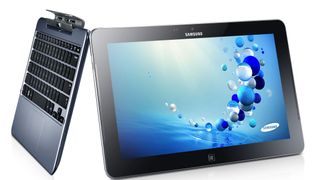 Samsung's Ativ Tab - its first Windows RT tablet PC - is now up for pre-order from Clove, for £549 including VAT.
That's quite expensive, considering the equivalent iPad will set you back just £479.
Units are expected to ship at the end of the month, according to Clove.
The Samsung Ativ Tab is no slouch. It'll be one of the first devices to come running Windows 8, Microsoft's new operating system that'll be unleashed at the end of the month.
Inside is a 1.5GHz dual-core processor, 2GB of RAM, and 32GB storage (though you can boost this with an SD card of any size up to 64GB). It has a 5-megapixel rear camera, and 1.9-megapixel front-facer.
The screen is 10.1-inches, with a resolution of 1,366x768-pixels. There's Wi-Fi, Bluetooth, a USB port and NFC, but no 3G or 4G connectivity.
Unveiled at IFA
The device made its debut at German tech trade show IFA. It'll come with Samsung's S-Pen, as seen on the Galaxy Note 2, so you can doodle on the screen.
Or if you prefer, you can plug in the keyboard dock and get typing, effectively turning it into a laptop.
Windows 8 is due on October 26, so we'd expect the Ativ to drop around then. Microsoft will launch its own tablet, the Microsoft Surface, around the same time. The Surface has annoyed some partners who see it as Microsoft competing with them, so we'll have to see how it plays out.
Via Intomobile
Sign up to receive daily breaking news, reviews, opinion, analysis, deals and more from the world of tech.
Joe has been writing about tech for 17 years, first on staff at T3 magazine, then in a freelance capacity for Stuff, The Sunday Times Travel Magazine, Men's Health, GQ, The Mirror, Trusted Reviews, TechRadar and many more (including What Hi-Fi?). His specialities include all things mobile, headphones and speakers that he can't justifying spending money on.