Love at first type: meet the messaging-led dating app taking on Tinder
JigTalk is on a mission to show that talk isn't cheap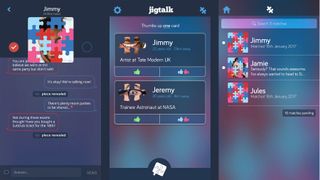 This article is the final part of our TechRadar North column, a series focusing on the development of the North of England's digital sector.
A tech company knows it's hit the big time when its app or service has influenced everyday language.
According to Charles Arthur in his book 'Digital Wars', Google, one of the most prevalent examples of this, was first used as a verb on TV during an episode of Buffy the Vampire Slayer back in 2002. (By the character Willow, if you were wondering.)
More recently, to 'WhatsApp' somebody has become code for internet messaging on smartphones. And, among younger internet users, the phrases 'swipe right' and 'swipe left' have transcended their Tinder roots and are now used to communicate acceptance or rejection, respectively.
Another location-based dating app, JigTalk, is on a path to change the dialect of its users, one sentence at a time. Unlike Tinder, which places everything on display, JigTalk only begins to reveal its users' profile pictures as they engage in conversation.
Gamifying the messaging process
Sixteen jigsaw pieces initially cover each photo. After answering four simple icebreaker questions, chosen from a stock pool of 50, a quarter of the photo is then revealed at a rate of one piece per question. From then on, each message sent removes one jigsaw piece to give a glimpse of the person behind it.
"We call the chat method a 'JigTalk', so people therefore will be 'JigTalking'," says the company's co-founder, Alex Durrant. "We also tend to refer to using the app as 'Getting Jiggy'."
Given the app's name, the reference was perhaps inevitable. However, Durrant maintains that JigTalk is far removed from what he describes as Tinder's "rather laddish, male-dominated" culture.
JigTalk had an almost equal gender split during the app's beta phase, held in Leeds in 2016, with women proving the most active among its 1,000-plus user base during the period.
"We offer a secure environment to share details about yourself that isn't completely sexually-focused, as it tends to be on image focused dating apps," he says. "These dating apps weren't made for that reason, but they're becoming a bit of a playground for those kinds of activities ."
Durrant co-founded the company with Max Adamski, a fellow Norwich native who he met at sixth form college. Disillusioned with their English Language course, the pair discovered a shared entrepreneurial drive and relocated to Leeds to Accounting and Graphic Communication respectively.
There, Adamski pitched his friend and future business partner the idea of JigTalk after being rejected on Tinder.
"Max wasn't having the success he'd hoped from it," says Durrant. "He thought that, if he put his personality before his appearance, then he'd fancy his chances – so he did some research and saw a gap in the market."
"He's not the most attractive guy in the world, but he's certainly not the least attractive either," he adds. "I can say that because I'm in the same boat!"
Adamski's theory, that placing the emphasis on personality and communication over aesthetics would prove the winning formula for a dating app, was based on more than a hunch.
The company points to a study conducted by Oxford University that discovered that more than 50% of 2 million conversations (containing 19 million messages) between users of one of the "big dating apps" (its name was classified, but you can guess which one) never went past two introductory messages.
In other words, unlike Tom Cruise's and Renee Zellweger's characters in the famous romcom Jerry Maguire, many smartphone-wielding singletons never had each other at "Hello".
For Durrant, compared to sober ones, the most revealing (and regrettable) JigTalks are likely to take place in bars, clubs and other places where people's inhibitions will be lowered by alcohol.
"If anything the conversations will be better!" he says. "The most fruitful ones are when people wake up and think 'What have I done? How can I repair this?' It encourages people to speak more, and that's the whole aim of the game."
After securing a total of £160,000 investment to take the app forward, the latest version of JigTalk was released onto the Apple App Store and Google Play Store on January 16 2017.
Durrant and Adamski, along with the company's four other employees, are now driven on raising the app's profile throughout the UK, with a particular focus on the north. They also have a mystery celebrity lined up to help.
"We have a really exciting dating TV series in the works that's looking in air in a few months," says Durrant. "It's hosted by somebody who isn't your average celeb and is known for being fun and buoyant – a bit like us!"
JigTalk is available now on Android and iOS.
Sign up to receive daily breaking news, reviews, opinion, analysis, deals and more from the world of tech.
Kane has been fascinated by the endless possibilities of computers since first getting his hands on an Amiga 500+ back in 1991. These days he mostly lives in realm of VR, where he's working his way into the world Paddleball rankings in Rec Room.