Los precios de los televisores OLED pueden desplomarse en 2023
Un nuevo método de fabricación de TCL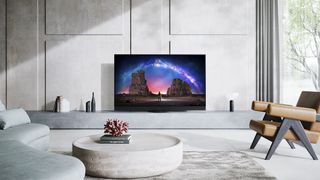 (Image credit: Panasonic)
La compañía china TCL lanzará televisores OLED en 2023 usando su propia tecnología de fabricación — un nuevo método que podría ser significativamente más barato que las opciones actuales.
Su método de producción utiliza paneles impresos por inyección de tinta (en inglés, IJP). Esta fabricación "imprime" paneles OLED entre cristales en lugar de usar los tradicionales paneles "OLED blancos" (WOLED) que se encuentran en los televisores OLED actuales — como el LG CX, el Sony A8H o el Panasonic JZ2000 — y que requieren materiales más costosos y un proceso más largo.
La empresa de análisis de mercado IHS Markit (ahora conocida como Omdia) dijo en 2019 que este paso a la impresión de inyección de tinta podría suponer una reducción del 15-25% en los precios de venta al público comparado a los OLED existentes.
Esto podría rebajar los precios de lanzamiento de entrada de 1.200 dólares a los 1.000 dólares, lo que supondría una competencia feroz para LG Display, el actual líder del mercado de producción de televisores OLED.
Chase LI, analista senior de IHS Markit, aseguró que "la penetración del mercado de los OLED sigue siendo limitada debido a sus caros costes de producción [...] y el proceso IJP tiene el potencial de reducir drásticamente los gastos de fabricación, haciendo que los OLED sean más competitivos con los LCD en televisores, laptops, PCs y tabletas".
Lo que no sabemos todavía es si estos nuevos televisores OLED serán tan buenos como los tradicionales.
El cambio está en camino
Todos los paneles de televisores OLED son ahora fabricados por LG Display, que los vende a LG Electronics (una empresa distinta aunque sea del grupo), así como a Panasonic, Philips y Sony.
Ese monopolio podría cambiar si otras marcas de televisores son capaces de fabricar a gran escala otros paneles OLED más baratos. TCL es uno de los mayores vendedores de televisores del mundo, el tercero por detrás de Samsung y LG. Si alguien lo puede lograr son ellos.
Según el director de desarrollo de productos TCL en Europa, Marek Maciejewski, el proceso de inyección de tinta evita "la problemática técnica de evaporación" que se utiliza actualmente para crear paneles WOLED. El nuevo método, afirma, es "más preciso" con "menos residuos [y] precios más bajos". Maciejewski asegura que "todos los principales fabricantes de OLED están desarrollando esto".
Aún falta mucho para 2023. Mientras, Samsung dice estár creando un prototipo de su propia alternativa OLED conocida como "QD-OLED", que combina las ventajas de un panel OLED autoemisivo con el contraste mejorado de las tecnologías de puntos cuánticos utilizadas en las gamas QLED y Neo QLED de Samsung. Los televisores QD-OLED de Samsung podrían lanzarse en 2022, lo que le daría cierta ventaja si cumple los plazos.
Por otro lado, TCL tiende a usar precios más agresivos que Samsung, lo que significa que podría valer la pena esperar un poco más.
Sign up to receive daily breaking news, reviews, opinion, analysis, deals and more from the world of tech.
Henry is a freelance technology journalist, and former News & Features Editor for TechRadar, where he specialized in home entertainment gadgets such as TVs, projectors, soundbars, and smart speakers. Other bylines include Edge, T3, iMore, GamesRadar, NBC News, Healthline, and The Times.