Sony surprises at CES 2022 with Tom Holland, PSVR2, a new company, and a sexy EV SUV that it might sell on its own
Forget the TVs, Sony went all in with gaming, VR, star power and gaming in its CES 2022 press conference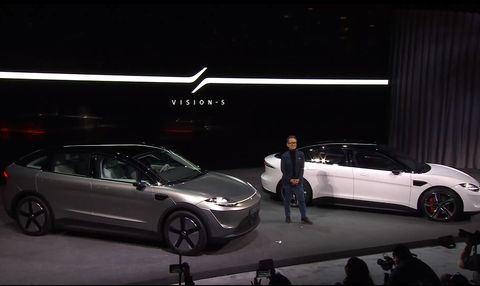 (Image: © Future)
Were Sony CEO Kenichiro Yoshida to walk out on stage tonight at the CES 2022 Sony Press conference and declare, "I have 10 million PlayStation 5 consoles hidden behind this stage and will ship them (at retail cost) to all willing gamers," he'd be hailed as a hero and be able to walk off the stage triumphant.
That's not what happened.
We did get new PlayStation VR hardware: PlayStation VR 2 and the new controllers, PlayStation VR 2 Sense Controllers.

We also got Spider-Man: No Way Home star Tom Holand and Sony Studios Chief Tom Rothman talking about the Uncharted movie (based on the game).
And, in perhaps the biggest surprise, Sony is setting up a new company, Sony Mobility Inc., to propel its mobility efforts, which now include a Second Sony Vision X EV concept car: the Vision X SUV, a gorgeous gray car. It's one that Sony says it might even sell to consumers.

Relive the play-by-play below.
Refresh
You can watch the livestream with me here. As for what Sony is saying about what's to come, it's still nothing. 30 Minutes ago, Sony tweeted a reminder to watch the event along with an ultra-brief teaser video. The images aren't that illuminating. There's a film crew, a young woman wearing large, over-the-ears Sony headphones (maybe there will be a big focus on audio), and a guy in the snowy woods using a tablet on what looks like an oversized selfie stick. Take from those images what you will.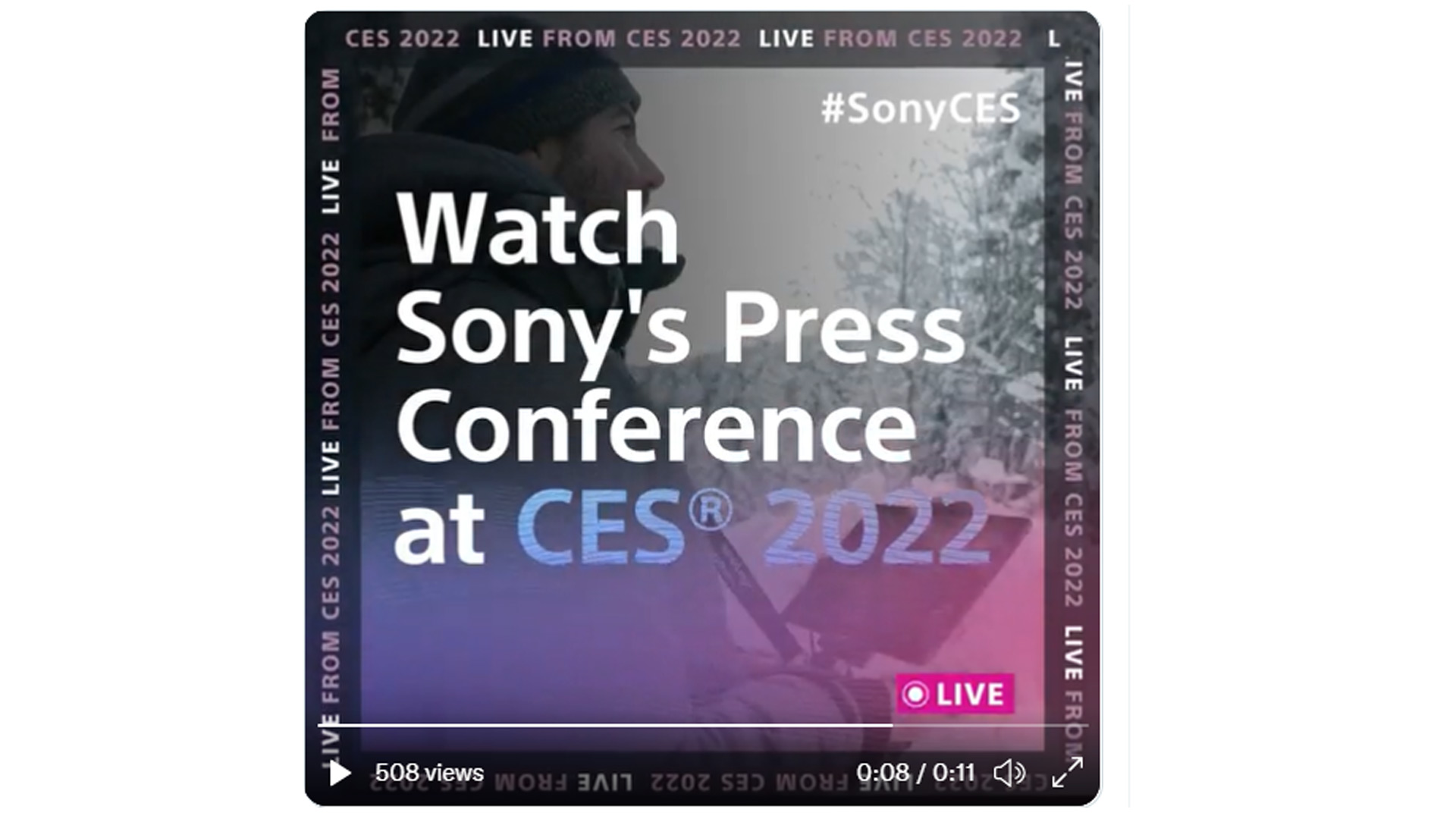 We're about 90 minutes out from Sony's big event. Expect some details on 8K TV expansion (and maybe content to play on those sets).
We might also see some new camera or image sensor technology. To be honest, I'm not expecting a new camera (though I'd love to see it).
That's what's so great about this moment: We can guess anything until Sony reveals the truth.
Sony has racked up a handful of CES 2022 Innovation Awards and might spend some time tonight walking us through the new Sony 65A95K flagship set with its new Cognitive Processor XR. I'm sure audio will get its moment, too, probably with a nod to the new NB10 Wireless Neckband Speaker (the appeal of these devices escapes me).
We got music! That means the Sony CES 2022 press conference is just minutes away. Stay tuned!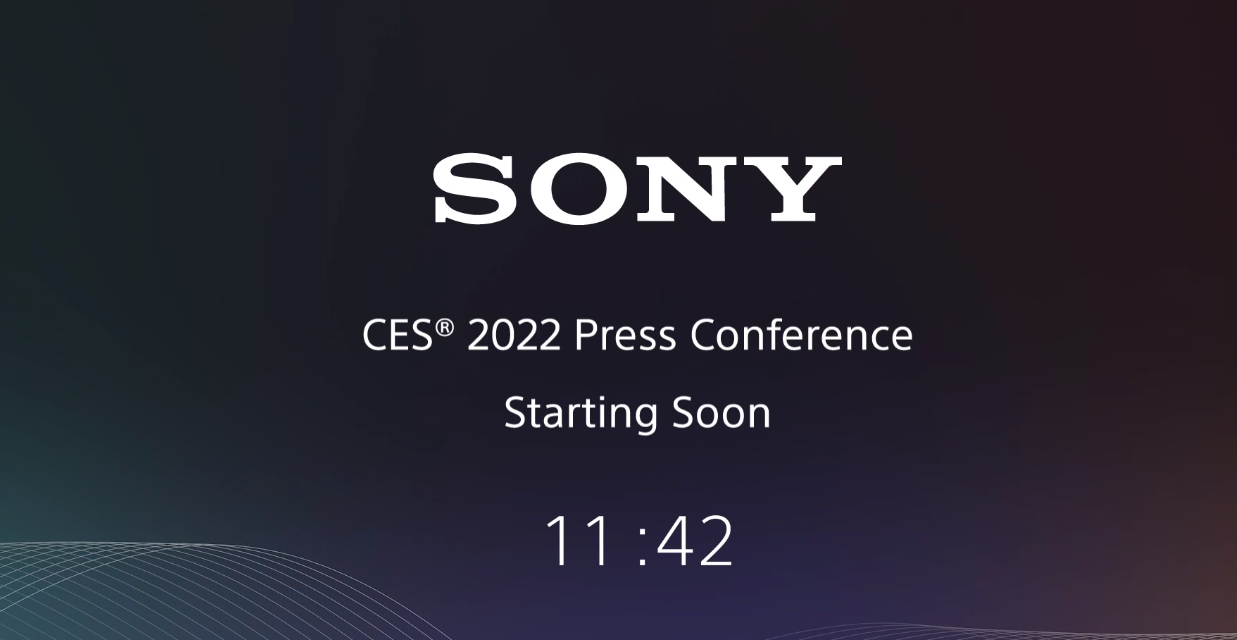 Here we go.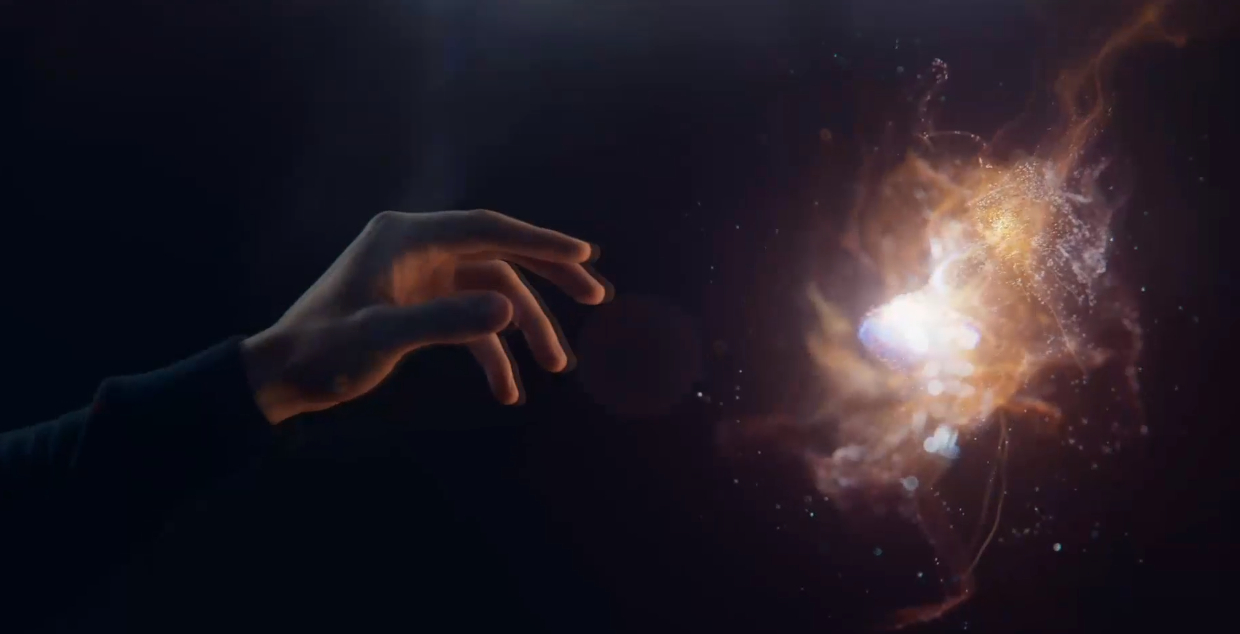 Every CES Press Conference talks about the past 2 challenging years. The truth is, the Pandemic is driving innovation.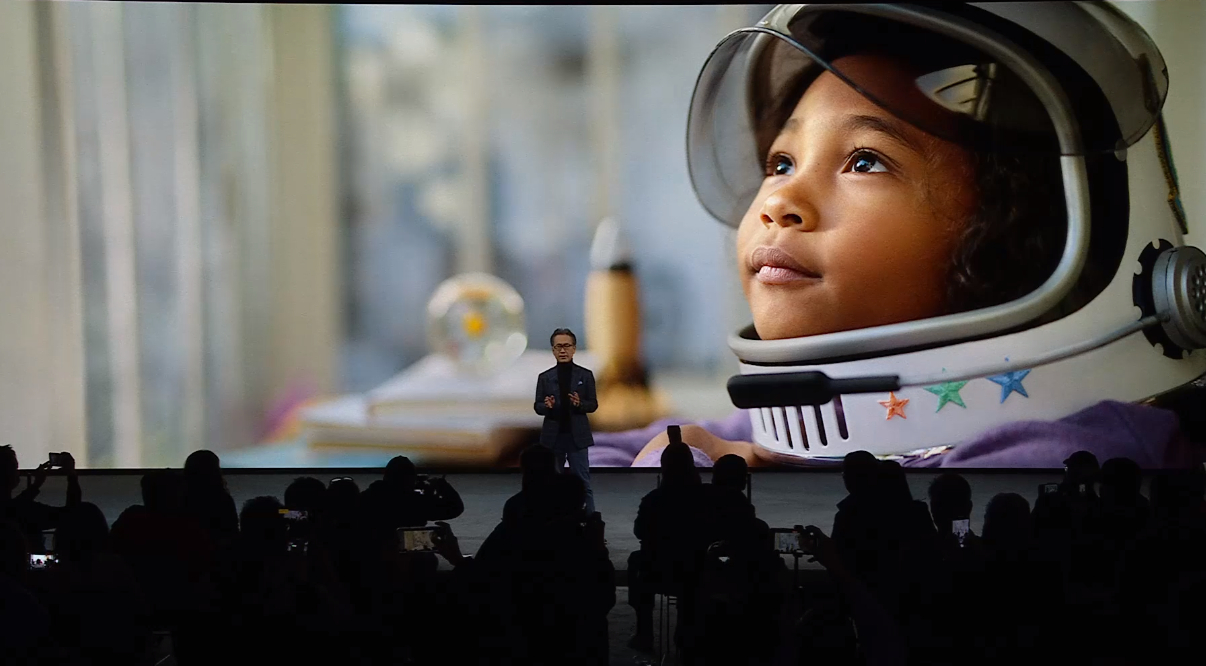 Sony's CEO is talking about how the company is contributing to social justice work and supporting those impacted by the pandemic.
The Global Social Justice Fund is a $100 million fund to support bipartisan solutions: Civic engagement, criminal justice reform, and education.
What Sony is doing here is impressive.
Adele and her 30 album gets a nice mention here.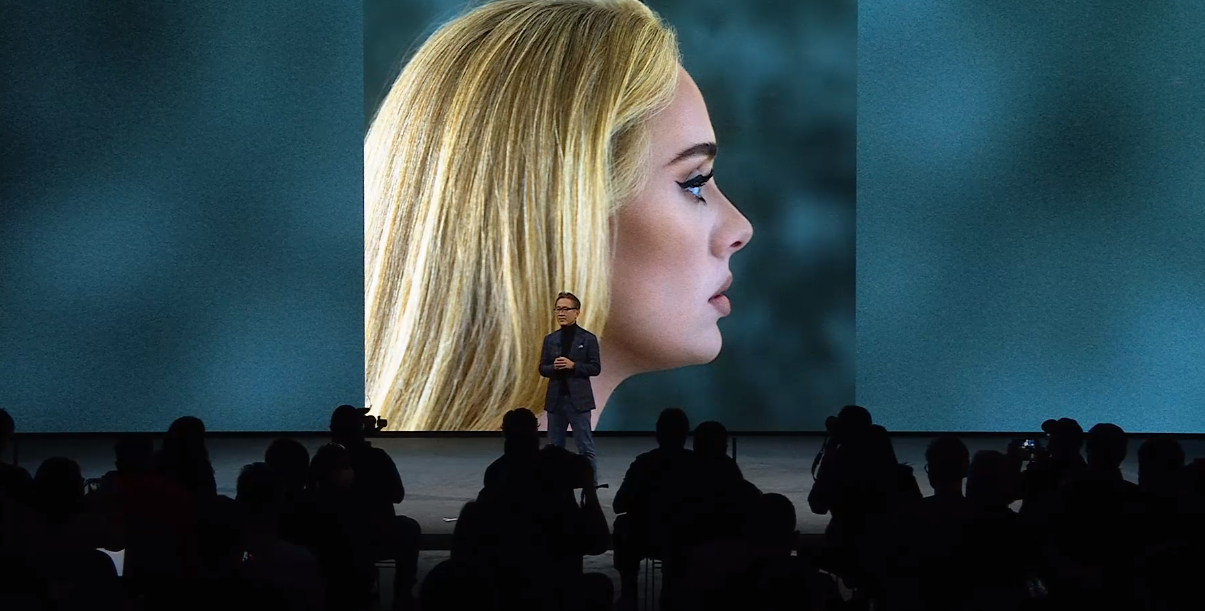 Sony's now moved quickly onto image and content creations. Walking us through the Innovation Studios, Crystal LEDs, and Sony's Venice Camera.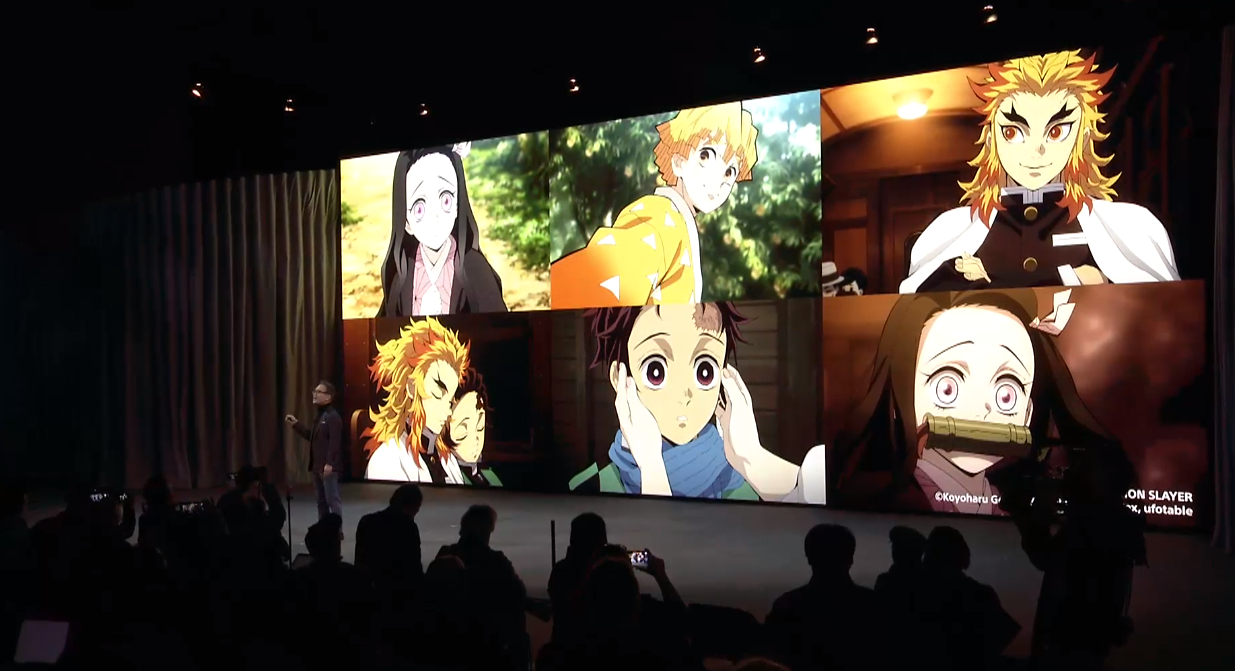 Of course, there are drones.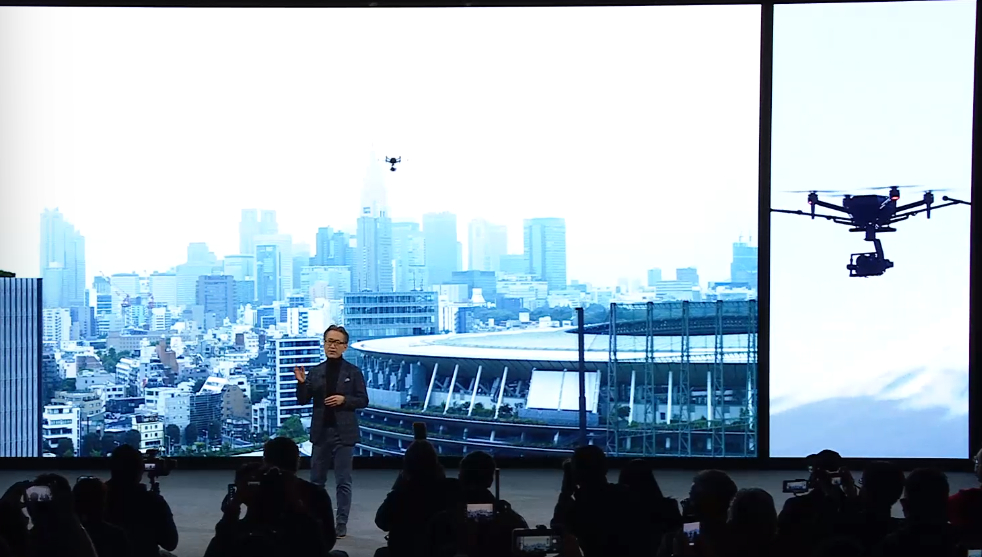 Sony is quickly going through image sensors, cameras, smartphones, drones, and all the ways they can help creators. However, they're not pausing to announce anything new, yet.
Sony Pictures Tom Rothman and Tom Holland just took the stage. That's star power for ya. Now we all wish we were there in person.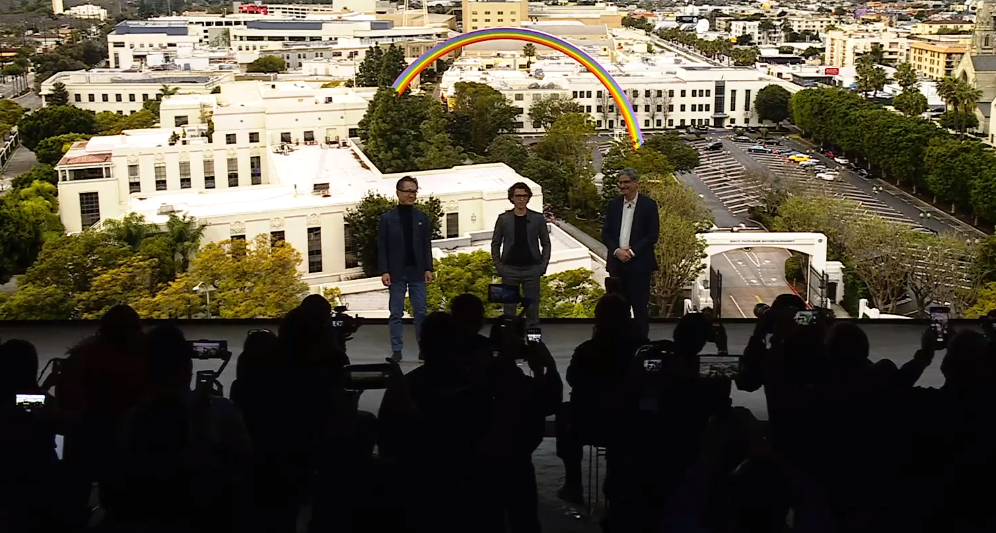 I am suddenly so nervous about Spider-Man: No Way Home spoilers. But they're there to talk about Uncharted - the movie.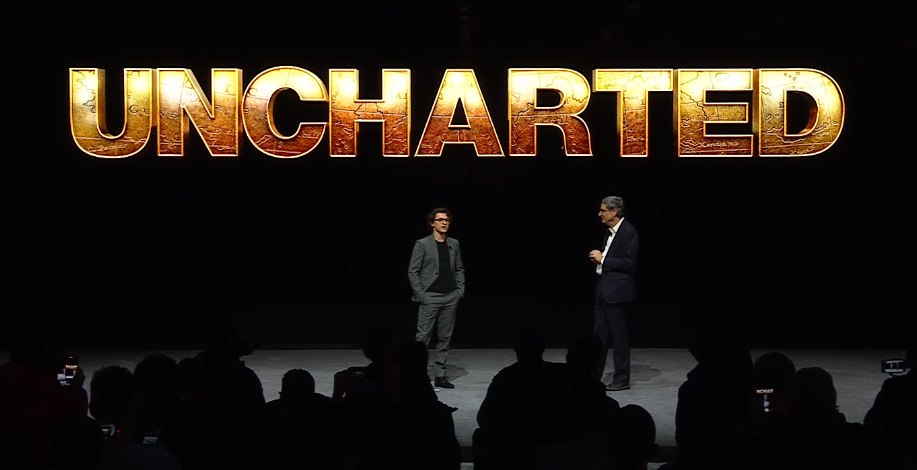 It's been a long time since Sony brought this level of star power to CES. I like it, but also wish that we'd get to some product reveals.
Instead, Holland is talking about IP and the goals of creatives. How to make the Uncharted game character (Nathan Drake) fresh for the movie.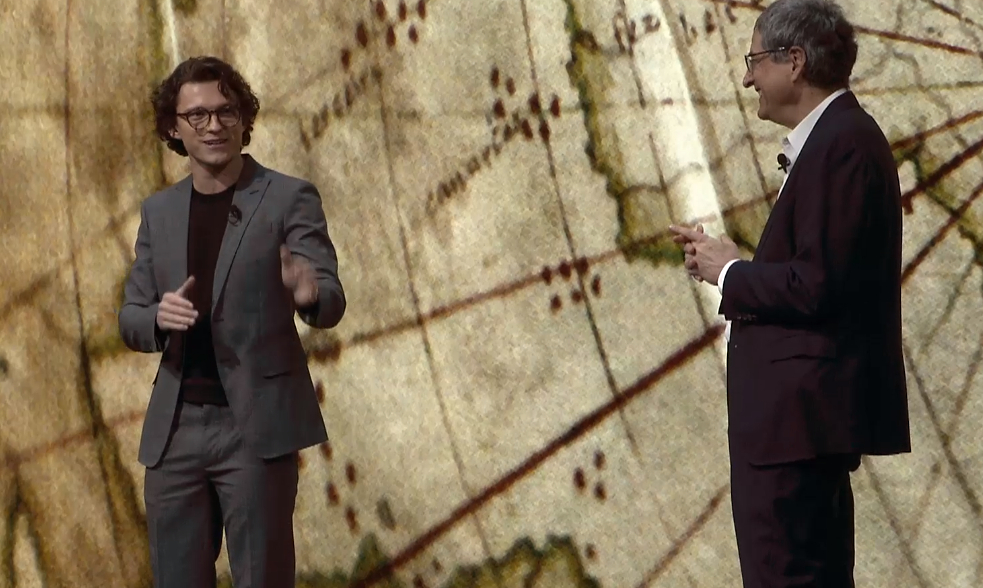 "We bend a lot of state of the art Sony Technology," says Tom Rothman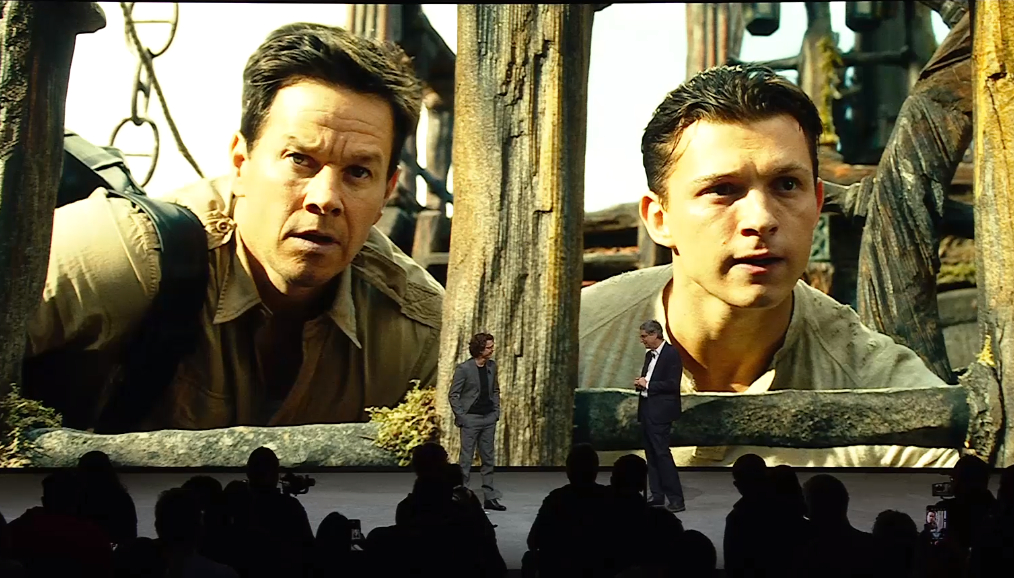 These guys are having fun talking about the making of this movie, but where's the technology? This is CES, after all.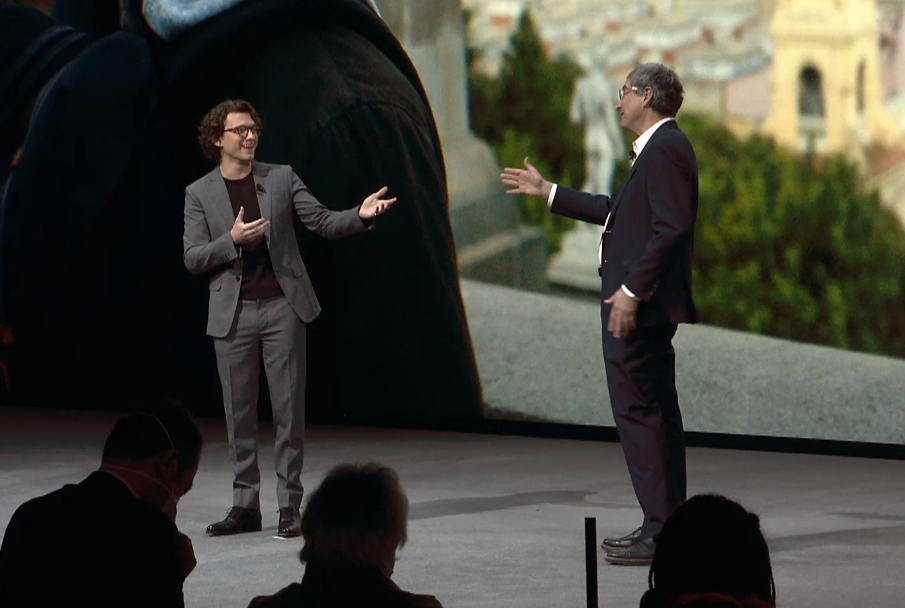 Of course, we got an Uncharted preview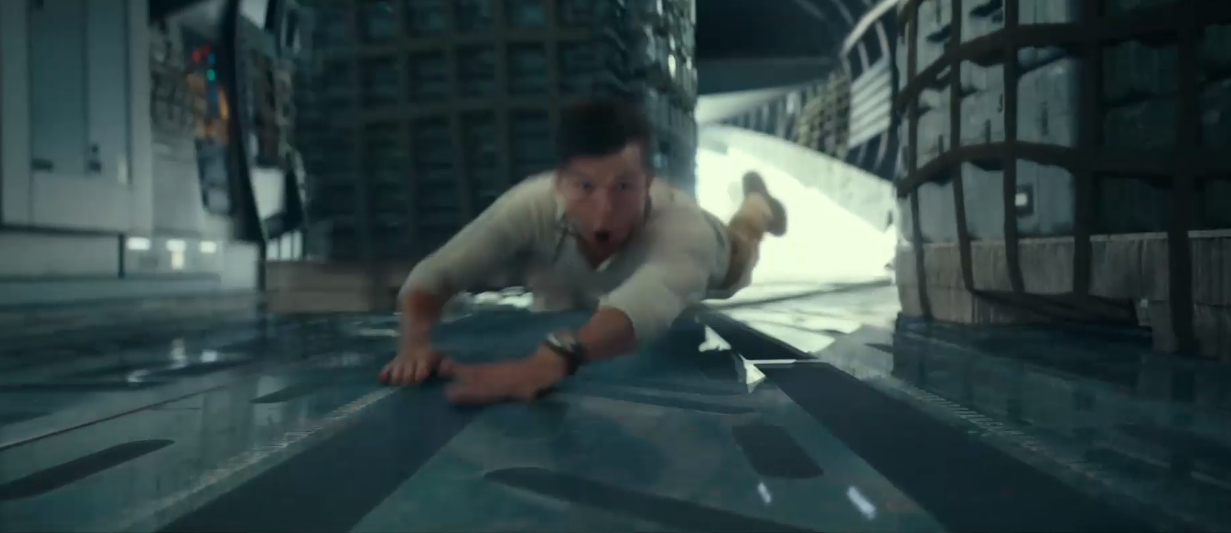 There's action. Lots of it.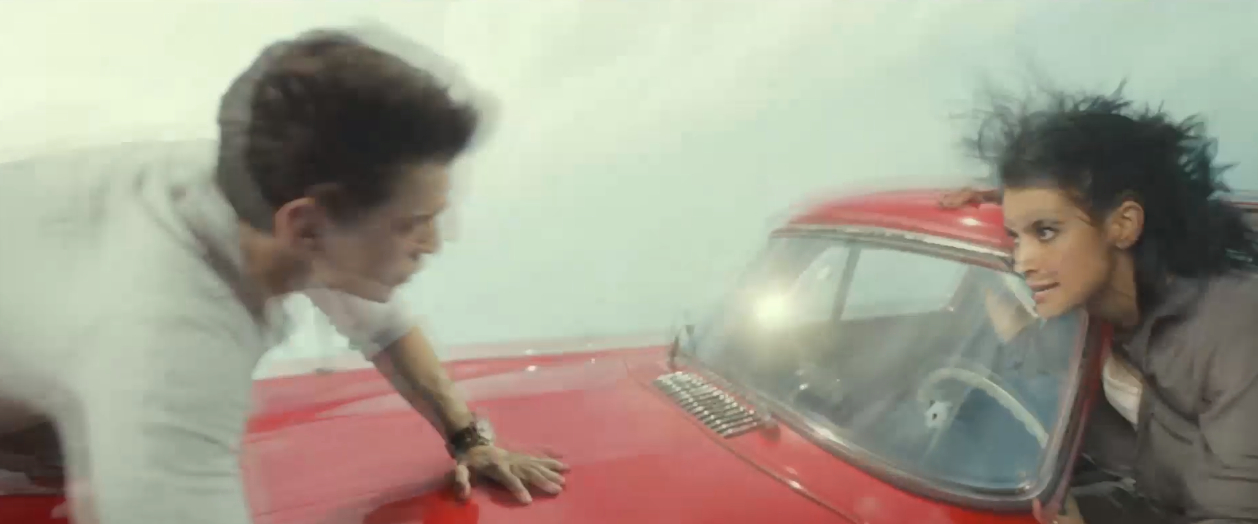 This will be quite the change of pace, going from this action movie preview to a walkthrough of the nitty gritty of Sony CE products.
Sony's Tom Rothman: "Those of you photographing that on your phone, it won't do it justice. It's made for the big screen."
Filmmakers worked intimately with PlayStation to ensure its perspective was maintained throughout the film, said Rothman. Now Neil Druckman of Naughty Dog, the creators of Uncharted, is now talking about the game coming to the big screen. He notes the "New spin while maintaining the spirit," which means, you changed it, but we got paid and are happy.
He briefly mentions The Last of Us HBO series coming next year.
Rothman adds that Ghosts of Sushima also coming to the big screen.
On to Gaming! And PlayStation stuff.
PS5 is just over a year old. Wonder if he'll tell us where all the units are.
There are now 17 studios under PlayStation Studios
New Tournaments feature coming to PS5.
Virtual Reality is central to the PS5 mission.
Next-Gen VR system is: PlayStation VR 2
Controllers called PlayStation VR 2 Sense Controllers
Yes, the new headset will have eye-tracking and haptic feedback.
4K HDR, Foveated rendering, and 110-degree field of view.
Horizon Call of the Mountain is coming to Play Station VR2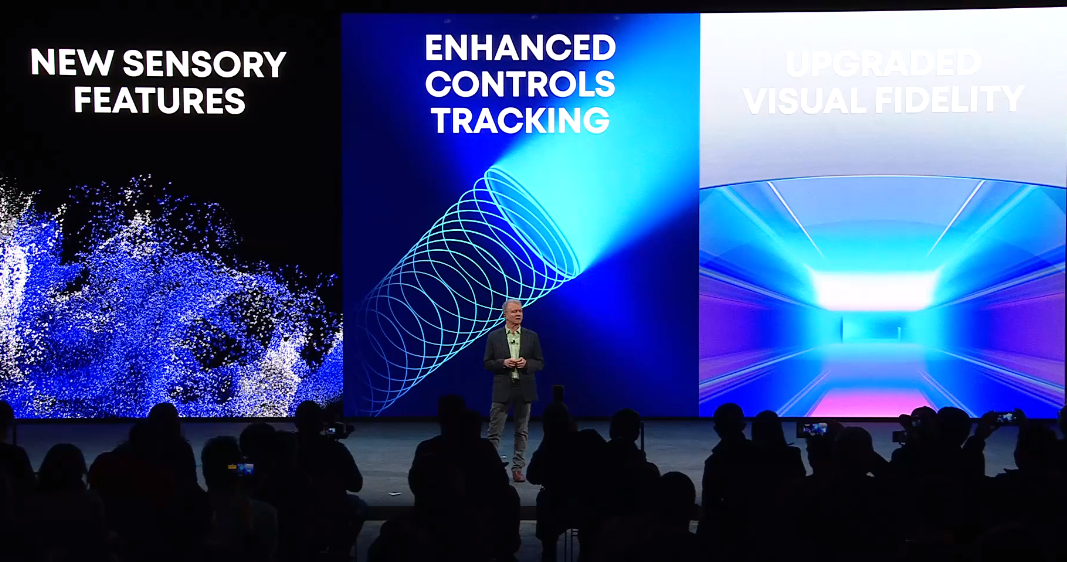 So those names are not surprising but some of the technology may be.
This new game, Horizon: Call of the Mountain, could show what's possible with the new hardware. We got about a 10-second preview.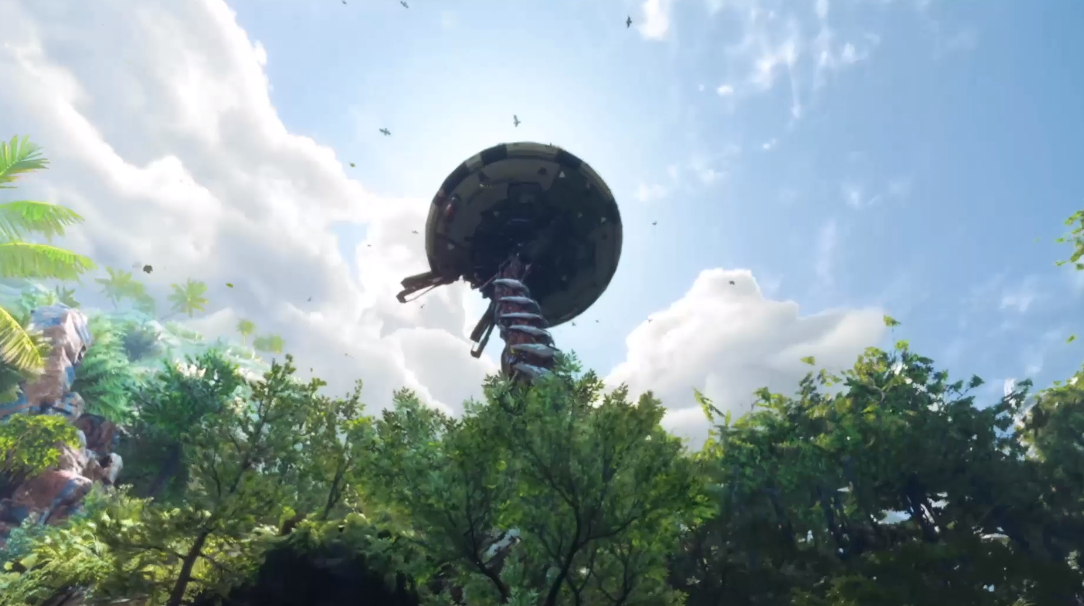 We're now onto esports. Talking about updates for the live sports technology, including Hawk-Eye technology, that includes new skeletal-tracking technology to generate 3D content in real-time. There's also a new Virtual Fan Engagement partnership with Manchester City.
Fans can develop their own avatars and interact and enjoy in virtual space. (Surprisingly, he has not said the word "Metaverse" yet)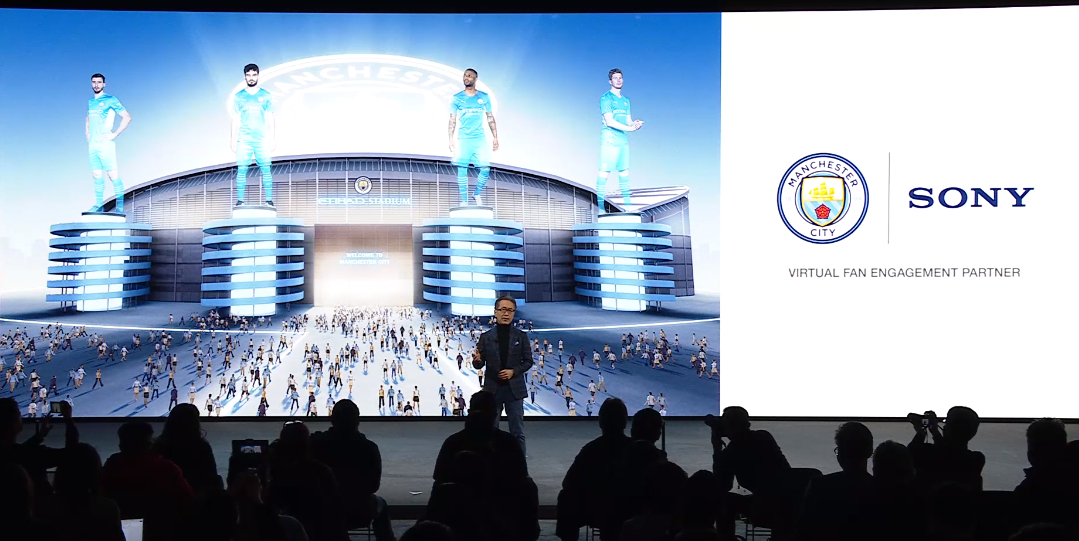 On to Mobility! Sony has a new Vision S prototype car. It's an SUV, naturally.
Safety is the number 1 priority. It has 40 sensors inside and outside the car. Has 5G network connectivity to constantly evolve. The cabin offers personalization for each passenger.
Of course, it's an entertainment space, 360 audio, gaming experience.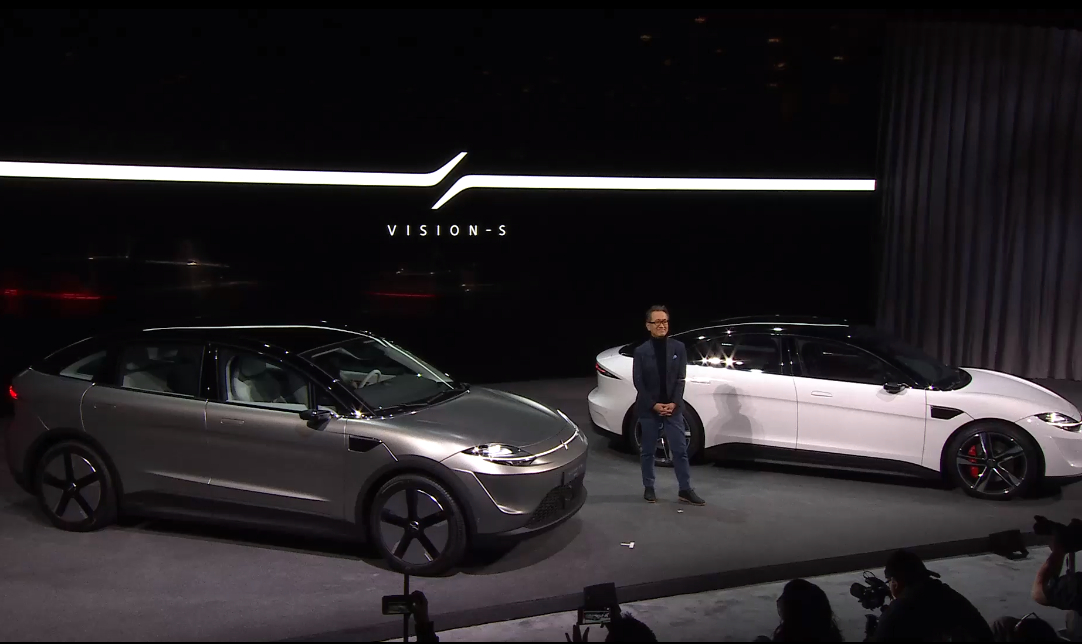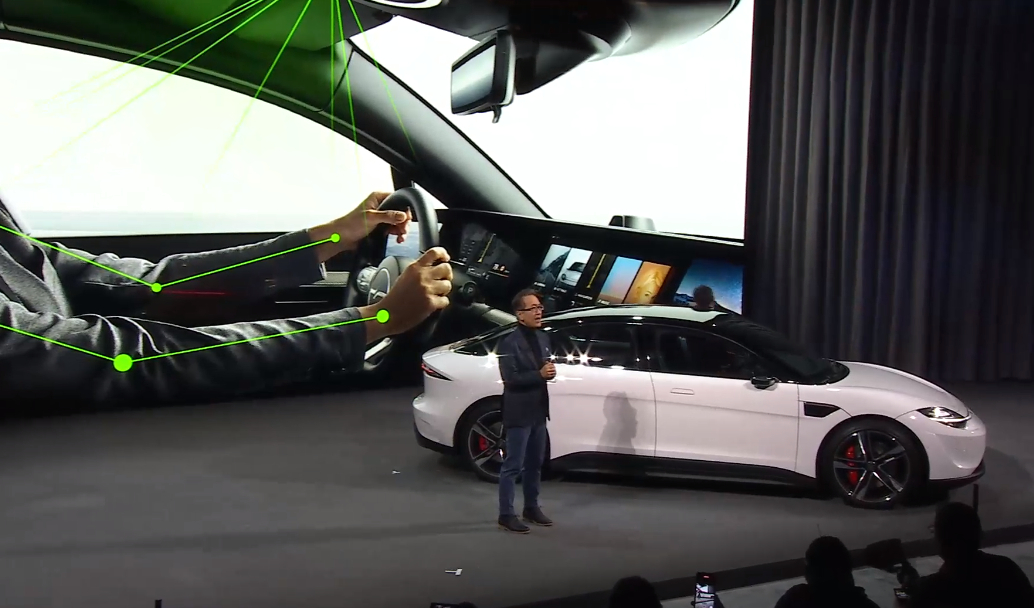 In the spring, Sony will establish a new company Sony Mobility Inc. to accelerate the mobility efforts. Exploring a commercial launch of Sony EV.
This is a big deal. Especially because it beats Apple to the punch. We're all sitting here waiting for Apple to launch its EV iCar (waiting for years) and here comes Sony, showing off an EV SUV, establishing a company, and saying, "Hey, we might just sell this ourselves...for real."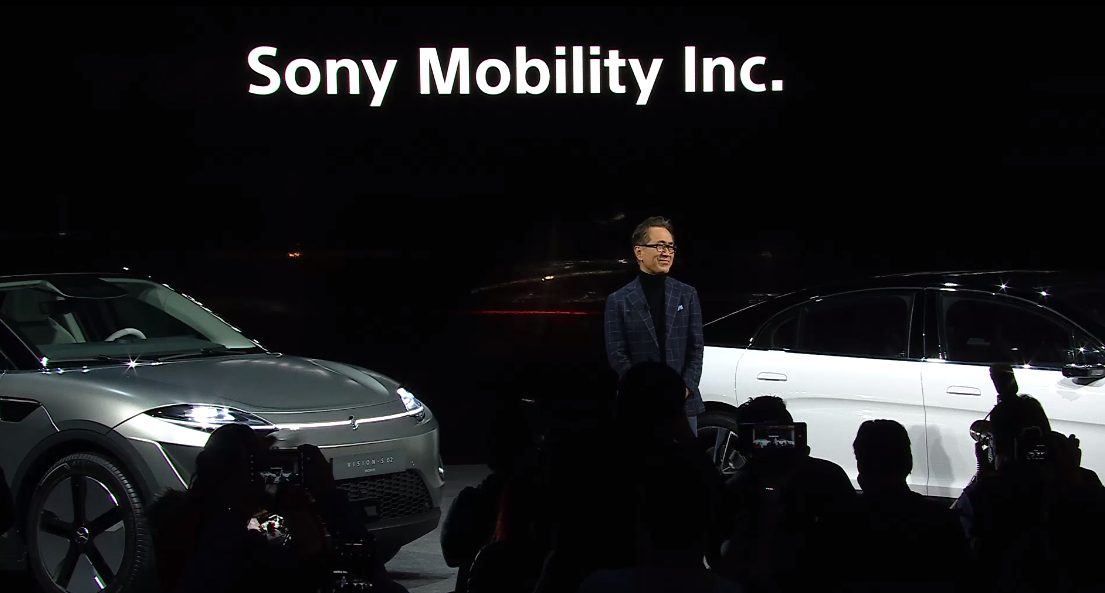 I think that's all there is from Sony tonight and it was, honestly, not at all what we expected. It was heavy on entertainment, PlayStation VR and gaming, and EV car tech.

They barely mentioned any other consumer products. Did audio get a mention? I think we heard crystal displays, but not Q-OLED.

In any case, thanks for tuning in and watching as my jaw dropped when Tom Holland took the stage.
Sign up to receive daily breaking news, reviews, opinion, analysis, deals and more from the world of tech.
Thank you for signing up to TechRadar. You will receive a verification email shortly.
There was a problem. Please refresh the page and try again.