DJI Mavic 3 Pro launch recap: the triple-camera drone has officially landed
DJI's new flagship drone is here – and it looks like a lot of fun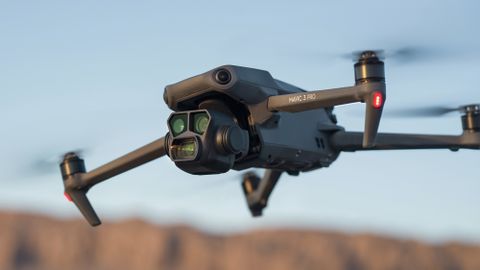 (Image: © DJI)
Well, that was short and sweet – DJI has officially announced the DJI Mavic 3 Pro, as as expected it's the drone giant's first drone with three cameras.
The short livestream kicked off at 9am ET / 2pm BST / 11pm AEST today, and you can read all our reactions and first impressions below. We've also rounded up some of the key specs and pricing so you can see if it might be your next flying camera.
On paper, the Mavic 3 Pro definitely looks like an impressive companion and a shoo-in for a spot in our guide to the world's best drones. It effectively gives you an extra camera – a 70mm mid-telephoto – for the same price as the DJI Mavic 3, which DJI has surprisingly said it'll be no longer making.
That extra camera has come at the slight cost of battery life (it last for a few minutes less than the Mavic 3 in the air) and a little extra weight, which means that in Europe it'll be a C2 Class drone, which means you'll need to fly it at a distance of 50m from people (unlike the C1 Class Mavic 3).
Still, those could be small prices to pay for the Mavic 3 Pro's added versatility, which effectively makes it a flying equivalent of the world's best camera phones. Here are all of our early thoughts on what is DJI's biggest drone launch of the year so far...
Currently running this live blog is:
Currently running this live blog is:
Mark is TechRadar's Senior news editor, and formerly its Cameras editor. He's been reporting on tech since the pre-iPhone days, when the Sony Ericsson T630 was considered an exciting flagship. He's based in London, which he often has to leave in order to actually fly his DJI Mini 3 Pro drone.
Refresh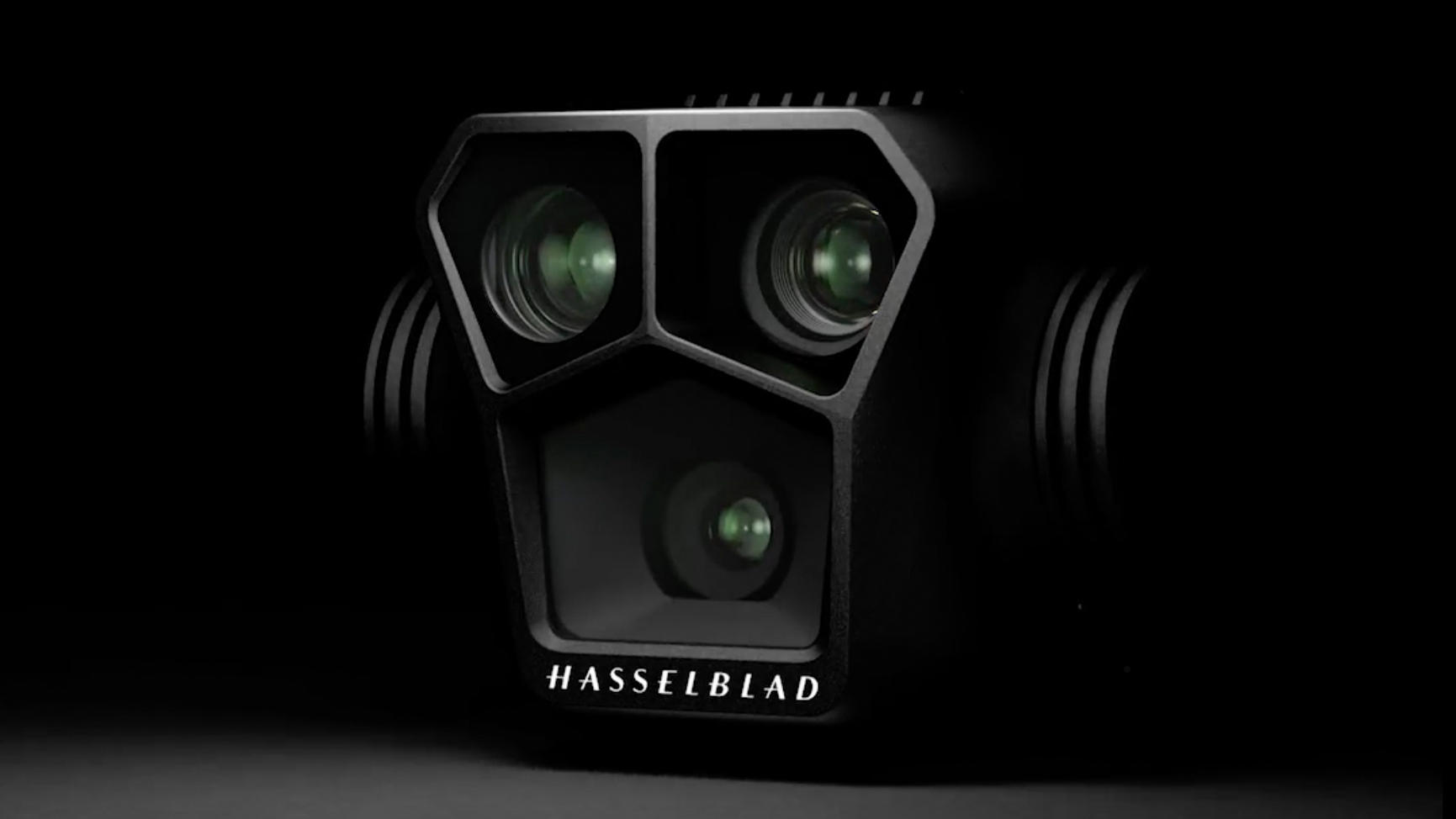 Hello, and welcome to our DJI liveblog for what will almost certainly be the launch of the DJI Mavic 3 Pro. I'm TechRadar's news editor (and former cameras editor), so am looking forward to guiding you through today's launch – even if it might tempt me into an expensive upgrade from my DJI Mini 3 Pro.
To start with, here's a reminder of how to watch the DJI Mavic 3 Pro livestream. We've embedded the video above, so you can watch along here or on YouTube. The time to set a reminder for is 9am ET / 2pm BST / 11pm AEST, depending on where you are in the world. But as that's still a little way off, we'll be warming things up here with a look at all the latest leaks and rumors.
And because it's a DJI launch, there are a lot of those...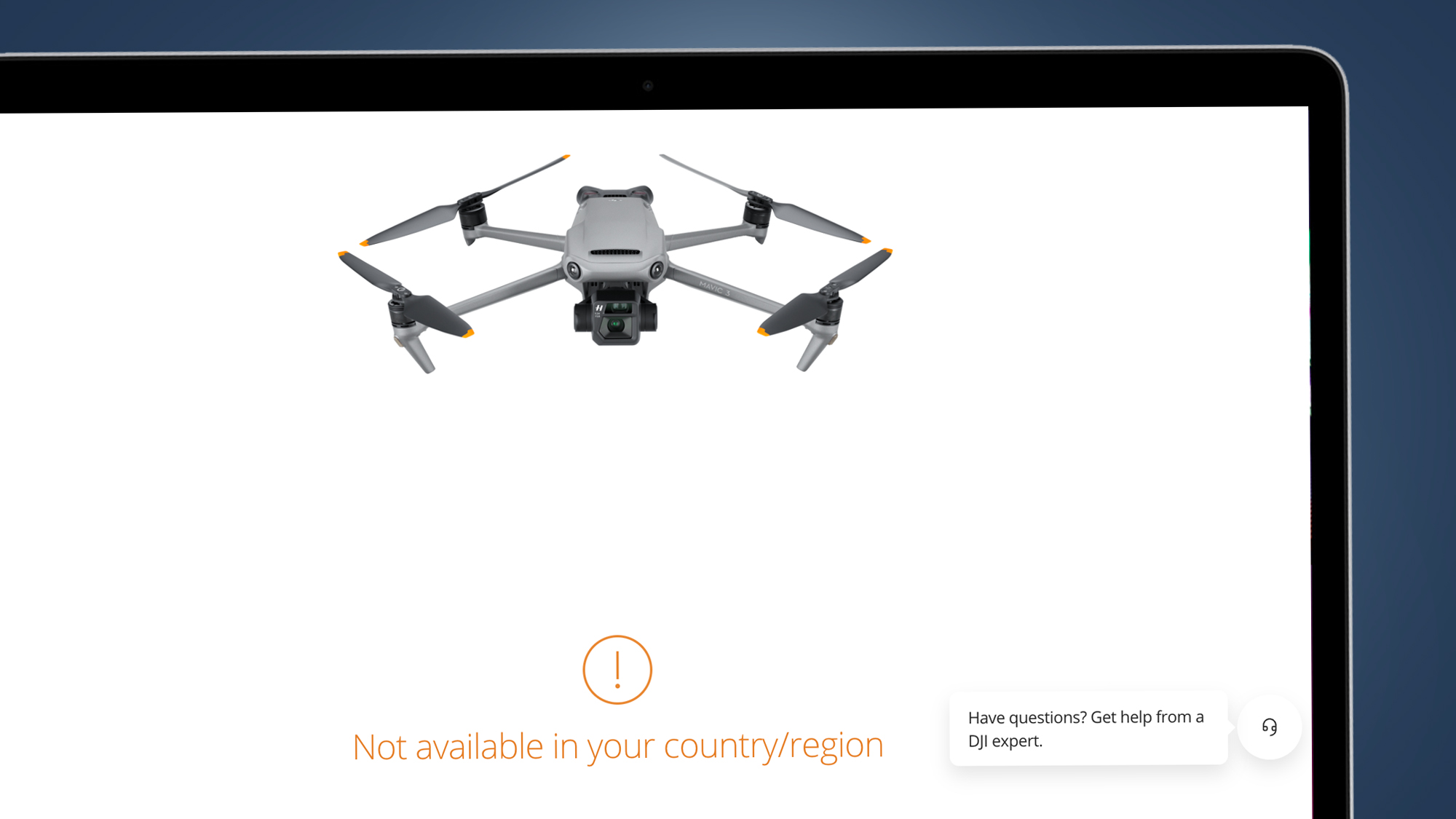 Where's the DJI Mavic 3 gone?
One of the most interesting things about today's DJI launch is the impact it could have on the rest of DJI's Mavic series. I've just checked the DJI store and the DJI Mavic 3 has now effectively vanished, with a message saying it's "no longer available" in most regions.
Does that mean the DJI Mavic 3 is going to be replaced, or simply that it's currently unavailable while DJI changes its pricing? It seems unlikely that DJI would lose the two-camera option in its Mavic 3 lineup, but we'll find out soon enough.
👉I think the specs will be posted by the others. So I'll leave you with a fresh DJI Mavic 3 Pro promo. Frank(@DJIGlobal ), thanks for the game. 👨‍💻#dji #mavic3pro pic.twitter.com/fFfsbzxOPZApril 23, 2023
Yesterday's big DJI leaks
DJI launches are traditionally leakier than a colander and that's proven to be the case again – yesterday we saw a massive amount of DJI Mavic 3 Pro images, specs and potential pricing appear from reliable sources on Twitter, revealing a lot about what to expect from today's launch.
The headlines? The Mavic 3 Pro could surprisingly cost the same as the current DJI Mavic 3, despite its introduction of three cameras. That third camera will also likely effectively be the same as the DJI Mini 3 Pro's main camera, only with a longer 70mm focal length.
In less good news for Europe-based, it seems the Mavic 3 Pro's slightly increased weight – it's rumored to weigh 958g, or 963g in its Cine version – could make it a C2 class drone, which would rule it out of flying directly over people (without special permissions). Still, those two zoom lenses could mean you don't need to...
#BigBrotherIsWatchingYou gets a whole new meaning today. But at least now everybody understands why the #Mavic3pro is heavier and needs a CE C2 certificate. pic.twitter.com/wlngOpidVdApril 25, 2023
The Mavics compared
This latest leaked image from @JasperEllens on Twitter gives us a clearer idea of why the Mavic 3 Pro is expected to be slightly heavier than the current Mavic 3, and so will likely be a 'C2 class' drone in Europe.
That camera module is, understandably, a lot bigger with that payload of three cameras, which is the most we've seen so far on a DJI drone. I just hope that extra girth doesn't hit the battery life too much – the rumors are predicting 42 minutes of flight time, but as we know that usually translates to around half an hour of actual shooting from a charge.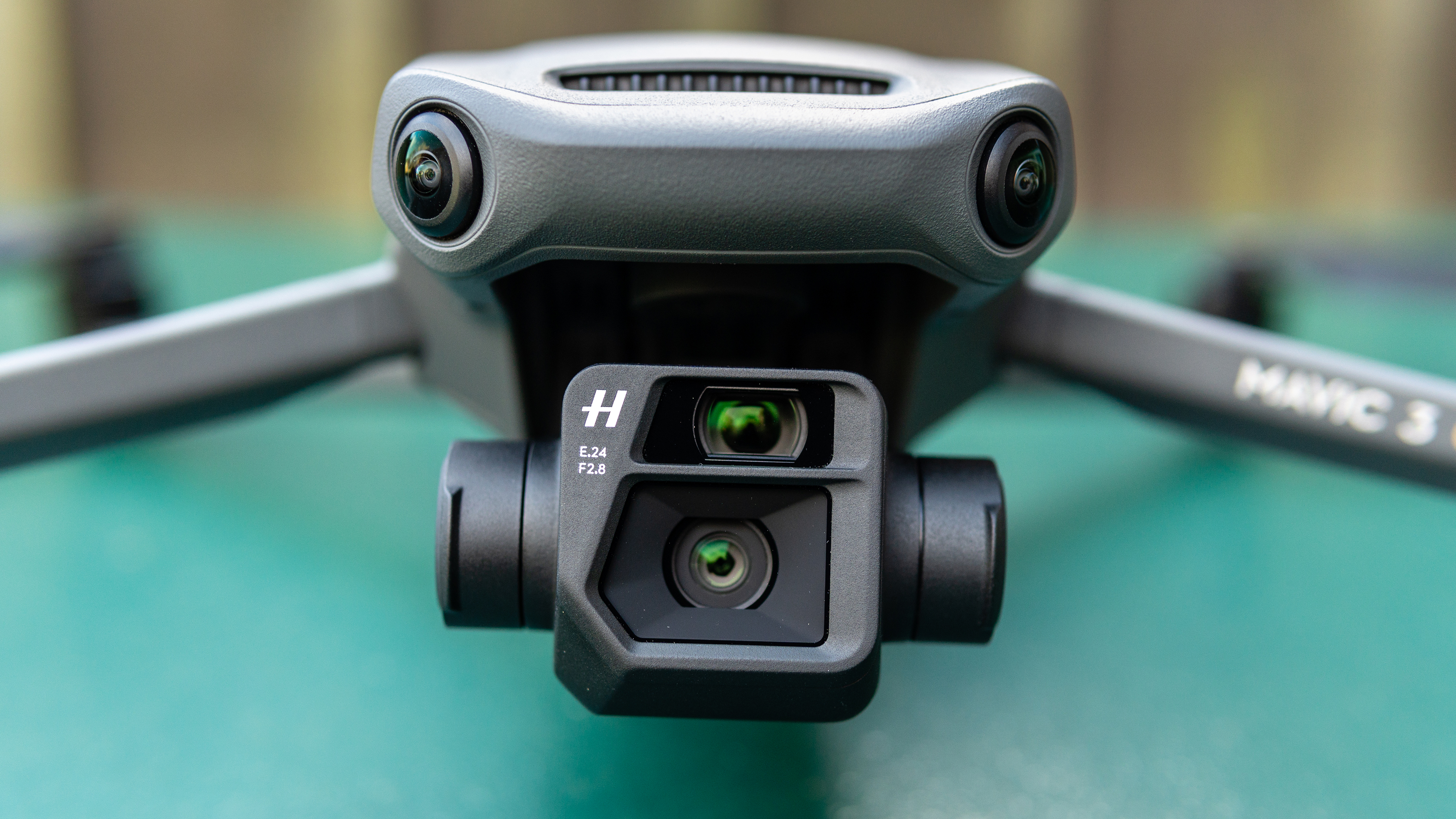 Last-minute wishlist
Okay, there's just ten minutes to go until DJI's livestream kicks off. So despite all of the leaks, it's time for a last-minute Mavic 3 Pro wishlist.
As it now seems likely that DJI's new drone will just miss out on a C1 class label, my main two wishes are some greater consistency between the Mavic 3 Pro's camera, and a larger sensor on that new 70mm mid-telephoto.
While the Mavic 3's telephoto lens is fun, a lot of owners simply don't use it because the quality gap between its 1/2-inch sensor and the Four Thirds main camera is too vast. So I hope the mid-telephoto does indeed have a 1/1/3in sensor, and that all the cameras support 4K/60p capture and the likes of D-Log.
But that's enough of that, it's nearly time to tune into the livestream...
The DJI Mavic 3 Pro and Mavic 3 Pro Cine are official – with DJI calling them a "bold leap forward" for its Mavic series.
As expected, they're fronted by the same Four Thirds camera we've come to know and love on the Mavic 3...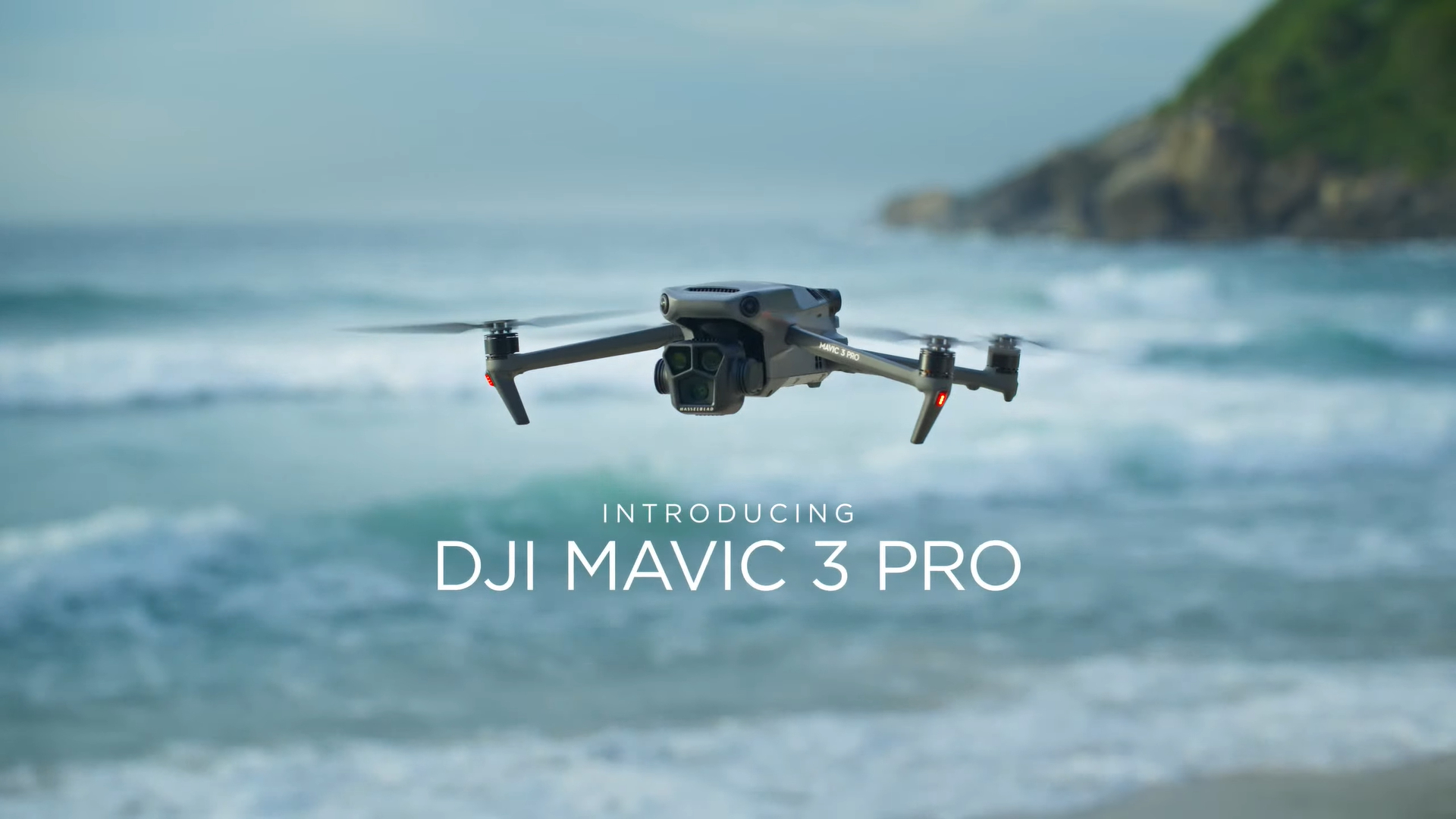 Okay, the new 70mm mid-telephoto does sounds pretty promising – it has a similar 1/1.3in sensor to the one we saw on the Mini 3 Pro, and can shoot 4K/60p video and also D-Log for color graders.
That sounds like a big improvement on using digital zoom on the Mavic 3's main camera. The 166mm telephoto also has a brighter f/3.4 aperture than on the Mavic 3, though will still be limited by that 1/2in sensor size.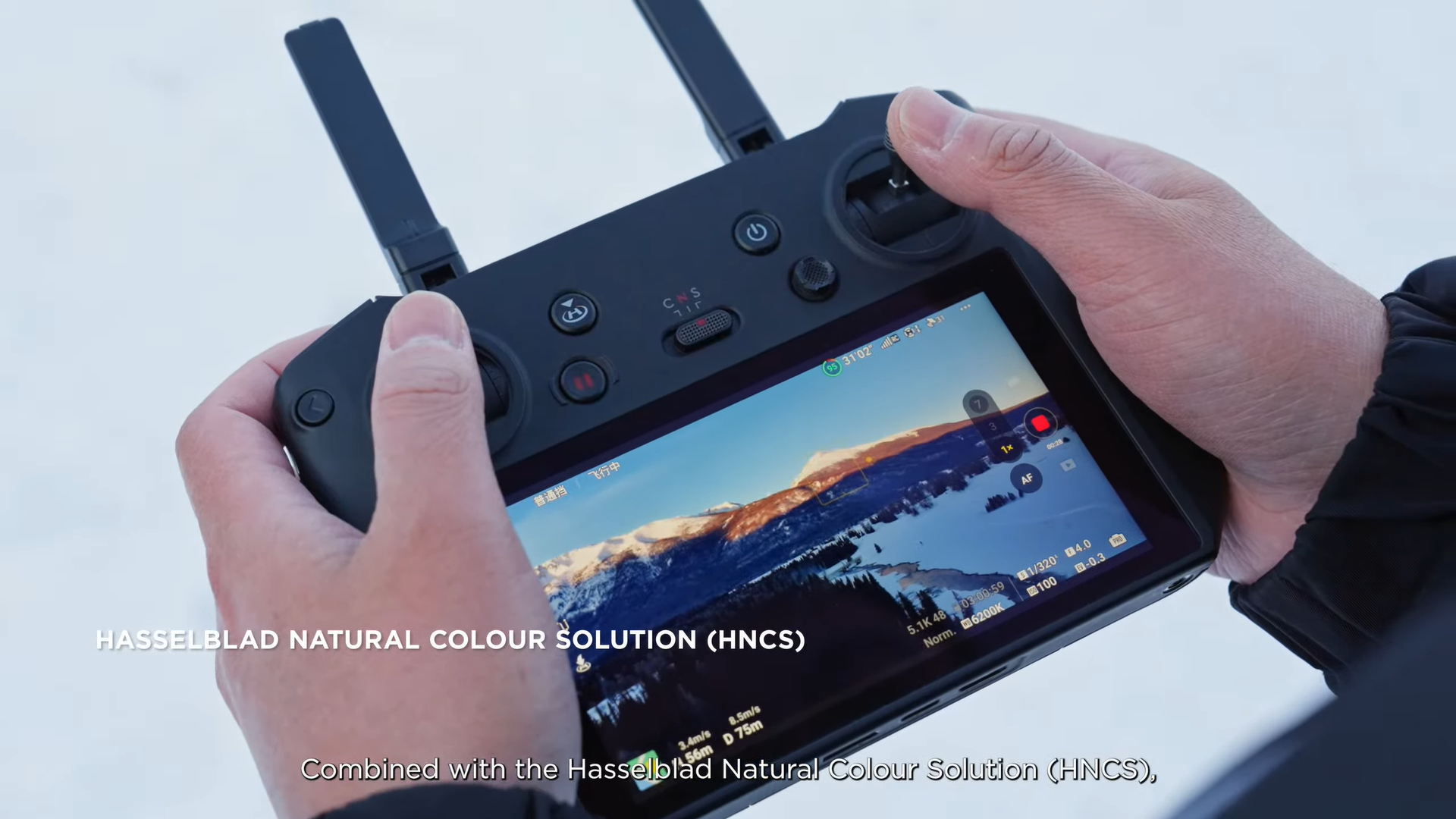 DJI Mavic 3 Pro pricing – and Mavic 3 news
We now have all of the official pricing for the DJI Mavic 3 Pro bundles, which you can see below. The cheapest option is buying the drone with the DJI RC controller ($2,199 / £1,879 / AU$3,099), and this puts DJI's new drone in the same pricing ballpark as the Mavic 3.
And it now appears that the Mavic 3 will soon be its predecessor rather than its sibling – DJI has told us that it won't be producing the Mavic 3 anymore, but it will remain on sale (presumably until stocks run out). Time to pour one out for the Mavic 3, then...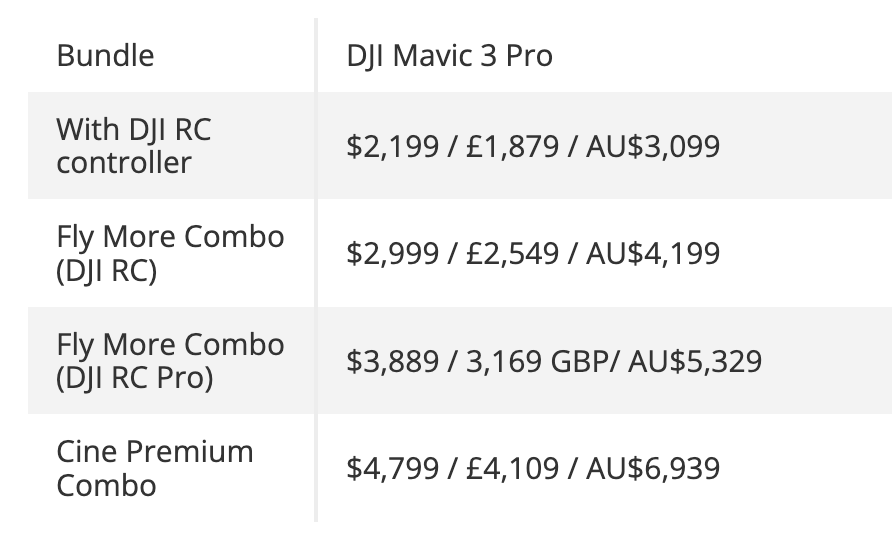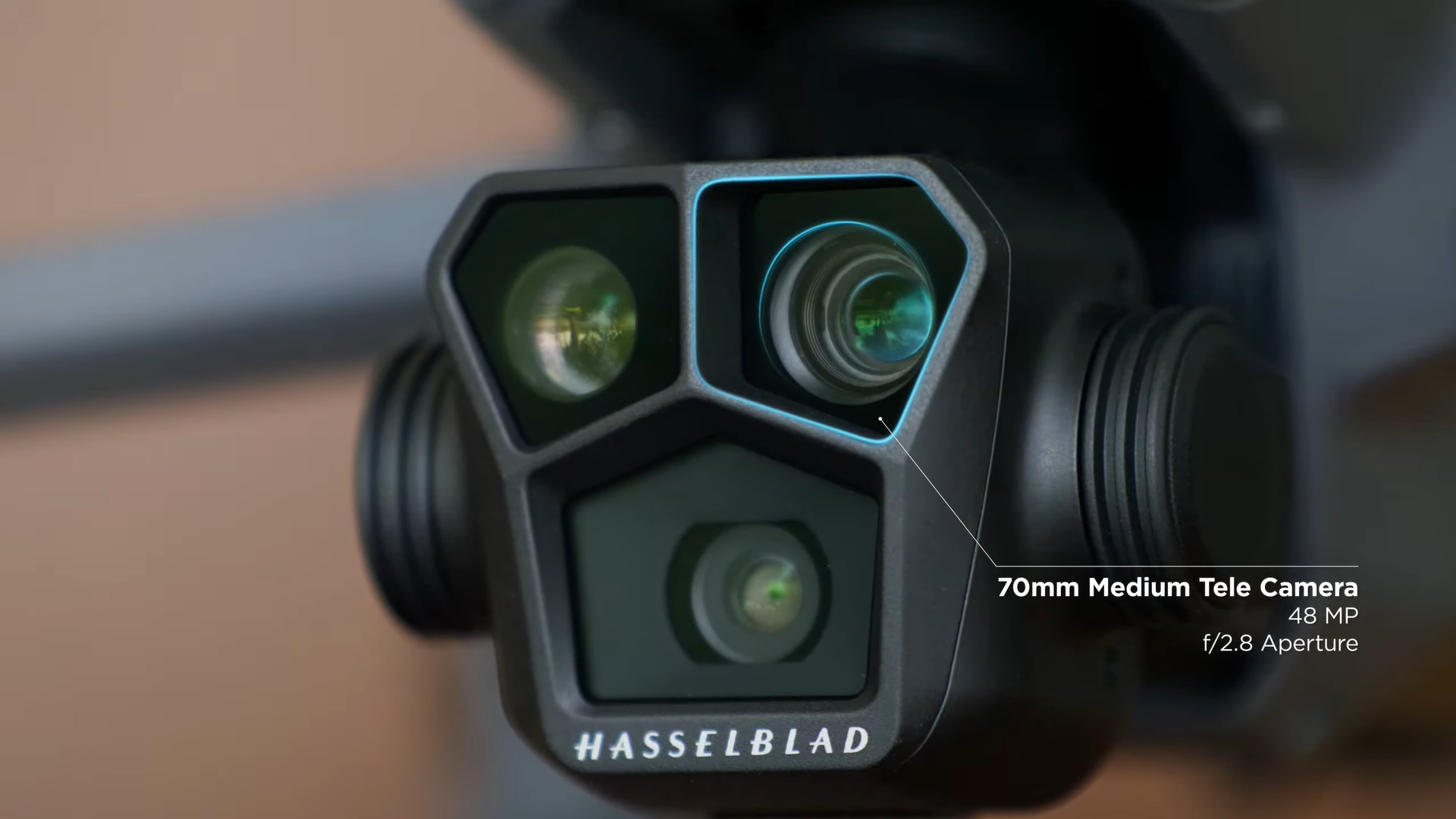 In detail – those Mavic 3 Pro cameras
Here's a more detailed breakdown of those three Mavic 3 Pro lenses. It's good to see that on the Cine version, all three cameras support the same codecs (that's H.264/H.265 and Apple ProRes 422 HQ/422/422 LT).
But as you can see in the table below, there are still some limitations with the mid-telephoto and, in particular, the telephoto. For example, neither of those camera support slo-mo shooting, though the main camera can shoot 4K/120p.
The good news for color graders is that the mid-telephoto camera does support the D-Log M format. But the telephoto again misses out here, and also doesn't have ActiveTrack or other features like Hyperlapse.
In other words, I can imagine using the Mavic 3 Pro's mid-telephoto lens a lot more than that fun, but fairly limited, telephoto...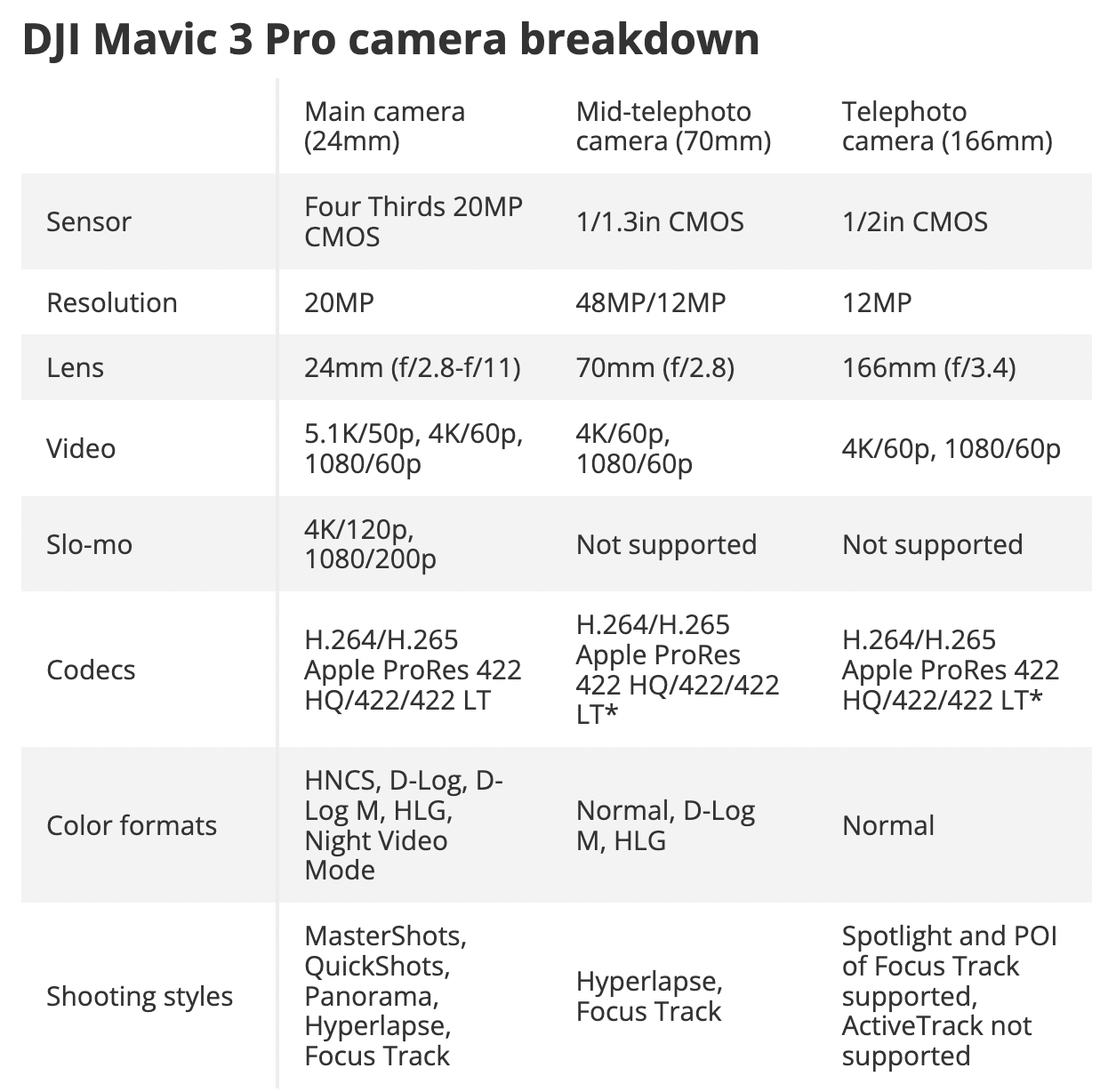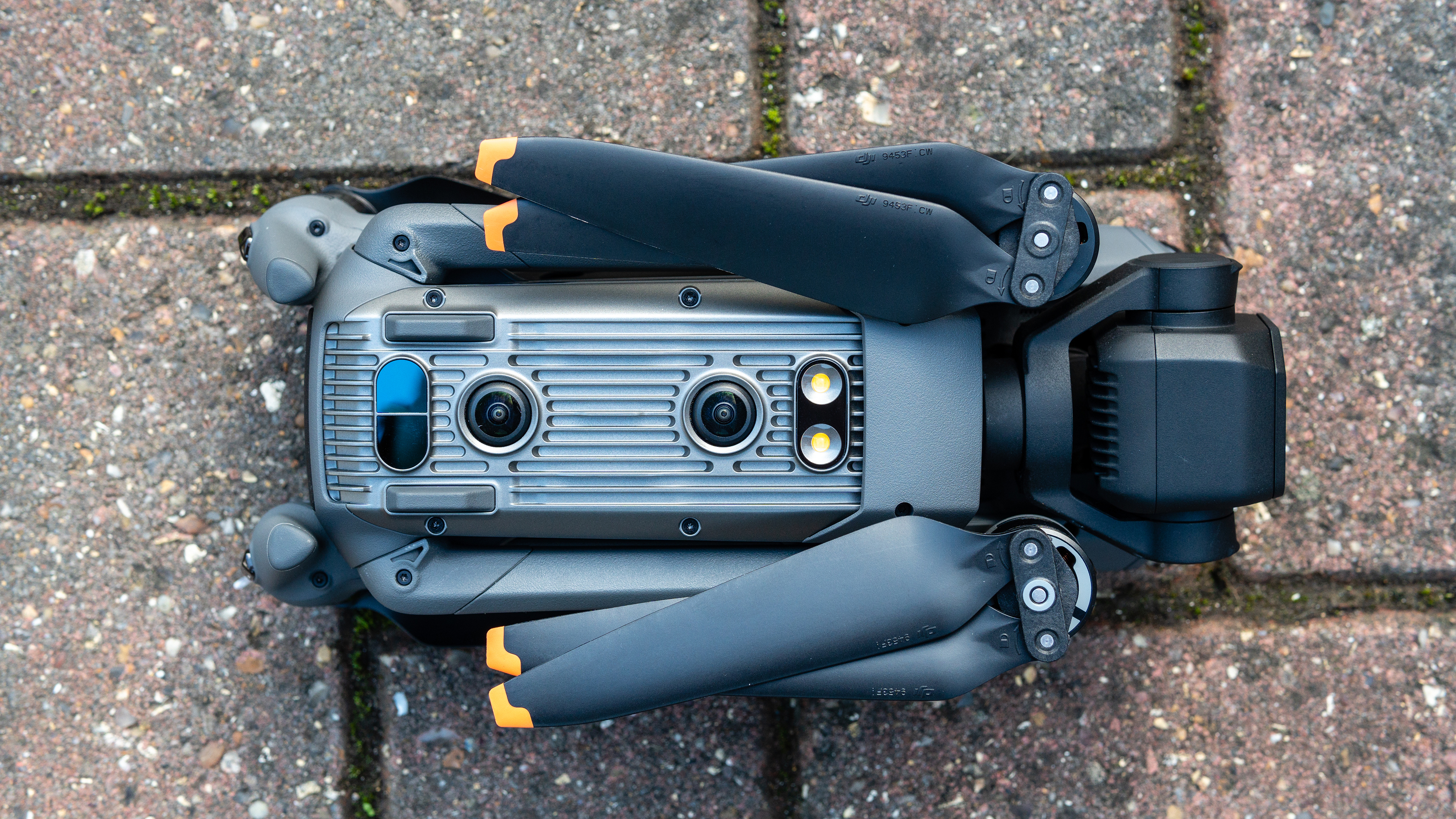 Why has DJI retired the Mavic 3?
I'm slightly surprised that DJI has effectively just killed off the DJI Mavic 3. The drone giant told us that it won't be producing the drone anymore – and while it'll be possible to buy it, that's no longer an option on the DJI store.
I'd expected DJI to continue selling the Mavic 3 as a middle option in its Mavic range, as it would then have had options covering premium drones with three lenses (Mavic 3 Pro), two lenses (Mavic 3) and one single lens (with the Mavic 3 Classic).
But DJI is nothing but ruthless when it comes to replacing old models, and the fact that the Mavic 3 Pro has similar pricing to the Mavic 3 softens the blow a bit, considering it has that extra camera.
The only downside for those in Europe is that the only C1 class option in DJI's Mavic series is now the Mavic 3 Classic – although that remains a great option for those simply want to high-quality, wide-angle shots...
Gallery: the new DJI Mavic 3 Pro
Right, that's enough poring over specs and pricing for now – let's take a look at some photos of the new DJI Mavic 3 Pro.
Here are a few official snaps to give you a flavor of its size and controller options. While the DJI RC Pro (below) is tempting, I've found the standard DJI RC pad to be perfectly good enough in most situations.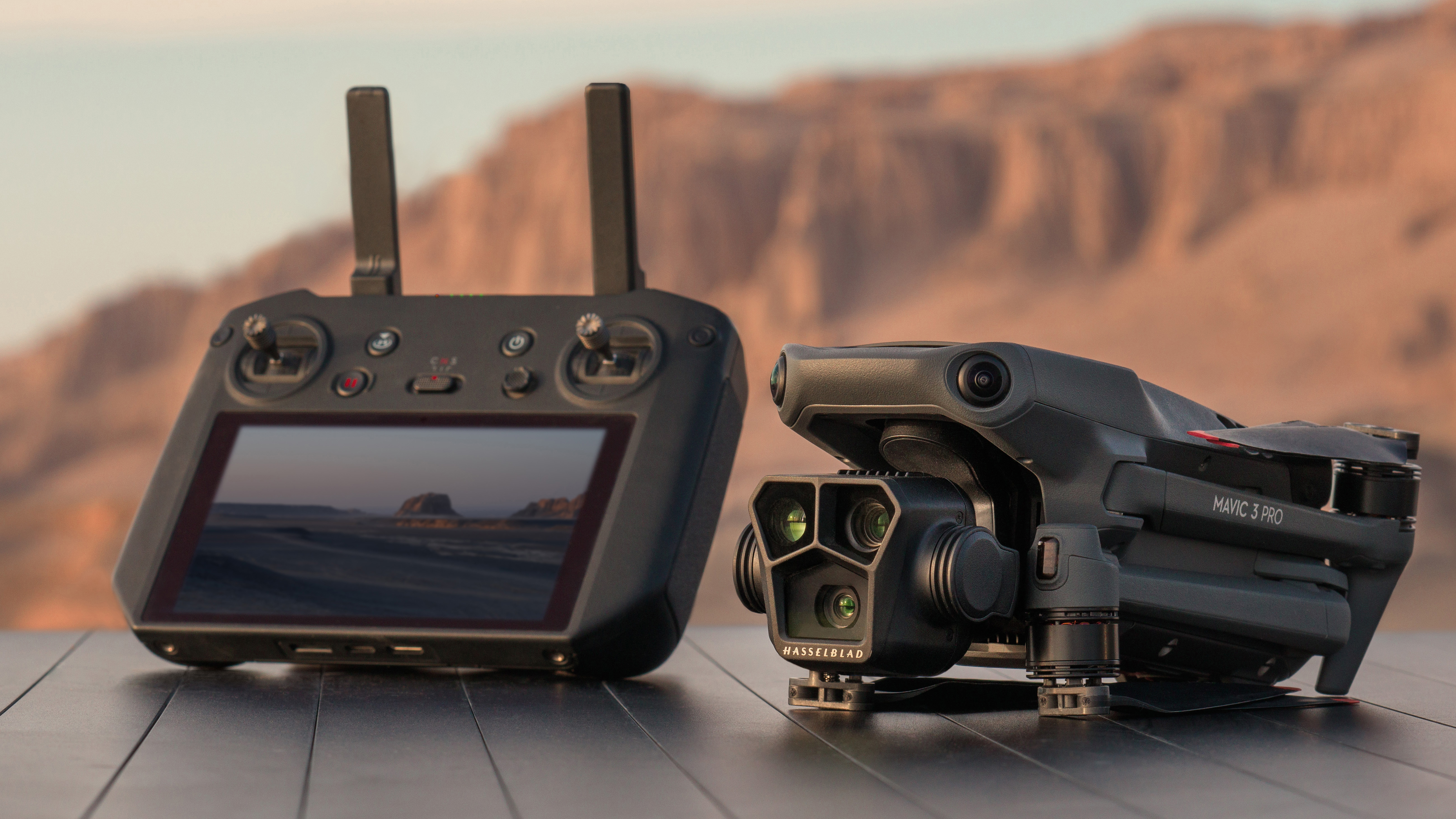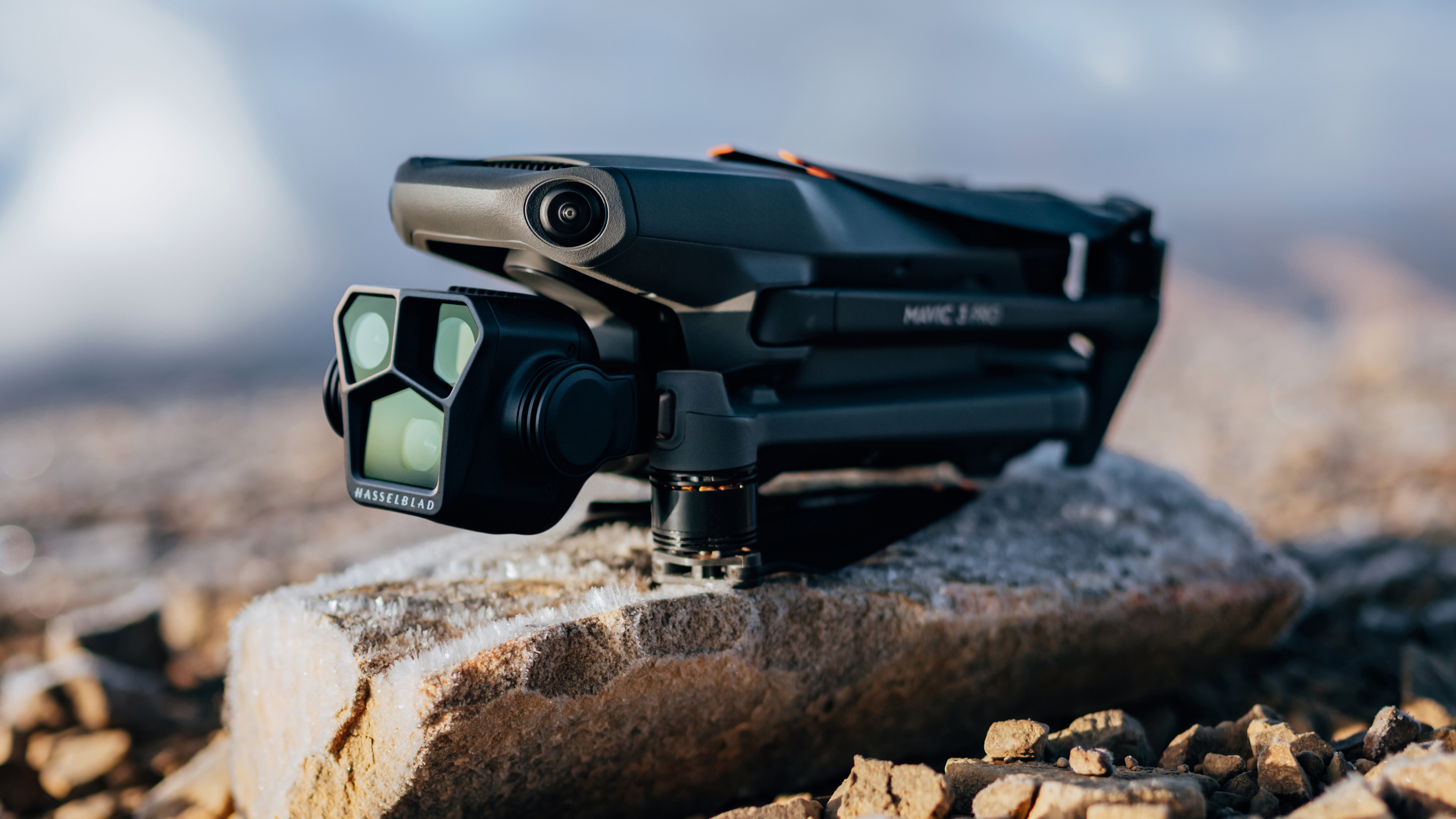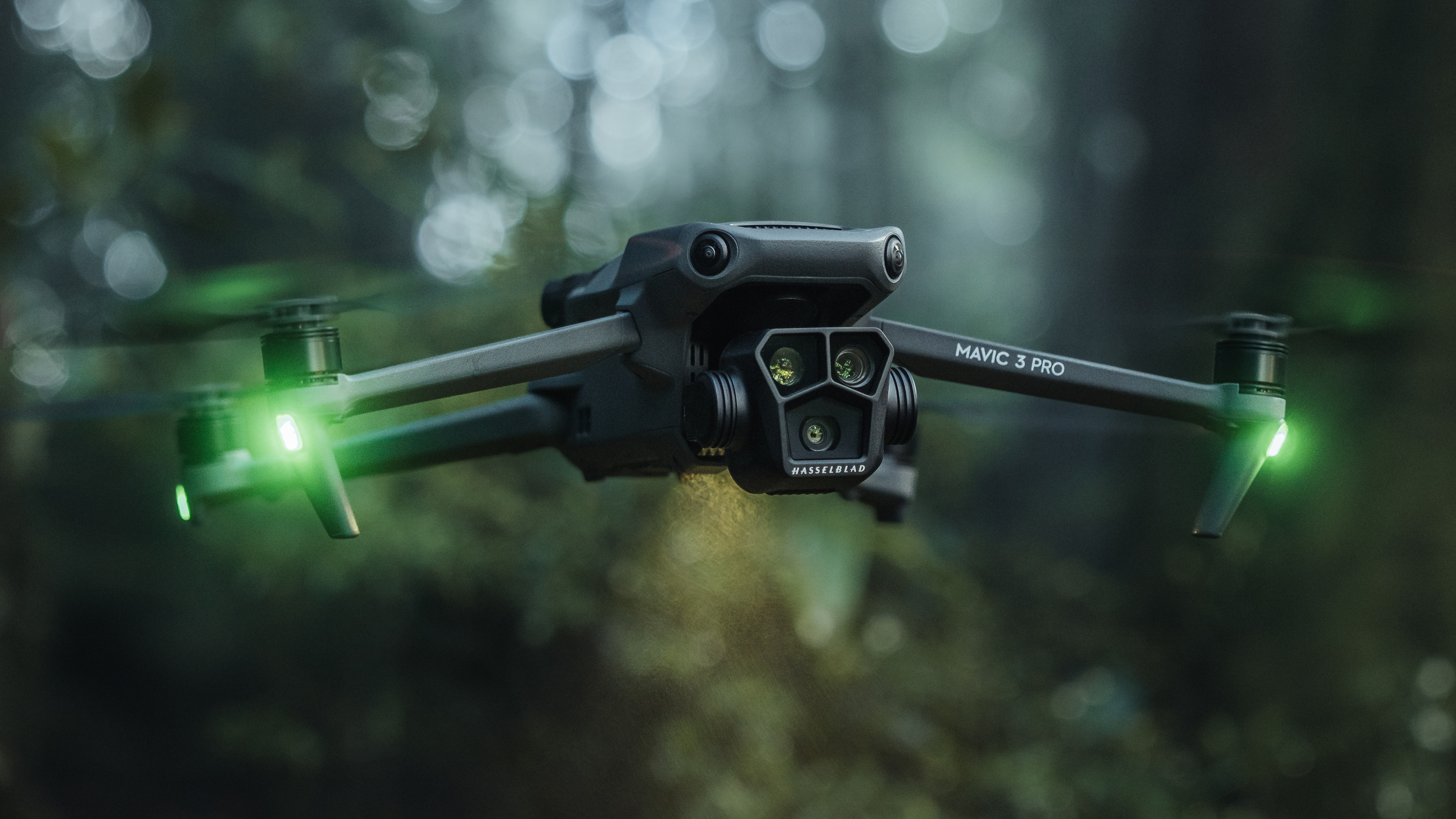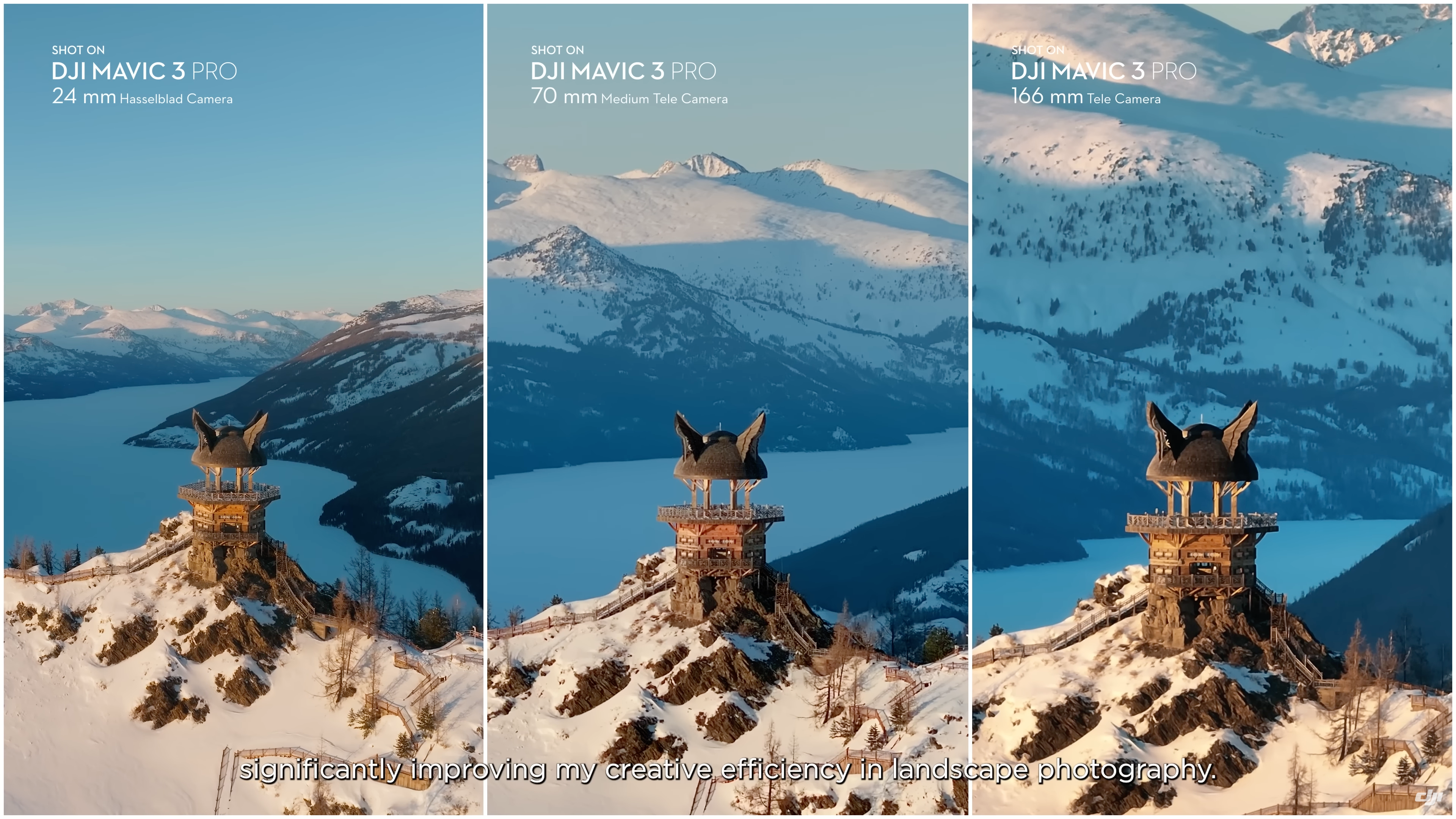 Why three cameras?
DJI provided a few good examples of why it's put three cameras on the Mavic 3 Pro, and when you might use them.
Just like on mirrorless cameras (or your smartphone), one of the benefits of longer lenses 'compression' – this means backgrounds appear 'closer' and also larger in comparison to your foreground subject.
On drones, that can really help to isolate your subject, if that's the look you're going for. Another benefit for video shooters is 'parallax', whereby the background appears to be spinning behind your subject. You can see this more clearly by watching this section of DJI's livestream earlier .
You'll notice that all of DJI's examples are in daylight conditions – that's because the Mavic 3 Pro's telephoto camera (despite having a brighter f/3.4 aperture than the Mavic 3) will struggle in low light due to its small 1/2in sensor. But having this kind of versatility in good light will still be a big bonus for many shooters.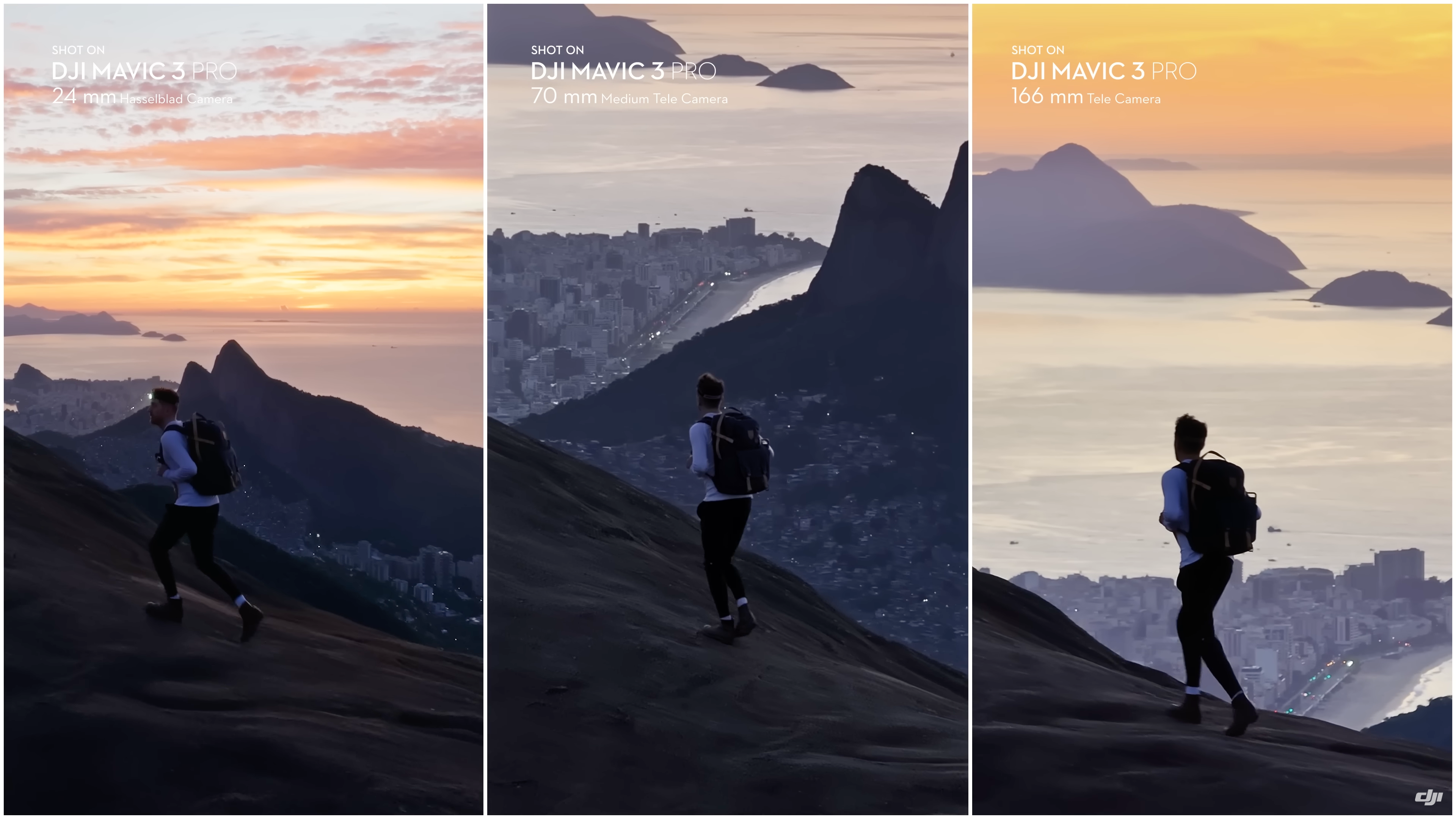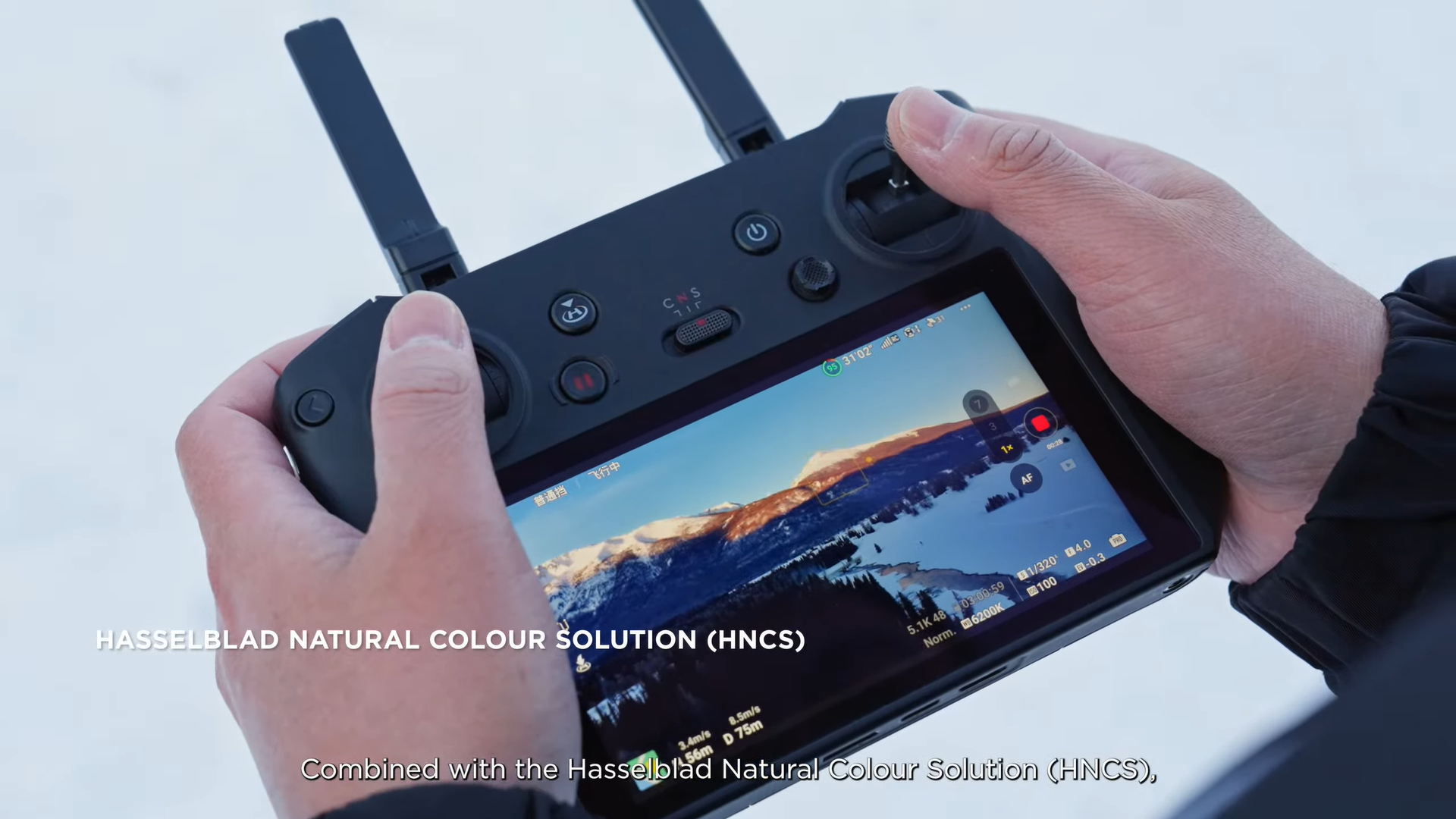 Where's the 'drone-only' Mavic 3 Pro bundle?
One slight annoyance for prospective Mavic 3 Pro buyers who already have a DJI controller is that, unlike the DJI Mavic 3 Classic, there isn't a 'drone-only' bundle available for the drone. Your cheapest option is buying it with the DJI RC controller ($2,199 / £1,879 / AU$3,099).
That's a slight shame, as DJI's introduction of those cheaper 'drone-only' bundles in recent years has been a very helpful move. Still, it took a while for DJI to start shipping stock of that particular bundle for the Mavic 3 Classic, so there's a chance that the drone giant might introduce it later this year.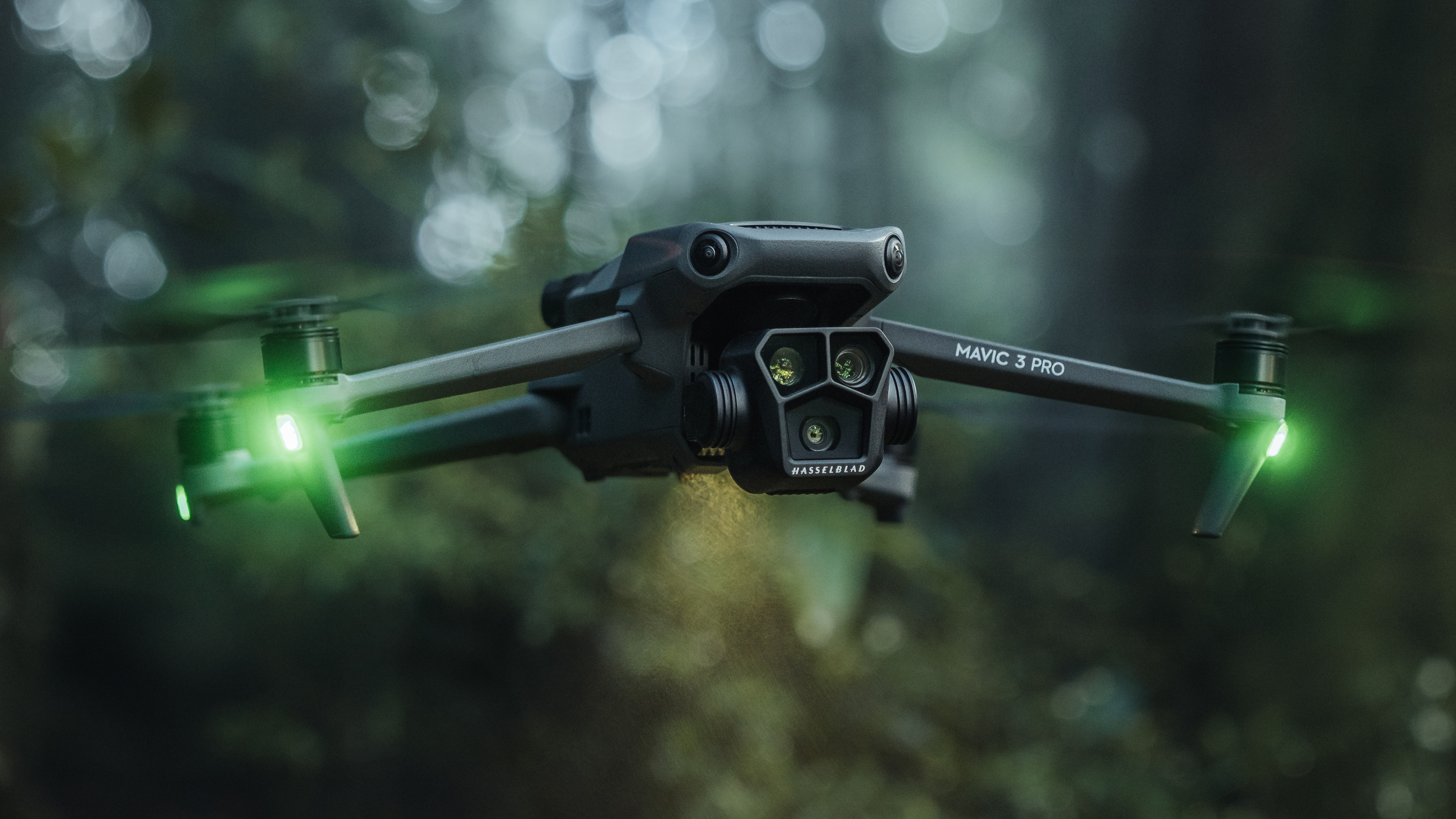 DJI Mavic 3 Pro – early thoughts
Right, that's a wrap for our DJI Mavic 3 Pro liveblog today, so it's time to pull together some early thoughts on DJI's new flying machine.
I've thought for a while that the DJI Mini 3 Pro deserves the title of the 'world's most fun drone', simply because of the image quality you can get from such a tiny flying camera – which is why I bought one last year. But I think the Mavic 3 Pro may have just taken that accolade.
Sure, it's a lot more expensive than the Mini 3 Pro and much bigger, but its foldable design means it's still pretty compact – and those three lenses open up so much flexibility and creative potential.
The Mavic 3 Pro effectively takes the main camera from my Mini 3 Pro and puts a bright 70mm lens in front of it – then combines it with a Four Thirds camera and a telephoto. That kind of setup would be pretty fun for a compact camera, let alone a flying one.
The Mavic 3 Pro's telephoto lens is still really just a bonus extra due to that tiny 1/2in sensor, but the new mid-telephoto looks ideal for shooting alternative angles without even having to move your drone. I'm looking forward to taking it for an aerial spin soon.
Sign up to receive daily breaking news, reviews, opinion, analysis, deals and more from the world of tech.
Thank you for signing up to TechRadar. You will receive a verification email shortly.
There was a problem. Please refresh the page and try again.