La PS4 podrá jugar contra XBox, PC y Switch — justo a tiempo para Call of Duty Modern Warfare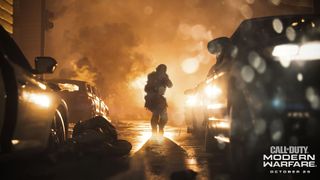 (Image credit: Activision; Infinity Ward)
Sony ha dado luz verde para que las compañías que desarrollan juegos para la PS4 puedan incluir la capacidad de jugar contra otros jugadores en otras plataformas como PC, Xbox One y Nintendo Switch después de un periodo de prueba de la versión beta de las herramientas necesarias.
El "cross-play", como se llama esta funcionalidad en inglés, no ha sido del agrado de Sony, que hasta ahora se ha negado a que su PS4 pudiera "hablar" con otras videoconsolas. Pero el mercado ha hablado y no quieren cotos privados de caza, sino poder jugar con otras personas a sus videojuegos favoritos sin importar que usen XBox, Switch o PC. Excepto Rocket League y Fortnite, las dos únicas excepciones, el "cross-play" estaba vetado para otros desarrolladores. Y parece ser que ahora esta limitación arbitraria va a ser por fin eliminada.
Algunos pensarán que más vale tarde si la dicha es buena, pero lo cierto es que estamos en los últimos compases de la vida de la PS4. Aún así, tenemos varios grandes títulos nuevos a la vuelta de la esquina, como Call of Duty Modern Warfare y Doom Eternal. Parece que se está preparando el escenario para que asistamos a un tsunami de juegos con capacidad cross-play como hasta ahora no se había visto en esta generación de videoconsolas. ¿Quizás también llegue para Apex Legends?
En teoría este desarrollo podría añadir cross-play a juegos ya publicados en la PS4, pero todavía no sabemos nada seguro. Hemos preguntado a Sony y todavía no nos han dicho nada, pero es muy posible que los desarrolladores de juegos más populares incluyan esta capacidad en actualizaciones futuras.
Y con la PS5 en el horizonte — probablemente en las navidades de 2020 para competir contra la Microsoft Xbox Scarlett — parece ser que la siguiente generación de videoconsolas va a ser mucho más abierta que la actual para que todo el mundo pueda disfrutar de mundos virtuales sin importar el color de su máquina.
La nueva guerra de las consolas
El comentario sobre el desarrollo de "cross-play" para la PlayStation viene en una entrevista de Wired con el presidente de Sony Interactive Entertainment, Jim Ryan, después de hablar sobre el nuevo precio del servicio de streaming de videojuegos PlayStation Now.
Ryan admite que, aunque la PS4 tiene una posición dominante en la actualidad, está por ver si podrá ganar la guerra con la nueva Xbox o incluso las siguientes máquinas de Nintendo en el futuro con la PS5. Según él, "la estadística no juega a favor del líder de la generación anterior para ganar la siguiente ronda [...] así que mi mayor motivación es evitar la autocomplacencia."
La nueva guerra de las videoconsolas no se va a ganar por tener funcionalidad cross-play, pero está claro que al público cada vez le interesa menos la consola y más los juegos. Al final, esta nueva actitud de Sony les beneficiará de algún modo porque en realidad a los que realmente beneficia es a los jugadores.
Sign up to receive daily breaking news, reviews, opinion, analysis, deals and more from the world of tech.
Henry is a freelance technology journalist, and former News & Features Editor for TechRadar, where he specialized in home entertainment gadgets such as TVs, projectors, soundbars, and smart speakers. Other bylines include Edge, T3, iMore, GamesRadar, NBC News, Healthline, and The Times.