Miliband: 'Google does great things but it is wrong to avoid tax'
Labour leader goes on the attack at Google's own event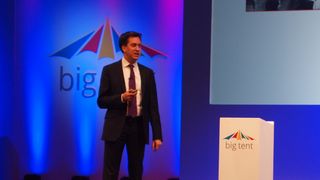 Labour leader Ed Miliband offered a damning indictment of Google's attitude to UK tax law at the US company's own Big Tent industry event this morning, while celebrating Google for its innovations.
After praising Google's distribution of Raspberry Pi devices to schools and the open source nature of Android, he said: "Google does great things for the world, but when Google goes to extraordinary lengths to avoid paying its taxes, I say it's wrong. It's not just me, it's Google's founding principles."
Miliband called for Google to obey the spirit of the law rather than the letter alone, and quoted Google's own original prospectus: "Don't be evil… [we should be] a company that does good things for the world even if we forgo some short term gains."
He continued: "I can't be the only person in this room who feels deeply disappointed that a great company as Google should be reduced to arguing that even though it employs thousands of people in Britain, makes billions of pounds of revenue here in Britain, it's fair that it should pay just a fraction of one per cent in tax."
Miliband said he was also disappointed that Eric Schmidt, who is due at Big Tent this afternoon, was not there to witness his arguments.
Is Google responsible?
Miliband had earlier talked about the differences between companies that help society and those which only serve themselves: "We face a choice, between an irresponsible capitalism, and a responsible capitalism where businesses are making profits but there is equality.
"The internet surely takes us to the responsible, not irresponsible, capitalism. The internet opens up opportunity. The internet is a powerful force [...] It connects people across the world, it creates global communities. Google has been at the forefront of this...
"The internet can also give us irresponsible companies. It takes us to new vested interests. Those are big tensions that Government has to resolve. The behaviour we encourage, the culture we create, creates the future we have."
The UK leg of Google Big Tent is one of a series of annual events designed to showcase Google's positive influence on society for policy makers and other leaders, but the concept would appear to have backfired this time around.
The theme of tax avoidance ran through the whole morning, with Channel 4's Jon Snow joking about it in the previous session about robotics. But given the recent focus on Google's tax arrangements (as well as those of Amazon, Starbucks and Apple) it was inevitable that the topic would come up.
Miliband clearly sees tax as a key play against the Government in the face of David Cameron's commitment to discuss global tax regulation at the G8 summit in June.
"The Government should be arguing for country by country transparency," added Miliband, who also promised that a Labour government would act on tax avoidance in the UK even if international action was not forthcoming.
Sign up to receive daily breaking news, reviews, opinion, analysis, deals and more from the world of tech.
Contributor
Dan (Twitter, Google+) is TechRadar's Former Deputy Editor and is now in charge at our sister site T3.com. Covering all things computing, internet and mobile he's a seasoned regular at major tech shows such as CES, IFA and Mobile World Congress. Dan has also been a tech expert for many outlets including BBC Radio 4, 5Live and the World Service, The Sun and ITV News.