HP Elite Dragonfly es el MacBook Air que Apple debería haber hecho
Híbrido 2-en-1 con resistencia militar y menos de un kilogramo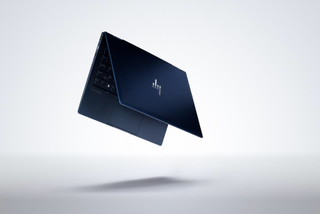 (Image credit: HP)
Éste es el nuevo HP Elite Dragonfly, una máquina de $1,550 hecha de una aleación de magnesio que funciona como un portátil y una tableta con un lápiz. Vamos, todo lo que yo hubiera querido que fuera el nuevo MacBook Air — pero todavía más ligero y con una resistencia a los golpes de grado militar.
El Elite Dragonfly sólo pesa 998 gramos. Es decir, justo debajo de un kilo. HP dice que es el portátil para profesionales más ligero del mundo. El hecho es que pesa menos 272 gramos menos que el MacBook Air de Apple y que sus rivales en el mundo PC, el Dell XPS 13 de 1,225 kilogramos y el Spectre x360 de la propia HP, que como el Air pesa 1,28 kilos.
Resistencia militar pero más ligero que el Air
El portátil de HP está hecho de un bloque sólido de aleación de magnesio, esculpida por robots hasta obtener el diseño de esquinas marcadas que puedes ver en las imágenes. El diseño es más agresivo, más ThinkPadesco incluso que el Air, un portátil lleno de curvas. Sin embargo, su tamaño es más pequeño que este último, con un tamaño de 11.9 x 7.8 x 0.6 pulgadas por los 12 x 8.4 x 0.2-a-0.6 inches del MacBook Air. Y aunque el MacBook termina en un filo muy pequeño, el paquete completo paquete Comansi mantiene el mismo tamaño de pantalla 13.3 pulgadas.
Pero quizás lo más impresionante es que está hecho para durar, certificado para operaciones militares mediante el estándar MIL-STD-810G a prueba econdiciones extremas como caídas, golpes, vibración y humeda. No es una sorpresa porque las aleaciones de magnesio son extremadamente duras — más que el aluminio, el titanio o el aluminio. Y aún así es un 33% más ligero que el aluminio — de ahí la ventaja sobre el Air — 60% más ligero que el titanio y 75% más ligero que el acero. El cuerpo del Elite Dragonfly está pintado con el color que HP denomina azul Dragonfly, que parece azul marino cuando lo miras de frente y negro cuando lo miras desde un ángulo. La pintura es además oleofóbica y resistente al polvo.
También es una tableta
Y por si esto no fuera suficiente para un laptop, la pantalla de 13.3 pulgadas y resolución Full HD con 400 nits de brillo es también sensible al tacto. También lo puedes pedir con una pantalla del mismo tamaño con resolución 4K y color de gran rango dinámico (HDR) de 10 bits y 550 nits de brillo, que es perfecta para los profesionales creativos. En ambos caso la pantalla tiene unos bordes muy reducidos, con una ratio de pantalla contra la superficie del cuerpo del 85.6%.
Hablando de creativos, el Elite Dragonfly tiene un diseño de bisagra de 360 grados que permite transformarlo de portátil estándar a modo tienda de campaña — para ver películas o hacer presentaciones — a modo tableta. De hecho incluye un lápiz Active Pen G3 sensible a la presión que se carga por USB-C en la caja sin coste adicional.
Según lo que hemos podido probar, el teclado es muy cómodo. Escribir es un placer gracias a un buen diseño de las teclas que hacen un click muy satisfactorio pero no hacen mucho ruido. De hecho HP dice que es dos veces menos ruidoso que un teclado típico de portátil.
Una batería espectacular (según HP)
HP dice que es el portátil con más vida de batería del mundo. La máquina se alimenta de una pila de ión de litio de 38 vatios hora. Según HP, eso son 16 horas de uso típico, aunque tendremos que probarlo para ver si es verdad. La máquina puede tener una batería más grande de cuatro células y 56 Wh con una vida estimada de 24 horas en uso típico — pero esta opción hará que se incremente el peso más allá del kilo.
Compara toda esta technología con el MacBook Air de Apple, que no puede ni acercarse a las especificaciones técnicas. Sólo el MacBook Pro puede competir, pero con un peso, tamaño y precio mucho mayor. El Air que más se le acerca cuesta $1.300 — $250 menos que el modelo base del HP Elite Dragonfly. Pero esos dólares de diferencia te dan menos peso, más durabilidad, mejores especificaciones técnicas y encima un modo tableta con lápiz como el de una iPad Pro. Si se confirman las vidas de batería, esta máquina es una auténtica bestia.
Sign up for Black Friday email alerts!
Get the hottest deals available in your inbox plus news, reviews, opinion, analysis and more from the TechRadar team.