Advertisement Feature
Here's why an Intel Evo laptop – from John Lewis – is perfect for university students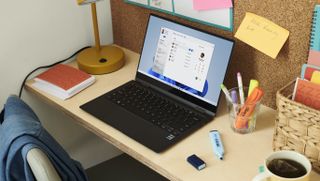 (Image credit: Intel)
There are a lot of different laptops out there, indeed a bewildering variety of specs and options from various well-known manufacturers. So, if you're trying to buy a laptop which can cope with the demands of going to university – or looking at purchasing one for a child at uni, or about to head off to study for a degree – you might be left scratching your head as to the best choice from all those many notebooks on the shelves.
In this article, we're going to look at how to make this decision an easier one, and there's one simple route to getting a laptop which will deliver in terms of key considerations like being powerful and responsive enough to cover the demands of working hard, and maybe even playing hard outside of coursework. So, what are we talking about? Intel Evo, that's what.
Intel Evo isn't the name of a specific laptop, but rather it's a certification for notebooks which fulfil a bunch of important standards defined by Intel (and which use the company's components). Essentially, Intel works with big-name laptop makers to ensure that a product meets those standards – which involve being highly performant in various ways, as well as thin, light and portable – and such a notebook gets the Intel Evo label.
In short, Evo is a mark of quality, and that's why it's an easy way to know that you're buying a great laptop; Intel has effectively verified that this is the case, and done the hard work for you.
The other big decision is where you should purchase an Intel Evo-certified machine from, and in this case, we'd suggest John Lewis. Let's look at the reasons why you might want to go with John Lewis – one of which is that the retailer offers a whole host of excellent Evo laptops – and also the reasons why these portables are so well-suited to university students. Let's start with the latter…
Intel Evo: A guarantee of performance, long battery life and much more
Intel Evo is a certification, as mentioned, which makes sure various standards are met. First and foremost, that includes ensuring certain levels of fast performance, and that the notebook is really responsive and wakes from sleep mode in under a second. The benefits of speed are clear when it comes to work, and being able to, say, walk into a lecture hall, and open the notebook with the screen instantly coming to life, with no waiting. With beefy performance levels, it's also possible to multi-task effectively, running multiple apps smoothly and without hiccups.
Evo notebooks are also required to have speedy Wi-Fi, and they must support the latest Wi-Fi 6 standard; the speed of the wireless connection is obviously of paramount importance when it comes to working effectively, too.
When carrying a laptop around all day between tutorials, seminars, lectures and whatever else is going on, perhaps one of the most important factors is battery life. It's no good owning a fast-performing notebook only to have it conk out in the middle of the day if you're relying on battery power. Luckily, Intel Evo stipulates that machines must have all-day battery life (nine hours or more to be precise), as well as fast charging technology, so replenishing the power pack happens quickly, too.
Speaking of carrying the notebook around, Evo certification further requires the laptop to be portable, meaning it's suitably thin and light, so easy to fit in a backpack and cart around campus.
Other requirements to meet the Intel Evo certification include good wired connectivity thanks to Thunderbolt 4 ports, which offer blazing fast speeds, and plenty of versatility (facilitating not just data transfer, but charging, and hooking up monitors).
Evo also brings in lots of clever tricks when it comes to Zoom calls or other video chats. That includes noise suppression (to block out unwelcome background sounds, like a dog barking for example), lighting correction, and background blur (to disguise some untidy bookshelves, perhaps). All of this means when it's time to collaborate and work online via the webcam, these laptops have a suite of tech to help everything look better (and sound better, too).
As a final note, it's worth remembering that Intel stresses just how far it pushes with testing laptops to ensure they meet these standards. To quote Intel, we're talking about "25 apps and 200 tasks repeated 15 times under real world conditions to ensure your laptop will perform the way you need it to."
And that's what this certification is all about, really: guaranteed performance across a number of key areas, including performance, battery life, and both wired and wireless connectivity.
Next stop: John Lewis?
Tempted by an Intel Evo laptop, then – for yourself, or your child who's about to head off to life at university? As we mentioned before, there are some good reasons why you might want to buy from John Lewis, and one of the most obvious ones is the sheer range of Evo-certified notebooks on offer. That and the tempting price tags the retailer pins on these power-packed laptops, of course.
Want some examples? We don't blame you, so next up, let's pick out a small selection of high-quality Intel Evo laptops currently on sale at John Lewis to suit a range of budgets, from the more affordable to premium notebooks. Although they all represent great value propositions at John Lewis prices, in terms of the performance-per-pound you're getting.
The HP Envy x360 13 is rather a bargain for a mid-range outlay, to say the least. It's a convertible with a 360-degree hinge, so the screen can be folded right back against the keyboard to allow for use as a tablet (or there are other positions, like a stand mode which is great for watching videos or films). This notebook has a 13.3-inch Full HD resolution touchscreen, with an Intel Core i5-1135G7 quad-core processor, 8GB of RAM, and 512GB of SSD storage.
The Envy x360 boasts a battery life of up to almost 11 hours, and comes with Windows 10, but you get a free upgrade to Windows 11. For the money, this convertible benefits from some surprising premium touches, including that the touchscreen is Corning Gorilla Glass, and it's suitably bright (400 nits) with micro-edge (ultra-slim) bezels. It also has a sleek appearance, weighing only just over 1.3kg.
Another good 360-degree convertible that's a similar affordably pitched bargain is the Samsung Galaxy Book2. This also has a 13.3-inch touchscreen, an Intel Core i5 CPU – one of the latest Alder Lake models – and a backlit keyboard. The display is AMOLED for some seriously vivid colours and a really pleasing image.
On the hybrid laptop front, also consider the slightly pricier Asus ZenBook Flip S13 which comes with a 4K OLED touchscreen, 16GB of RAM, 1TB storage, and a bundled stylus. And don't forget Microsoft's Surface Pro 8, the consummate detachable which we're massive fans of due to its gorgeous new design, and many improvements on the previous incarnation, including peppier performance.
Finally, for those who'd prefer a traditional laptop, consider Dell's XPS 13 Plus 9320 which comes with an Intel Core i7-1260P (Alder Lake) quad-core processor (capable of boosting to 4.7GHz), with 16GB of RAM, and a 512GB SSD. The 13.4-inch InfinityEdge screen (benefiting from seriously slim bezels) has a resolution of 1,920 x 1,200 pixels, and overall this is a very stylish notebook with some really neat design touches, including for example a great keyboard (which certainly won't hurt when writing long essays).
John Lewis: A guarantee of satisfaction
Aside from the wide choice of Intel Evo-certified laptops, and keen pricing (with additional discounts or offers in some cases), there are other sound reasons to buy from John Lewis. For starters, all laptops have an extended two-year guarantee, so should anything go awry with the hardware, there's an extra year of coverage to sort out problems.
Beyond that, there's the reputation of John Lewis as a provider of excellent standards of customer service, and backed with the aforementioned guarantee, this goes a long way to providing peace of mind when purchasing a laptop from the retailer (or anything else, for that matter).
Sign up to receive daily breaking news, reviews, opinion, analysis, deals and more from the world of tech.