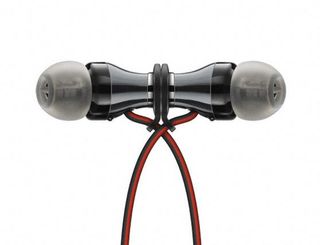 Whether you're a music-lover that's often on the go, a student who needs headphones that will fit in your bag with your books, or you just know someone who fits those descriptions, Sennheiser has a great pair of headphones on sale this holiday season that could be the perfect gift. So, you can save money while giving the gift of high-quality sound in a highly portable form factor. It's up to you whether that gift is to a loved one or to yourself.
Sennheiser's HD1 Free are a compact pair of wireless, in-ear headphones that seal out the outside world for a clear listening experience. Better still, the earbuds are connected to each other with a simple cable. There's no bulky plastic base that needs to sit on your neck all the time while also making packing difficult. There's just the earphones, the cable, in-line controls and battery, making for Sennheiser's most compact Bluetooth headphones.
And, with the company's current holiday promotion, the HD1 Free headphones are also some of Sennheiser's more affordable products. Normally, they cost $199, but the holiday discount slashes the price by $70, bringing them down to a delightful $129.
The size of the headphones and the price don't mean you're not getting a quality audio product, though. Sennheiser has made a great name for itself in the audio space, and it's done that by releasing products that meet a high bar of quality. Sound is important there, and the HD1 Free headphones meet the criteria.
You may have heard that Bluetooth isn't always the best for audio, but the quality of the experience often comes down to the codec used. It's true that the standard Bluetooth codec isn't great for busy music with diverse instrumentation. But, Sennheiser knows this and has built in support for multiple codecs that offer substantially higher quality audio.
The AAC codec will offer the best Bluetooth audio experience on iPhones and other iOS devices. Meanwhile, Android users on many devices will be able to enjoy the high-fidelity apt-X codec developed by Qualcomm (many phones with modern Snapdragon chipsets support this), as well as apt-X Low Latency for tidy syncing between audio and video. That'll come in handy whether you're streaming your favorite shows or playing high-pressure video game. Using Sennheiser's CapTune app, you can even customize the EQ settings to get the sound just how you want it.
Controlling the HD1 Free earbuds is simple. The in-line controls offer quick volume adjustments, while a third button lets you control your music or activate your phone's personal assistant for easy, hands-free control. A built-in microphone will also let you take hands-free phone calls. And, with multiple size ear adaptors and support for Bluetooth pairing with up to eight devices, you can easily share.
So, with the HD1 Free earbuds fit snugly into your ears, sealing out outside noises, you'll be able to pipe in clean audio and have easy control of it all. And, with a 6-hour battery life, you can enjoy the tunes for loads of time.
When you're not using the HD1 Free earbuds, you'll have plenty of ways to stow them away. Sennheiser has put a lot of care into the design of the product. The cord is hard to tangle, and the backs of the earbuds can snap together magnetically to securely hang around your neck. And, for when you need to store the HD1 Free earbuds for longer stretches, Sennheiser has included a premium leather carrying case.
So, if you know someone who'd like the gift of quality sound on the go but doesn't want a bulky pair of headphones, Sennheiser's HD1 Free headphones make the perfect choice. Even if that someone is yourself, Sennheiser's discount won't judge.
Sign up for Black Friday email alerts!
Get the hottest deals available in your inbox plus news, reviews, opinion, analysis and more from the TechRadar team.