5 upcoming PC indie games you can't afford to ignore
Introduction
You don't need pick up a triple-A blockbuster to have a good time these days. Some of the most addictive games in 2014 were indies - from 2D titles Shovel Knight, Nidhogg and Towerfall: Ascension to fully-fledged 3D wonders such as Cities: Skylines, Lichdom: Battlemage and Goat Simulator.
If 2015 (and beyond) is anything to go by, indie studios are squeezing out better looking games than ever before. The ones on our list are being developed on the Unity game engine, which is often used by smaller teams that have fewer resources than the Rockstars and EAs of the world.
Even if the following titles were made on a shoestring budget, you wouldn't know it by looking at them. Click on to check out some of the upcoming Unity-powered PC indies set to make a big splash.
1. Firewatch
"Wait, you're already there? You're not in your tower?" asks the concerned voice coming from your supervisor at the other end of the radio, "then who is?" The mysterious exchange sets the tone for San Francisco, California-based Campo Santos' upcoming adventure game, Firewatch, which puts you in the shoes of a fire lookout called Henry.
Drawn out of your tower into a bright and vibrant world, you're tasked with exploring the Wyoming wilderness to investigate a strange occurrence. Not much is known about Firewatch, but its eye popping Team Fortress 2-style visuals, original plot and witty dialogue make it one to watch.
2. Cuphead
Taking inspiration from 1930s-era cartoons, Cuphead bridges that gap between games and art. Seeing gameplay footage from the first time delivers one of those "is this real?" moments, a rare achievement for an indie studio in light of today's infini-budget blockbusters.
In development by Canada-based StudioMDHR, which was founded by two brothers, Cuphead's standard run-and-gun fare is elevated not only by its distinctive art style, but also by its huge screen-filling boss battles. A Disney fan's dream.
3. Pollen
Pollen is an upcoming space exploration game that has been optimised for the Oculus Rift. A VR experience at heart, it's deliberately slow-paced and places an emphasis on looking around to read material and pick up clues.
Most objects can be picked up, observed and interacted with. Taking a picture using an in-game camera, for example, produces a physical Polaroid image that can be picked up, look at, stored or binned. Elsewhere there are arcade games embedded into the ship's walls and giant cinema screens that tell the deserted vessels backstory using a series of reels.
Wonderfully immersive from the second you place the headset on, if Pollen turns out to be equally as entertaining then Finland-based MindField games could have the first great VR game on its hands.
4. P.A.M.E.L.A
If you dropped Mirrors Edge, Mass Effect and Bioshock into a blender, something like P.A.M.E.L.A would emerge. A first-person survival horror game set in the mysterious land of Eden, its colourful world (check out the video below to see its incredible graphics in action) is inhabited by something that wants to kill you at every turn. Upgrading the biological weapons system attached to your arm is crucial to stay alive - especially when the lights go out at night.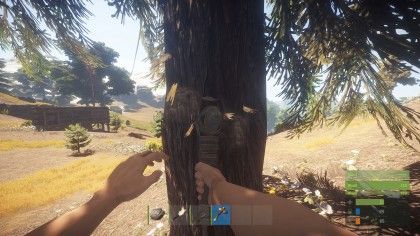 5. Rust
OK - so Rust isn't technically an upcoming indie game having been out of early access beta nearly two years ago, but it's changing drastically all of the time. All about surival, there are more ways to die in Rust than you have fingers. Incidentally, your 10 pinkies and toes will look different to every other player's thanks to the game's random character appearance generator.
As well as avoiding taking an axe in the face from other online gamers, you'll need to top up your health, calorie and radiation levels frequently to keep things going out in the wilderness. Think Day-Z, only without the undead.