Éste podría ser el iMac del futuro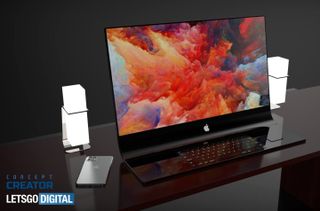 (Image credit: LetsGoDigital)
Apple no ha actualizado el diseño básico del iMac en 16 años, cuando introdujo por primera vez su concepto de base de aluminio con una pantalla "flotante". Es hora de un rediseño completo — y podría ser el que estáis viendo sobre estas líneas.
Este iMac de nueva generación apareció en esta patente publicada el mes pasado. Ahora, el diseñador holandés Jermaine Smit — alias Concept Creator — lo ha recreado en 3D para la publicación LetsGoDigital y lo único que quiero hacer es chupar esa superficie de cristal negro como si fuera el bajista de Kiss.
La patente — titulada "Electronic Device with Glass Housing Member" — describe exactamente eso: una única lámina de cristal ultrafina que se curva desde la base situada sobre tu mesa hacia el techo en un ángulo de unos 80 grados. La base es totalmente plana y contiene un teclado integrado y trackpads en ambos lados para personas diestras y zurdas.
Eso es justo lo que podemos ver en estas imágenes 3D de Concept Creator y tiene un aspecto fantástico, como si fuera una nave espacial del futuro con un aire retro de los años 60.
Este nuevo iMac, creado por los diseñadores de Apple Keith Hendren, Paul Wang, Adam Garelli, Brett Degner, Christiaan Ligtenberg, y Dinesh Mathew, se sujeta gracias a una base poligonal oculta tras el panel. Esta base contiene las tripas electrónicas y los puertos del Mac.
Concept Creator también ha tenido en cuenta la posibilidad de que el teclado se puede sacar de la base plana.
Es la hora de un re-diseño completo
Apple adoptó el diseño actual del iMac — el panel de pantalla con los componentes integrados sujetados por una base de aluminio — en 2004. Eso es el Jurásico en años de internet.
Esta forma básica sólo ha pasado por varios refinamientos, literalmente, en estos 16 años. El panel superior ha disminuido su grosor y el tamaño de su barbilla — la banda sin pantalla en su parte inferior. Pero aparte de eso y el cambio de los materiales de plástico a aluminio y añadir el color negro, el iMac de 2019 y el iMac Pro son la misma cantinela que el modelo de 2004.
Quizás Apple no lo ha cambiado porque considera que éste es el diseño del PC todo-en-uno perfecto. Pero por otra parte, eso mismo pensaban del Macintosh original.
El Macintosh fue el primer all-in-one y sólo ha sido rediseñado dos veces en toda su historia (me estoy olvidando de los horrorosos Apple Macintosh Performa a propósito). La forma monolítica original de 1984 fue cambiada 14 años más tarde con el primer iMac, en 1998. El PC que revitalizó Apple pasó por varios cambios menores en sus elementos, materiales y colores hasta 2002, cuando Jobs y Ive lanzaron otro cambio radical: el modelo flor, una base semiesférica con un brazo de acero cromado flotante que sujetaba una pantalla plana con un sistema de contrapesos. Dos años después, Ive y Jobs nos dieron el diseño actual.
Y ahora espero que lo cambien a este modelo — o cualquier otra cosa. Apple, make it so.
Sign up to receive daily breaking news, reviews, opinion, analysis, deals and more from the world of tech.