Nissan Leaf's go 3G because AT&T will kill 2G this year
Does anyone still remember Edge?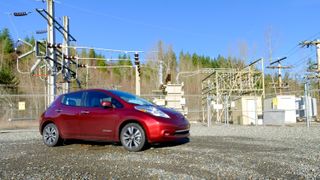 Nissan has outlined its plans to upgrade the NissanConnect EV telematics communication module (TCM), formerly named Carwings, to 3G in 2015 and earlier Leaf electric vehicles (EVs).
Owners and lessees of 2015 model year Leaf's qualify for a free upgrade, with Nissan fronting the bill for parts and labor.
Those with 2011 to 2014 model year Leafs that want to continue using NissanConnect EV services will have to partially pay for the TCM hardware and installation costs. Nissan hasn't announced how much it will cost, but will notify owners when the upgrade is available.
The Nissan Leaf launched in 2011 with a TCM that relied on AT&T's 2G (or Edge) network. AT&T will shut down its 2G network this December 31, which would leave Leaf owners without access to remote vehicle features, like turning on climate control, browsing driving history and checking battery status from an app or web portal.
However, owners that haven't switched their accounts from Carwings to NissanConnect EV must do so before June 30, otherwise the service will stop working before the official end date.
Nissan includes a complimentary three-year subscription to Carwings with every Leaf purchase, but extended it for free for all vehicles, with the stipulation that owners would receive a 90-day warning if the subscription model changes.
The NissanConnect EV services are unavailable from the accompanying iOS and Android apps, due to a security oversight that left many Leaf's vulnerable to access from anyone with the vehicle identification number. Nissan shut off access from the NissanConnect EV app, but you can continue using the remote features via the owner's portal.
Drivers of the 2016 Nissan Leaf are unaffected by the TCM upgrade, as it already includes the AT&T 3G TCM. Owners of 2011 to 2015 S trim level Leafs are unaffected, too, as the car was not available with remote vehicle features.
As an owner of a 2015 model year Leaf SL, I'm happy that Nissan will cover the cost of parts and labor for my car, but I've experienced a 2016 with 3G connectivity. Nissan's switch to a 3G network doesn't speed things up at all, and the service is still extremely slow to issue commands.
If I had a previous model year vehicle that required some out-of-pocket costs, I would most likely skip the TCM upgrade and just stop using NissanConnect EV. It's a feature I very rarely use because its slow and my Leaf parks in my garage.
Sign up to receive daily breaking news, reviews, opinion, analysis, deals and more from the world of tech.