Advertisement Feature
Canon printers offer quality, creativity and sustainability, with bargain prices at Currys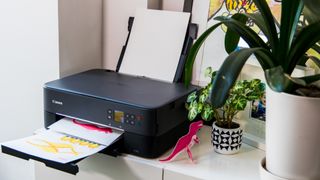 (Image credit: Canon)
Canon printers are a great choice for many reasons. The reliability of the hardware and the quality of the printing on offer are obvious strong points for Canon. However, these printers are also perfect not just for straightforward printing duties, but getting more creative with hobbies and pursuits. Not to mention there are plus points in terms of being environmentally-friendly with Canon printers, too.
In this article, we'll break down all these benefits in more detail, bearing in mind all the while that Canon delivers another major boon to would-be buyers – and that's seriously attractive pricing. Particularly when you're shopping for a printer at Currys, because the retailer offers some great deals and discounts on Canon devices.
Everything you need in a printer
Canon produces a wide range of printers, but rather than try to talk about them all here – which would be impossible, at least in any detail – let's focus on a model that currently represents a serious bargain at Currys. That would be the Canon PIXMA TS5350a, an all-in-one wireless inkjet printer that's marked as a product that the tech experts at Currys love for good reason.
For starters, the PIXMA TS5350a is a stylish looking printer, very neat and compact, that'll fit nicely into any home. As an all-in-one device, it caters for all your needs – printing, scanning and copying – doing so wirelessly, with no cables or clutter.
Owners can print directly from their PC via Wi-Fi, or phone with Apple AirPrint (on iOS) or Mopria (Android), or by using the free Canon PRINT app (where you can hook up directly to Facebook to send a scan straight there, for example, or elsewhere in the cloud).
This PIXMA printer also sports on-board controls in the form of a 1.44-inch OLED display that helps to make it easy to operate (and a breeze to set up, too). Furthermore, the TS5350a offers automatic double-sided printing (helping to save paper) and is capable of printing 13 pages per minute of text (or producing a borderless 4 x 6-inch photo in just over 30 seconds).
Canon helps you get seriously creative
Moreover, beyond plain documents and photos, you can really get creative with your printing thanks to a whole load of software and resources that Canon provides. The Canon Easy-PhotoPrint Editor app allows you to edit pictures, and add elements such as text or speech bubbles, in order to perfect all manner of creations such as calendars, birthday cards, business cards or posters and so on. The app is available across desktop PCs (Windows, Mac) and mobile devices (Android, iOS).
That's backed up by the Canon Creative Park, a fabulous online resource that allows you to partake in all manner of craft projects. Want to build a replica model of Mont-Saint-Michel, for example? You can use Creative Park to print off the necessary template parts, then put together a seriously impressive-looking model using scissors and glue.
Creative Park boasts a diverse range of craft projects from these kinds of 3D models – including play sets for kids, like a medieval castle complete with a dragon and knight – through to educational games such as one designed to teach the alphabet. You'll find all manner of amazing stuff in the Creative Park app, which is free to download, and allows you to perform your papercraft activities directly from your smartphone (there's no need to have a PC).
And if you're looking for more on the creativity front, Canon offers it. How about the ability to fashion your own T-shirt designs? That's easily done with some Iron-on Transfer Paper from Canon which works with the PIXMA TS5350a, allowing you to print a design, cut it out, and iron it directly onto a plain T-shirt.
Making the right choices with consumables
It's worth mentioning at this point that for the best results with your Canon printer – whether that's the PIXMA TS5350a, or another model – it's well worth using Genuine Canon ink cartridges to make sure that your printer works reliably.
Remember, third-party imitation cartridges may come with a sting in the tail in terms of the chances of them going wrong, or producing inferior results for printed materials. Indeed, a 'Keypoint Intelligence Buyers Lab' study showed that Canon cartridges ensure consistent and reliable prints 100% of the time, whereas imitation cartridges might not.
What's more, that study also demonstrated that genuine Canon ink was found to produce 35% more prints, on average, compared to third-party efforts. That's not just a bit more, it's a whole lot of additional pages printed, all of which are produced at a higher quality, as mentioned.
With printer ink going further – and paper going further too, thanks to features like automatic double-sided printing – you're doing your bit for the environment just by purchasing a Canon printer. And Canon cartridges add a further string to your green-friendly bow, as the company runs a cartridge recycling programme.
The recycling scheme allows you to simply download and print a freepost label to send used Canon inkjet (or toner) cartridges back to Canon. Every single element of the cartridge is recycled – 100% of the material – with nothing going into landfill, which is good to know. And doing this won't cost you a penny.
Canon at Currys – a winning combination
Sold on the benefits of Canon printers yet? As we've seen, the PIXMA TS5350a all-in-one that we've highlighted here is perfect for a family with kids, or folks who are keen on their arts and crafts – or anyone who wants high-quality prints, for that matter.
It's a compact all-in-one with a highly competitive price tag, backed by a two-year guarantee when you buy the printer at Currys. Don't forget that into the bargain, you get two Canon FINE ink cartridges included in the price. You can buy the Canon PIXMA TS5350a All-in-One Printer from Currys here, and it's currently even more of a bargain, as a £20 discount means it's now only £59.99. This promotion runs until April 25.
Furthermore, there's a second offer on Canon printers giving you 10% off all models – not just the PIXMA TS5350a – at Currys. Although this discount applies on top of the £20 off if you want to buy the TS5350a, so it's a double bargain. The 10% off promo runs from April 5 through to April 18, making Canon devices even more temptingly priced for that couple of weeks – while stocks last at Currys, as ever.
Sign up for Black Friday email alerts!
Get the hottest deals available in your inbox plus news, reviews, opinion, analysis and more from the TechRadar team.