The Apple Watch isn't cheap, but exactly how much it costs can vary substantially based on the model you buy.
These, broadly, are split into the Apple Watch 3, Apple Watch 2 and Apple Watch Series 1, but there are some special models too, such as the Apple Watch Edition, while prices can additionally vary based on the size and strap you choose, and whether or not you opt for LTE.
So there are a lot of variations, but to help simplify things we've created this guide, highlighting the core models and what they currently cost, so you can see at a glance how much you're likely to have to spend.
Apple Watch 3
Image 1 of 4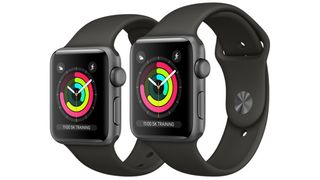 Image 2 of 4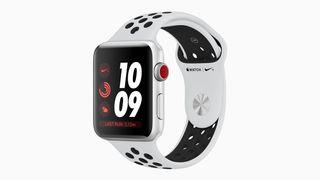 Image 3 of 4
Image 4 of 4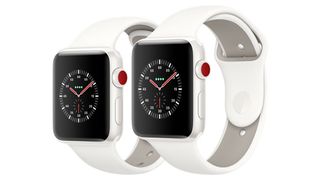 The Apple Watch 3 is the latest Apple Watch model, so as you'd expect it's also the most expensive. It starts at $329/£329/AU$459 for a 38mm version with an aluminum case and a sport band, rising to $359/£359/AU$499 if you want the larger 42mm model.
However, that's just for the Wi-Fi version, but there's also a model with LTE capabilities, which starts at $399/£399/AU$559 for a 32mm model (with the same case and strap), going up to $429/£429/AU$599 for a 42mm one.
And if you want a fancier strap or case the price can rise even higher, topping out at $799/£799/AU$1,119 for a 42mm model with LTE, a stainless-steel case and a Milanese loop strap.
Or at least, that's the top-end of the pricing for a standard Apple Watch 3, but there are also Apple Watch Nike+, Apple Watch Hermès and Apple Watch Edition models available.
These are all the Apple Watch 3 at their core, but with some differences. The Apple Watch Nike+ comes with Nike's Run Club app pre-installed, exclusive watch faces and various Nike-branded straps. However, pricing is the same as the standard sport band models, so it starts at $329/£329/AU$459.
The Apple Watch Hermès meanwhile comes with exclusive leather straps and a Hermès watch face. As you might have guessed from the mention of leather this is more expensive – a lot more. This model is only available with LTE and prices start at $1,149/£1,149/AU$1,619.
Then there's the Apple Watch Edition, which comes with a ceramic case, LTE and a sport band and starts at $1,299/£1,299/AU$1,829. Though note that while it starts at a higher price than the Hermès model, it doesn't reach the highs of the Hermès at its top-end – a wallet-busting $1,399/£1,399/AU$1,969.
Apple Watch 2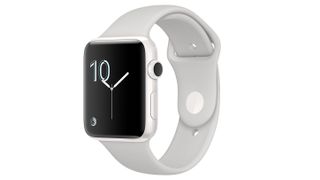 Apple itself is no longer selling the Apple Watch 2 – a device which is similar to the Apple Watch 3 but doesn't offer LTE or a barometric altimeter, and has a slightly older, slower chipset.
However, you can still buy the Apple Watch 2 from some other retailers, and it can be found from around $320/£280/AU$440. In other words, there's not currently much of a saving over the Apple Watch 3 unless you buy it pre-owned.
As with the Apple Watch 3 there are various straps and special models of the Apple Watch 2, but now that it's been discontinued many of these are increasingly hard to find.
Apple Watch Series 1
Image 1 of 2
Image 2 of 2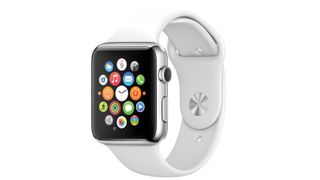 While you can't buy the Apple Watch 2 direct from Apple any more you can still buy the Apple Watch Series 1. Not to be confused with the original Apple Watch, this is a newer device with a faster chipset, but it's still slower than the Apple Watch 2 or 3, and lacks GPS, LTE and waterproofing.
This model is only available with an aluminum case and a sport band (in white or black), and it costs $249/£249/AU$359 for a 38mm model and $279/£279/AU$399 for a 42mm version.
If for whatever reason you still want the very first Apple Watch, rather than the Series 1, you might struggle to find it since it's been discontinued. If you do find it the price will probably be lower, but likely not by much.