Apple has made it harder to use Apple TV 4K without an iPhone, and it's a step back
And all for the sake of terms and conditions…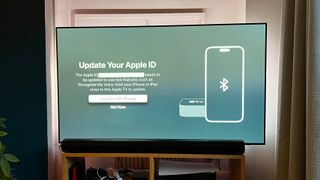 (Image credit: Future / Apple)
Following a recent update to Apple's terms and conditions, people are noticing that their Apple TV is now blocked in certain ways if they don't have an iPhone, because Apple is requiring you to approve the T&Cs on your phone, and not offering an alternative option.
One of the great things about the Apple TV 4K – and a huge part of why we're happy to rate it as the best streaming device around – is that it's never been too tied to the Apple ecosystem.
You need an Apple ID to use it, yes, but you need some kind of account for any other streaming box; more importantly, unlike the Apple Watch, you didn't need an iPhone to use it. And its best features aren't locked away if you don't have an iPhone, as is the case with the AirPods. You could sign in to your services and watch away, in some of the best quality any similar device offers.
But it appears that's started to change. You can see the least-aggressive version of this issue in the image at the top of this page – that's the message I received in the Settings app on my Apple TV 4K (2021) today on one of the user accounts, requiring the user to update their Apple ID by holding their iPhone or iPad close to their Apple TV before I can use a minor new feature.

Interestingly, I didn't see the same message on my own personal user account, which means I probably already accepted the new terms. I say "probably" because I have no memory of doing this, but I use my iPhone to control my Apple TV pretty often, so it likely popped up and I accepted without reading it, like most people do with T&C changes.
What happening there isn't stopping anyone from using the Apple TV at all right now, because it's just asking in the background and disabling a minor new feature after an update, so it's a relatively small problem – but some people report having much larger problems.
The user who posted the tweet below was prompted to accept the new T&Cs using "a device running iOS 16 or later, or iPadOS 16 or later" every time they turned on the Apple TV, and seemed to be unable to do anything else with it until they didn. Except, as they point out, then don't own any Apple devices other than their Apple TV.
I own an Apple TV.I own not a single other Apple device. Not one.Every time I start the Apple TV I get this prompt now. @Apple what do you expect me to do about this? pic.twitter.com/CsNaTNNIHpJanuary 16, 2023
That's the worst-case scenario of an approach like this – an expensive device that people have paid for and rely on, rendered completely unusable.
I called this new approach a step back in the headline, because the Apple TV finds a lot of favor with movie lovers who don't otherwise own Apple products. I've recommended it to people, and I know people who use one solely because of the quality of Apple's movie purchases and rentals. This change would be a regression, and would mean I could no longer recommend it so easily.
But if you already have an Apple TV, and are blocked from using it as in the image above, it's not a step back, it's a disaster.
However, that tweet has gone pretty viral, and has attracted the attention of an Apple Security Engineer as well as the Apple Support Twitter account, which has stepped in to respond to several people in the replies to the original tweet who are having different problems with their Apple TV.
So, it looks like Apple is paying attention to the problems this change is causing, and will hopefully provide another option in the future – of course, how long that will take is anybody's guess.
We've reached out to Apple for comment, but have yet to hear back at the time of publishing.
In the meantime, if you want more new Apple stuff, check out the
Sign up to receive daily breaking news, reviews, opinion, analysis, deals and more from the world of tech.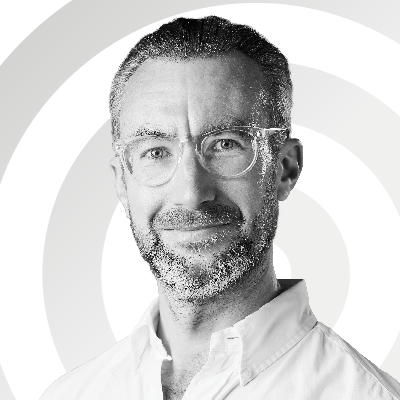 Managing Editor, Entertainment
Matt is TechRadar's Managing Editor for Entertainment, meaning he's in charge of persuading our team of writers and reviewers to watch the latest TV shows and movies on gorgeous TVs and listen to fantastic speakers and headphones. It's a tough task, as you can imagine. Matt has over a decade of experience in tech publishing, and previously ran the TV & audio coverage for our colleagues at T3.com, and before that he edited T3 magazine. During his career, he's also contributed to places as varied as Creative Bloq, PC Gamer, PetsRadar, MacLife, and Edge. TV and movie nerdism is his speciality, and he goes to the cinema three times a week. He's always happy to explain the virtues of Dolby Vision over a drink, but he might need to use props, like he's explaining the offside rule.