Disney Plus on Panasonic TVs: which models support it?
The Disney streaming app has arrived, but not for everyone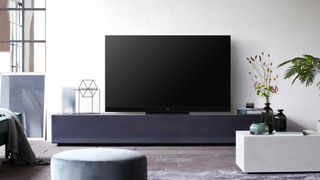 (Image credit: Panasonic)
Good news, everyone! You can now get the Disney Plus app on Panasonic TVs, which makes this article a bit redundant these days – but we can give you the information you need about which models do and don't get the streaming app, as well as when the update happened.
Disney Plus has been a runaway success since it soft-launched in 2019, and even more so since it expanded across the UK and Europe. With a slate of blockbuster Star Wars movies, Hamilton, Pixar classics, and more, there's plenty to draw viewers to the service – but for the entirety of 2020, you simply wouldn't find it on Panasonic TVs.
That meant subscribers were stuck watching on their browser, smartphone, or through a streaming stick to get their Disney fix.
In September 2021 – a full two years after the launch of Disney Plus, and well after most of the smart TV competition go on board – Panasonic screens finally got the app.
It might have had something to do with Panasonic's absence from the North American TV market, but the ongoing delay was still a pain point for anyone who bought a Panasonic set and expected to be able to load up their favorite streaming apps without issue.
What Panasonic TVs support Disney Plus?
As Panasonic tells us, any "4K Panasonic TVs released from 2017 onward that feature the My Home Screen operating system" will now carry the Disney Plus app – meaning anyone who bought a Panasonic screen in the past four years will be supported.
Specifically, any TV model that starts with EZ, EX, FZ, FX, GZ, GX, HZ, HX, JZ, or JX is getting the app, so it covers both OLED and LCD screens from the Japanese TV maker.
The support extends across the UK and Europe, as well as Australia, Singapore, New Zealand, Canada and Latin America – though not the US, where Panasonic doesn't sell commercial sets.
Is there a workaround for older Panasonic TVs?
As ever, there are some relatively simple ways to start streaming Disney Plus, even if you have a Panasonic TV that's too old to carry the app – or a screen made by someone else entirely.
If your laptop has an HDMI or micro HDMI port, you might want to consider getting a cable for connecting it to your TV's HDMI port. Disney Plus is also on PS4 and Xbox One consoles, so you can always load up the app from there – though both of these solutions involve running a potentially power-hungry device alongside your television, and it would be much easier if the app was supported natively.
You can also cast from a smartphone or tablet, though you're stuck using an Android device, given Panasonic's screen mirroring feature isn't compatible with iOS – and Panasonic doesn't support AirPlay.
A streaming stick might be the simplest solution, with the likes of Fire TV Stick 4K or Google Chromecast supporting the Disney Plus app for a small cost.
If you can't (or don't want to) take advantage of any of those solutions, you should still have access to other TV streaming services on your Panasonic TV, such as Netflix, Amazon Prime Video, and Apple TV Plus.
What TVs do support Disney Plus?
If you'd rather skip the stress of any workarounds, you can check out some prices on Disney Plus-supporting TVs below:
Sign up to receive daily breaking news, reviews, opinion, analysis, deals and more from the world of tech.
Henry is a freelance technology journalist, and former News & Features Editor for TechRadar, where he specialized in home entertainment gadgets such as TVs, projectors, soundbars, and smart speakers. Other bylines include Edge, T3, iMore, GamesRadar, NBC News, Healthline, and The Times.