I used a full suite of automated air quality devices and I've never breathed easier
My home has never felt so fresh, clean and convenient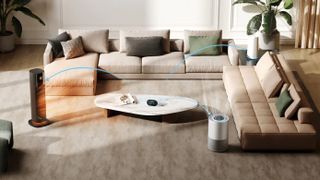 (Image credit: Govee)
I've used smart fans, smart purifiers and smart humidifiers individually during my long history of testing household appliances and gadgets, but I've never connected a full suite of these smart home devices together at the same time.
This is usually because they're made by different manufacturers and, even with the likes of the Apple Home app or Alexa, being able to access the controls for all of these products from a single app is easier said than done.
Smart ideas
This is the third in a regular series of articles exploring smart tech that exists to make your life easier. Read them all here.
That was until I was sent a bundle of Govee smart air quality devices to review. In this bundle was the Govee Smart Tower Fan, the Govee Smart Humidifier and the Govee Air Quality Monitor.
Although I tested each device separately, setting them up and connecting them to my network gave me the chance to experience the benefits of a full suite of automated products.
Here's what I learned, and how it's made a noticeable difference to mine and my family's health.
Breathing easier
Setting up the Govee Smart Tower Fan, the Govee Smart Humidifier, and the Govee Air Quality Monitor was a breeze (excuse the pun) yet the real magic happened when I connected them all to my network.
For the first time, I had a full suite of automated products working in harmony from a single app. The app automatically recognises when a new product has been turned on, it then asks if you want to connect it to your network and shares your Wi-Fi password (with your permission). You don't have to manually find and add each product as I've found with other apps.
The impact on the air quality in my home was immediate, and that isn't anecdotal; I could see the impact on the Smart Air Quality monitor. The fan's air circulation, combined with the humidifier, made the atmosphere noticeably fresher and cleaner, with particulate levels dropping almost instantly. It was as if I'd opened all the windows or turned on a purifier.
What's more, thanks to the deep customization options on the Govee app, I could schedule the different products to work in harmony. At bedtime, I could set the humidifier to automatically switch on at a certain time, and program the fan to switch to Sleep mode.
An educational journey
Elsewhere, the Govee Air Quality Monitor has been a revelation. It provides real-time data on the air quality in my home and sends me a notification when particulate levels or the temperature exceeds targets I set.
I've learned so much about what impacts the air I breathe, from humidity levels to potential pollutants. It's given me a greater sense of control and has been an educational journey in understanding my home.
Health improvements
Sleep has always been a bit hit-and-miss for me, even before I had children, but the Govee Smart Tower Fan's Nature mode has been a gamechanger. This feature mimics the sound and feel of a natural breeze, creating a calming and less intense environment, compared to a stream of cold air blasting me all night.
But what really elevated the experience was the addition of essential oils in the Smart Humidifier. The soothing aroma of lavender helped me relax and I found myself falling asleep faster and staying asleep longer with both devices connected and working in tandem.
However, the most touching benefit has been the improvement in my son's eczema. The Smart Humidifier has helped me to maintain optimal humidity levels, which has had a noticeable effect on his skin condition. It's one thing to invest in smart devices for convenience or novelty, but it's quite another when they bring noticeable health benefits to your family.
Final thoughts
In summary, the Govee bundle has not only simplified my life but enhanced it in ways I hadn't anticipated.
It's a cohesive system that addresses multiple needs and whether it's a better night's sleep, improved air quality, or relief for my son's eczema, this suite of products has delivered on all fronts. And the best part? I control it all from a single app, making is as seamless as it is beneficial.
You might also like
Sign up for Black Friday email alerts!
Get the hottest deals available in your inbox plus news, reviews, opinion, analysis and more from the TechRadar team.
Victoria Woollaston is a freelance science and technology journalist with more than a decade's experience writing for Wired UK, Alphr, Expert Reviews, TechRadar, Shortlist and the Sunday Times. She has a keen interest in next-generation technology and its potential to revolutionise how we live and work.