What makes a good Black Friday mattress deal? 3 things to look for
Don't be duped – here's how to spot a bonafide Black Friday mattress deal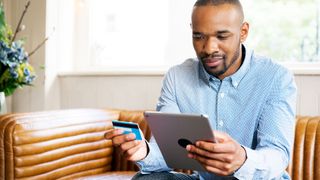 (Image credit: Getty Images)
There's no better time to buy a mattress than Black Friday. It's when sleep brands slash their prices to their lowest of the year. Well, most of them, anyway. As an expert deal hunter and professional mattress tester, I know first-hand that not all Black Friday mattress deals are created equal – and I also understand how easy it is to be blinded by the allure of an attractive sale banner.
To save you from being duped by false promises, I'm sharing the three tell-tale signs of a good Black Friday mattress deal. I've already highlighted the top Black Friday mattress sales to watch out for this year, but if you're eyeing an option beyond my curated list, you'll want to take this advice to heart on your quest to find the best mattress at a reasonable price. Here's what you need to know...
The 3 signs of good Black Friday mattress deal
1. The ticket price hasn't gone up
When hunting for the best Black Friday mattress deal, don't solely focus on the percent-off discount or even the final cost. The manufacturer's suggested retail price (MSRP) is the most important figure here. Why? List prices for mattresses fluctuate throughout the year, typically peaking over the summer and dropping to their lowest points during Black Friday, which is considered the best time to buy a mattress.
However, inflation is yielding higher MSRPs across the board. Historical price lows may be non-existent during this year's Black Friday sales but that doesn't mean you still can't save a substantial chunk of change. Just be cautious of retailers advertising massive discounts without actually lowering the MSRP. These aren't actual savings – you might end up paying the same (or even more) than you would during a 'lesser' sale during any other point in the year.
The best thing you can do to sidestep this deception is to research the price history. While that may seem daunting, our expert team of deal hunters at TechRadar track mattress prices year-round so you'll never be left guessing. You'll find a full rundown of every discount on our general mattress sales page, or browse any of our brand-specific hubs for more specialized info. Here are some of our guides to the most popular brands' regular offers.
2. Bundles include items you'll actually use
Black Friday is high time for mattress bundles. These usually include sheets, pillows, and/or a mattress protector. On the surface, it'll appear that you're getting an absolute steal of a deal – but it pays to look beneath the surface.
The value of these extra items is often inflated. I can attest to this as someone who's received free bedding with several mattresses in a box that I've tested. The quality is good enough, but I'm dubious that they actually cost hundreds of dollars. (Refer to my previous point on this list about exaggerated prices and savings.) And even though the accessories might be decent enough, they won't be as good a fit as if you were to take the time to find the best pillow or best mattress protector for your specific needs.
Plus, you'll be paying more for a bundle than you would the mattress itself, whether the items are included for 'free' or you're adding these extras at a substantial markdown. It's like upgrading your sandwich to a combo meal with fries and a drink – you'll be saving a few bucks but the sandwich alone will still cost you less. If the fries and drink (or in this case, sheets and pillows) aren't something you really need, then pass on the deal.
A good example is Nectar, which used to ship with a big free bedding bundle, but is now sold at a lower price with the option of adding an accessories pack at a heavily discounted price, if you need it.
All that said, if your bedding could use a serious refresh or you're upsizing/downsizing your bed, then a Black Friday mattress bundle deal is a convenient (albeit slightly pricier) solution. It's particularly handy if you're opting for a twin XL or California king since sheets are harder to come by in those sizes.
3. It's 'just right' for your needs and budget
Honestly, the best mattress deal is the one that's just right for your sleep preferences, especially during Black Friday when every retailer is vying for your attention with eye-catching discounts.
Buying a mattress based solely on brand reputation or price is a risk. Sure, you might luck out and land your dream bed that way, but it's often a disaster for your sleep quality and your wallet. No mattress is one-size-fits-all. (That's quite clear if you read mattress reviews – which you should, from both pros and everyday shoppers.)
Be honest with yourself and ask a few simple questions about your sleeping habits before choosing a mattress:
Are you a side, back, or stomach sleeper – or a mix?
Do you prefer a firm or soft mattress?
Do you tend to overheat at night?
Do you have any specific aches or pains?
If you share the bed, do you (or your partner) flop about?
Once you have those answers, you'll want to settle on a budget, but how much should you spend on a mattress? The 'sweet spot' for a decent queen-sized mattress is around $1,000. Of course, you can spend more or less depending on your needs.
For something durable, avoid cheap mattresses (under $500 for a queen) as they're not built to last. Splurging over $2,000 on a luxury mattress will better guarantee you years of use but it won't necessarily give you the best sleep of your life. If you need a specialty bed – like a cooling mattress to ward off night sweats – expect to pay extra for the tech.
Get daily insight, inspiration and deals in your inbox
Get the hottest deals available in your inbox plus news, reviews, opinion, analysis and more from the TechRadar team.
Alison is a freelance writer and editor from Philadelphia, USA. She is an expert mattress tester and sleep product reviewer, and has been sharing trusted buying advice and retail news for over a decade. When she isn't reviewing mattresses or hunting for deals, Alison can be found teaching/training in martial arts, fawning over skincare, and indulging in her quarantine-borne hobby: cooking.