This tiny Fiio DAC made me reconsider listening to Bluetooth audio on my iPhone
Who knew Bluetooth audio could sound this good?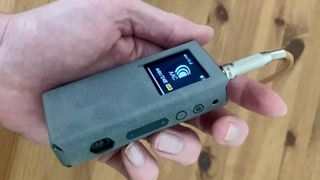 (Image credit: Future)
I'm quitting the dropped intro and coming right out with it: this little portable Bluetooth receiver, headphone amplifier and DAC is a game-changer.
Why? A few reasons, the biggest of which is that I thought Bluetooth DACs were a weird idea until I tried it. But I'm getting ahead of myself. I should tell you what it is first – the Fiio BTR7, unveiled just over a year ago, and now available for around $200 / £175 / AU$279, including cables and a premium-looking protective gray case. At the end of this piece, I'll list the best prices in your region. What you need to know is that it differs from most of the best portable DACs we've tested in that it aims to level up the Bluetooth audio from your phone to your chosen wired headphones rather than forcing you to go wired all the way.
I have never heard audio this good from my iPhone without a weak-point wiring situation protruding from its Lightning port – and by that, I mean right now, my iPhone is tucked safely in my bag, away from potential thieving fingers on London's transport network. But I'm still streaming Qobuz tracks from said phone on wired audiophile cans (no 3.5mm headphone jack on most phones these days as I'm sure you know, although the Sony Xperia 1 V bucks the trend), and the item my headphones are physically hooked up to can control playback and volume, has a mic for calls, shows me what's going on in terms of codec and resolution with a lovely bright 1.3-inch IPS color screen and is as big as an elongated matchbox.
Anyone familiar with the similarly priced iFi Go Blu (which I reviewed for TechRadar's sister publication, What Hi-Fi?) should note that the BTR7 is just a little bigger and heavier at 45g versus 26g. And I found the sound of the BTR7 more neutral and noise-free. Now, you may like the added warmth of the Go Blu and that XBass button, but the beauty is that thanks to the Fiio's new EQ features, you can add your own special sauce here should you wish.
Good things come in small packages
The BTR7 isn't just a wireless DAC, though it's emphatically one of the best such devices I've heard at this level. You can choose between a USB-C to Lightning cable or USB-C to USB-A connector, in addition to the USB-C to USB-C supplied as standard. Now, although this USB-C port is used for charging, there's a switch on the lower-right edge of the unit called 'Charge', which must be switched on to charge it. Crucially, you can turn it off to prevent it from draining your phone battery when connected and playing music via USB-C. That's right, you get USB-C audio here too, so it also functions like a regular USB-C dongle, like the iFi Go Link.
Also, the FiiO Control app, which offers adjustable EQ settings with a full parametric equalizer ( I like to alter it for various cans; you can have a total of eight presets here), is easy to understand and lets users manually select Bluetooth codes, of which there are zero hi-res heavy hitter absentees.
This might be all you need to know in terms of specs. It shouldn't really have come as such a surprise to me that this thing quickly became a daily necessity whether driving or walking (did I mention there's an excellent car mode to ping audio to your car's speakers?) given that I recently tried and loved Fiio's M15S hi-res audio player, and the Fiio M11S is another winner. But come on, we want to get granular about specs, resolution and such, don't we? Let's go.
Excellent EQ features and super-reliability
Right: the Fiio BTR7 supports wired and wireless charging, but juicing up from flat to full will take around three hours using a Qi wireless charger or 90 minutes via USB-C. It uses dual ESS ES9219C DAC chips and an XMOS XUF208 processor to deliver up to 32-bit/384kHz audio, DSD256, and MQA 8x decoding for Tidal's top-tier Master Quality tracks. Then, there's a pair of THX AAA-28 amps to boast up to 160mW of power through the single-ended 3.5mm output or 320mW through the balanced 4.4mm Pentaconn connection.
The theory goes that splitting the audio thus – ie. a dual-DAC, dual-amp design – reduces distortion and crosstalk while increasing dynamic range. However it's been achieved, this is the cleanest-sounding Bluetooth audio I've heard from my cans. I used some of the best over-ear headphones we've tested, namely the Edifier Stax Spirit S3 planar magnetic headphones, Sivga Oriole and the Focal Bathys, using an unbalanced connection to glean how much oomph I got. The Fiio BTR7 exceeded my expectations considerably – this thing is powerful. I never needed to crank the volume beyond 45 of 60 increments to get punchy, immersive audio.
The Bluetooth chip is the QCC5124, so you're getting Bluetooth 5.1. Your audio format support is comprehensive, with SBC, AAC, aptX, aptX Low Latency, aptX HD, aptX Adaptive and Sony's proprietary LDAC all on the menu.
Any minor downsides? Two: the 880mAh battery is supposedly good for nine hours of wireless listening, but that depends on what you're listening to. LDAC is a bit of a battery drainer and listening to tracks via Sony's proprietary audio coding technology gave me just over seven hours of use with my Sivga Orioles.
And it'd be nice to be able to name each of the eight saved EQ presets. I might name them after each set of headphones so I don't have to scroll and try to remember which ones I added more warmth to or augmented the treble. But look, this is audiophile territory, where products often leave you scratching your head by having what I like to call "a temporary peak hi-fi wobble." In truth, the Fiio has yet to let me down. And it's such good fun.
The budding audiophile in your life needs this
When the fun centers around tweaking the music, it's a sure sign of humble talent in a product. I'll be honest, my thinking before trying out this lovely little thing was that you can buy a portable DAC dongle and stay wired, or you can go Bluetooth and take a hit on audio quality for the benefit of convenience. So why do we need this halfway house?
All I can say is that my iPhone sounds so much better with it than without it – and now it needn't be physically tethered to an elaborate setup involving a Lightning to USB adapter or a DAC such as the splendid Astell & Kern HC3.
Trumpets and drums in John Coltrane's Blue Train are textured, directional and vibrant. The walking bass is exposed and given ample space to sign, even alongside the sparkling treble registers of complicated piano passages. But give it something more raucous, like Lethal Bizzle's Fester Skank, and it won't shy away from celebrating the juicy grime riff with accuracy and oodles of clout. My playlist continues to Krept & Konan/Jeremih's Freak of the Week, and the "yeah" yelps dart between each ear in ways I'd yet to discover in this regular-rotation track, underpinned by an admirably neutral presentation.
In summary, it's not the cheapest option on the market, and this should not be viewed as a full star-rated review (although if you're willing to translate it, our Swiss contingent has written a glowing Fiio BTR7 review), but I think the Fiio BTR7 makes an awful lot of sense and represents serious sound-per-pound value for the budding audiophile or even the seasoned veteran. My take? Someone's Father's Day gift may just have been sorted.
Sign up to receive daily breaking news, reviews, opinion, analysis, deals and more from the world of tech.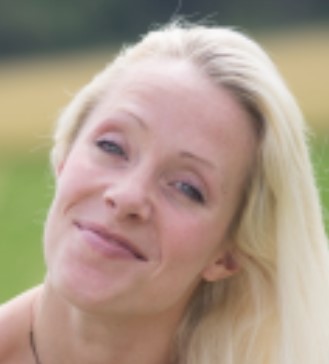 Senior Audio Staff Writer
Becky is a senior staff writer at TechRadar (which she has been assured refers to expertise rather than age) focusing on all things audio. Before joining the team, she spent three years at What Hi-Fi? testing and reviewing everything from wallet-friendly wireless earbuds to huge high-end sound systems. Prior to gaining her MA in Journalism in 2018, Becky freelanced as an arts critic alongside a 22-year career as a professional dancer and aerialist – any love of dance starts with a love of music. Becky has previously contributed to Stuff, FourFourTwo and The Stage. When not writing, she can still be found throwing shapes in a dance studio, these days with varying degrees of success.