I'll get straight to the point: this guide gives you the three best noise-cancelling earbuds for entry-level, mid-range, or premium money right now. Three options, three price points.
In each case the sound is good, as is the stamina, the overall user experience, and the comfort. But crucially, these things effectively cancel noise – and they're the best in their price bracket at doing so.
If you're looking to head to places new over the wild gray ocean any time soon, a set of ANC earbuds should be in your flight-friendly carry-on. Then get ready for soothing playlists free from the low-level, constant thrum of huge jet engines.
Not worried about ANC but want a set of true wireless earbuds? You'll find further products to consider in our best earbuds guide. Or, our full list of the best noise-cancelling earbuds on the market today offers a wider choice – but jet-setters like you are short on time and we get it! Bon voyage!
Quite simply, these January 2023-issue earbuds are the best noise-nixing buds on the market if your budget maxes out at $80 / £79 (sadly, Australian availability is thin on the ground).
They feature Bluetooth 5.3 with support for next-gen Bluetooth LE Audio technology – a new Bluetooth standard that promises to upgrade how we listen to music, including improved sound quality and battery life – once the smartphones bearing it arrive…
There's also support for a feature called Auracast. This lets you jump between audio playing from different devices, so you can seamlessly listen to what your friends are listening to or what's playing in a public space – again, there's no support in the wild yet, but it's coming.
That's not all. The buds also support Qualcomm's aptX Adaptive audio codec, which is capable of delivering CD-quality 16-bit.44.1kHz audio over Bluetooth. This also provides low-latency performance when streaming from devices that support the Qualcomm standard.
All of this for budget money? I know. Read our extensive Earfun Air Pro 3 review for the full picture but the ANC is good – again, for the money. Crucially, you'd need to bump up your outlay to get noticeably better noise cancellation.
---
Sony has taken everything its loyal fanbase loved in more expensive Sony earbuds and squirreled it into smaller earpieces (released in April 2023) at a lower price. You don't get lossless LDAC support, but for this money, the audio quality and effortless ANC cannot currently be beaten.
Multi-point connectivity and adaptive sound control are here (you can select between 'Walking', 'Waiting', 'Travelling' or 'Registered places' in the app, which is frankly incredible at this level) as well as Sony's standard DSEE audio 'upscaling' engine, so Spotify tracks are going to sound a lot better.
Look, it's the kind of tech people like me are more au fait with in the excellent – but quite a bit more expensive – Sony WF-1000XM4 wireless earbuds and flagship Sony WH-1000XM5 over-ears… whereas the WF-C700N are in what I like to call the budget-to-mid sector.
As mentioned in my full-fat Sony WF-C700N review (yes, the 'N' stands for noise cancellation) it would be churlish to ask any more from your earbuds for this money. If you subscribe to Tidal they're a no-brainer since Sony 360 Reality Audio is onboard – aka 24 object-based channels arranged in a 360-degree soundstage, which Sony launched back in 2019.
And Sony's excellent Headphones Connect app takes the wheel when it comes to noise-nixing. It's very good. Why? Adaptive Sound Control, optimized according to what you're doing, that's why – yes, these headphones learn how you use them and try to help. Don't like that it deploys ANC when it knows you're 'Staying'? That's fine, tap the cog in the app's Headphone Settings, and you can deploy Ambient sound or turn off all noise profiles – and until you change it, that'll happen whenever you're sitting at your desk.
When Ambient is deployed, you can select from 1-20 on a slider (I keep mine at around 12 when 'Walking' to my train and 20 when 'Running'), and these work very well indeed. When ANC is on, all but the loudest noises are softened, leaving me immersed in my playlists. It's a mean feat and no mistake.
---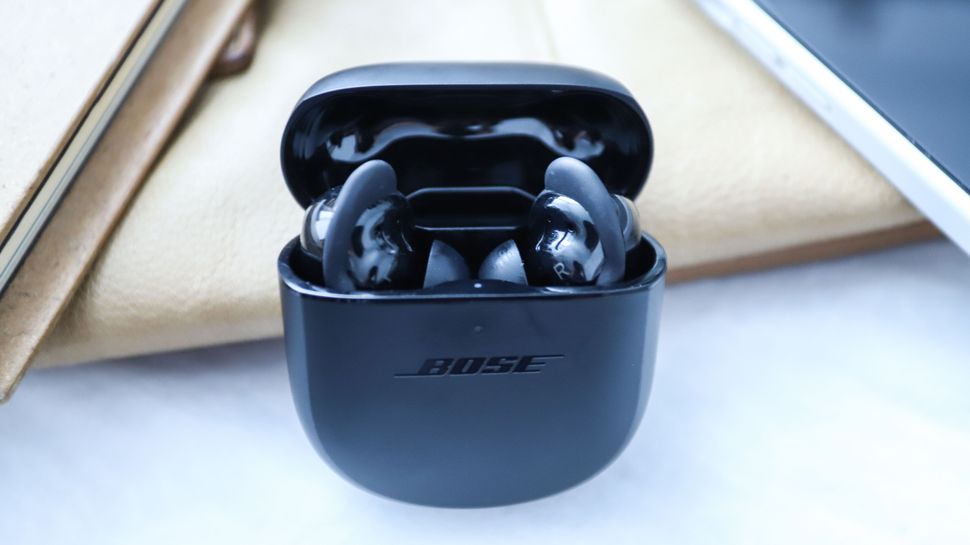 The Bose QuietComfort Earbuds 2 are our favorite noise-cancelling earbuds if you've got a little more money to invest. They're an upgrade on the already excellent original Bose QuietComfort Earbuds, and let's be real, Bose wrote the book on noise cancellation, so (provided you can pay a premium) you're getting the good stuff here.
This redesign makes the buds a lot more svelte (6.2g per earpiece, down from the 8.5g originals) and improves the noise cancellation considerably, which is really saying something considering the originals were our top pick for some time. And it doesn't come at the expense of sound quality.
In our Bose QuietComfort Earbuds 2 review, we wrote: "We can't stress this enough – the sound is very well balanced, with a heck of a lot of details and textures coming through. And if you still find you need to tweak it, you can via the EQ in the app."
Yes, they're expensive – although they're the same price as the Sony WF-1000XM4 buds – and battery life is standard rather than excellent, at six hours from the buds and a further three from the case. Then again, these are arguably the best noise-cancelling true wireless earbuds you can get.