It's not often you get to buy anything for a dollar – let alone some fancy smart home technology. So, it's understandable that we're all jumping at the chance to get this near-unbelievable bargain on Samsung's smart home hub and charging station.
A limited number of promo codes are available each day this week from noon ET at Samsung, allowing you to buy the SmartThings Station for just $1. There's extremely limited availability, so you'll need to act fast if you want to bag one.
You simply need to jump through to the promotion page, watch a short video and then claim a discount code that drops the price of the SmartThings Station to just $1.
How to get a Samsung SmartThings Station for $1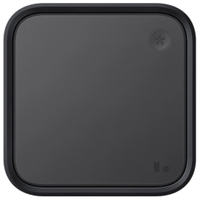 SmartThings Station: was $79.99 now $1 at Samsung
From 12pm ET every day this week, Samsung is releasing a limited number of promo codes that enable you to buy its smart home and charging hub for a buck. You just need to visit the offer page at that time, watch a brief video and then claim a code that allows you to snag the SmartThings Station for its ridiculously low price. You can then get your smart home network set up to control the lights, heating, and various other devices around your house with a touch of a button on the station or your connected smartphone. Oh, and it also functions as a wireless charging pad for supported devices, too.
At a single US dollar, it's an absolute steal for the SmartThings Station, as it usually costs $79.99. At the offer price, it's an automatic buy for those after a main hub for all their smart home tech. You can use it to remotely control lights, blinds, heating, TVs, and much more, as well as program entire routines that can be activated with a touch of a button on the hub or your connected smartphone. Plus, it serves as a wireless charging pad for compatible devices, too.
In our SmartThings Station review, we were impressed with these features and the future potential of this Matter-powered device. However, the main sticking points were that it felt premature, given the surrounding ecosystem was so small, and it wasn't great value for money at full price. Bagging one for just a buck, then, is a no-brainer.
You've just got to make sure you're quick on the draw to snatch up one of the promo codes at some point this week, then. Remember, they go live every day through Sunday at 12pm ET.
And if you fancy some more bargains, do check out the full Discover Samsung Sale that features a vast range of deals on TVs, appliances, phones, earbuds, laptops, and more ahead of the Memorial Day sales. Our roundup of the latest Samsung promo codes could help you save even more cash on your next purchase, too.