Apple is reportedly fixing the Vision Pro in two key ways
Addressing some weighty problems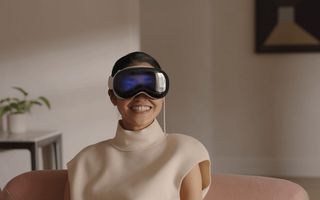 (Image credit: Apple)
Apple's Vision Pro headset is some months away from launching, but already Apple is apparently working on several new versions to fix problems in the upcoming device. While that's good news for anyone who decides to wait a little longer before pulling the trigger, it suggests there are still unsolved issues with the $3,500 Vision Pro.
According to Bloomberg's Mark Gurman, the mixed reality headset has "caused neck strain in testing due to its size and weight," which currently sits at around one pound. Apple has been planning to add a supportive head strap to alleviate the issue, Gurman says, but a permanent fix is going to require a more substantial change.
And that's apparently what Apple is working on right now. Gurman's report claims that: "A key focus for Apple is making its device more comfortable to wear – with a smaller and lighter design." This upgrade to the headset could be years away from launching, though, considering the first Vision Pro isn't slated to be released until some point in early 2024.
For now, Gurman says that testing of the first Vision Pro "has shown that it can feel too heavy for some users – even in short stretches." It's something we've seen reported before, and Apple will surely be hoping that doesn't prove to be a serious stumbling block when its headset is released next year.
Fixes in the works
A lighter weight is not the only way Apple is reportedly planning to improve future versions of the Vision Pro. Gurman believes that the company is working on "shipping custom-built headsets from the factory with preinstalled prescription lenses." This could make things easier for Apple (it won't have to keep stocking thousands of different lenses in its stores), but built-in prescription lenses might make the headset harder to share with users who have different vision requirements.
As well as that, there are persistent rumors that Apple will add a cheaper version of the Vision Pro. That's something that Gurman reaffirms in his latest report, which will come as a relief to anyone for whom $3,500 is too much to pay for a mixed reality headset.
But the journalist also adds another interesting tidbit: Apple could also be working on a "more powerful version" of the device that would surely push the price up into the stratosphere. Depending on your outlook (and budget), a more advanced Apple headset could either be an incredibly exciting development or one that'll make your bank account shake with fear.
What seems to be clear is that Apple isn't resting on its laurels. With the Vision Pro the company is seemingly working on what comes next already. Here's hoping it can fix the problems before too long.
You might also like
Get daily insight, inspiration and deals in your inbox
Get the hottest deals available in your inbox plus news, reviews, opinion, analysis and more from the TechRadar team.