Say your goodbyes to Cortana: the unloved Windows 11 assistant is going the way of Clippy as Copilot takes over
Cortana bids farewell in Windows preview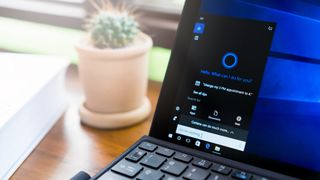 (Image credit: Shutterstock)
The preview of the newest Windows 11 build is missing a big thing: the Cortana app. This change was detailed in an official Windows Insider blog post (aimed at people who help test out early versions of upcoming Windows 11 updates), providing a link to an extra page going into more detail about ending support for the Cortana standalone app.
This isn't the first time we've seen talk of effectively killing off the Cortana app. BleepingComputer reports about another Canary channel preview release that had the Cortana app and support for it removed earlier this year. The future of Cortana was originally announced back in June, when Microsoft first set out its plans to end support for the standalone app.
At the time, Microsoft wrote that support for Cortana would also eventually end for a range of Microsoft products including Teams mobile, the Teams display, and Teams Rooms, as well as ending voice assistance for Outlook mobile and Microsoft 365 mobile, in the later half of this year.
This is a big step for Microsoft which committed a lot of time and resources to Cortana, integrating it deeply into the Windows operating system and tailoring it to work with a number of Microsoft apps and products. It was, however, long expected that it may end up getting culled after Microsoft put out an announcement on its official support blog two years ago that support for the Cortana mobile app would end.
The new kid on the block, Copilot
Cortana's exit is happening to make way for Microsoft's new central focus, its AI-equipped assistant named Copilot, which was announced at this year's Build conference. Users were able to try Copilot after the Windows 11 22H2 update was released on September 26. Microsoft's CVP, Yusuf Mehdi, stated that "Copilot will uniquely incorporate the context and intelligence of the web, your work data, and what you are doing in the moment," and emphasized that Microsoft was prioritizing privacy and security.
After an optional update (or eventually I assume a mandatory update), Copilot will be turned on by default, with users being able to configure settings with Microsoft's Intune policy or Group Policy (for groups and organizations). This was clarified by Harjit Dhaliwal, a Product Marketing Manager at Microsoft, in a Microsoft enterprise blog post.
As well as Copilot, Microsoft has told users how they can utilize its AI-powered search engine Bing Search and enable voice assistance capabilities through Voice access in Windows 11.
Cortana's demise isn't too surprising, as the voice assistant got a very mixed reception and saw a lot of criticism. Microsoft appears to want to have another try, and is clearly hoping that the AI-powered Copilot will fare better. Although Copilot has taken somewhat wobbly first steps, it's innovative and has plenty of potential.
You might also like
Get daily insight, inspiration and deals in your inbox
Get the hottest deals available in your inbox plus news, reviews, opinion, analysis and more from the TechRadar team.
Kristina is a UK-based Computing Writer, and is interested in all things computing, software, tech, mathematics and science. Previously, she has written articles about popular culture, economics, and miscellaneous other topics.
She has a personal interest in the history of mathematics, science, and technology; in particular, she closely follows AI and philosophically-motivated discussions.