Bing-related backlash: Microsoft pulls advertising after complaints
Microsoft hits pause on aggressive Bing ads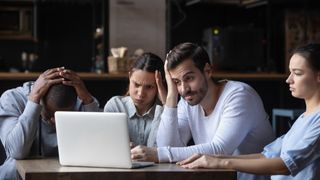 (Image credit: Shutterstock)
After a heavy-handed ad push targeting users who use a default search engine other than Microsoft Bing, it appears that Microsoft has put a pause on it.
Both Neowin and Windows Latest reported in recent articles that they've been seeing an increasing number of ads for Bing and Edge while using Windows 10 and Windows 11.
Many users have been seeing repeated ads trying to herd them over to Microsoft products (like Bing search) while using the Google Chrome browser (which, rather unsurprisingly, uses Google as the default search engine). Some have even apparently been bugged by these ads while playing games. As detailed by Windows Latest, the new ad was a pop-up that appeared in the lower right corner of the desktop screen, persistently showing up over a number apps and games.
This pop-up would try to convince Chrome users to consider using Bing as their default search engine, touting the benefits of Bing's AI chat, as well as highlighting Microsoft Rewards.
Microsoft Rewards is the company's loyalty program, and offers rewards in exchange for use of Microsoft Edge and Bing for things like searching, buying apps and games, and playing Microsoft games. We've looked at how Microsoft Rewards compares with other tech rewards schemes.
Microsoft backtracks
Now, according to a statement obtained by Windows Latest, a Microsoft spokesperson has confirmed that Microsoft is conscious of the Bing ad campaign, including the pop-up over appearing over the top of games (which seemingly overrode notification settings), and that the tech giant has paused the adverts while it looks into the situation. Windows Latest reports that the adverts appear to have indeed stopped popping up.
The suspected overriding of notification settings such as focus-assist, which targeted users of Google Chrome and Google Search specifically, is particularly concerning. This ad would appear over and over, ignoring the user's wishes. Clearly, users who have decided to go with Google's products, rather than Microsoft's, won't be too happy being constantly bugged about changing their mind.
Further digging by Windows Latest has shown that the recurring notification is tied to an executed process named "BGAUpsell.EXE '' that's linked to Microsoft Bing Service 2.0, which is intended to prop up Bing in the operating system.
The file has a line reference named "IsEdgeUsedInLast48Hours," which probably does what it says on the tin and notifies the system if Microsoft Edge hasn't been used in the last forty eight hours.
There's further speculation that Microsoft is capable of detecting whether Google Search (or any search engine in general) is used actively on a Windows device, allowing it to target those who choose to use a browser or search engine that isn't made by Microsoft. One ad highlighted that Edge has all the features of Chrome (as it's based on Google's own Chromium) but with Microsoft's improved security (an interesting and possibly debatable claim).
Users left frustrated
It makes sense to me that people are annoyed with Microsoft's nagging. Neowin calls Microsoft "desperate" and the marketing tactic "aggressive," and I find it hard not to agree. That said, Microsoft isn't the only one guilty of this sort of forceful advertising.
For example, Google engages in similar strategies, presenting Google recommendation pop-ups when a user visits YouTube, Gmail, or some other Google services in the Edge browser.
Hopefully Microsoft at least rethinks how it advertises its products without coming across as too pushy, and Google follows suit.
Users should be allowed to use the browser and search engine of their choice in peace. I wonder how long the halt in advertising will be and, most of all, I hope Microsoft takes note of users' relief during the pause.
Get daily insight, inspiration and deals in your inbox
Get the hottest deals available in your inbox plus news, reviews, opinion, analysis and more from the TechRadar team.
Kristina is a UK-based Computing Writer, and is interested in all things computing, software, tech, mathematics and science. Previously, she has written articles about popular culture, economics, and miscellaneous other topics.
She has a personal interest in the history of mathematics, science, and technology; in particular, she closely follows AI and philosophically-motivated discussions.